There is something really satisfying about preserving fruit, either halved or whole in syrup. A lot of fruit preserves process the fruit in such a way that everything is broken down. Taking a half peach or whole cherries out of a jar and eating it in the middle of winter is immensely enjoyable.
The Beauty of Fruit In Syrup
Unlike other fruit preserves like jam or jelly having whole or halved fruit sitting in jars in the pantry is something that can transport you can to when the fruit was in season no matter what time of the year it is.
The look of the fruit is exactly the same and can be eaten just as you would a fresh piece of fruit but the flavour is boosted, not only sweeter but it can be embellished with alcohol, fruit juice or herbs and spices.
The syrup that preserves the fruit is a means to add flavour to the fruit and can be just as much of a treat as the fruit itself. Adding flavours to the syrup not only flavours the fruit, the fruit flavours the syrup over time meaning you get two distinct products to enjoy when you open a jar.
How Does Syrup Preserve Fruit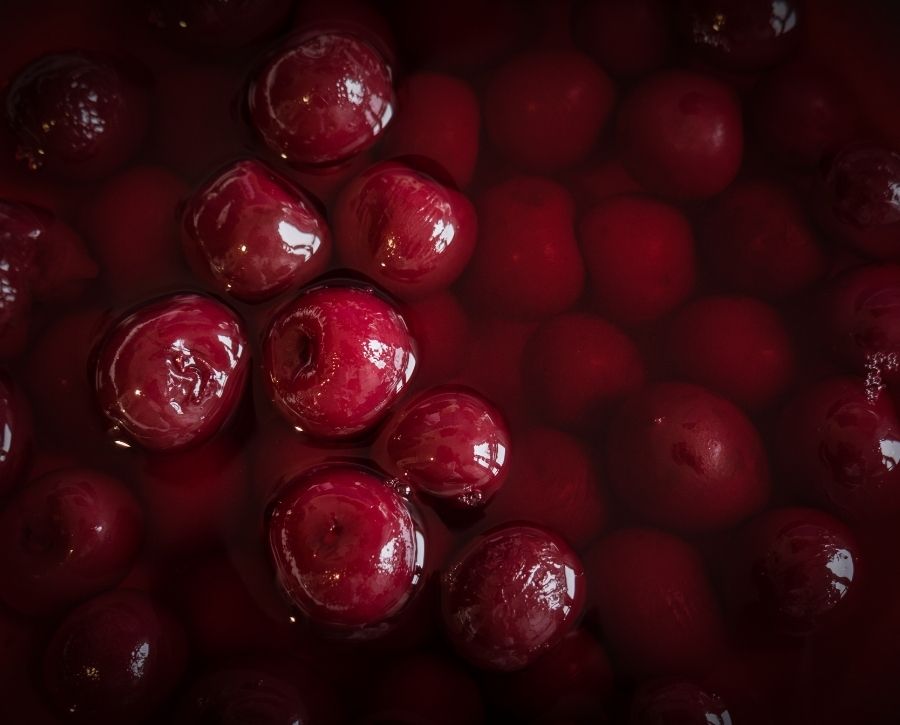 Sugar preserves in a similar way to salt. It draws moisture out of the cells of the fruit which is what allows spoilage microorganisms to grow.
Depending on how much sugar is in syrup will alter not only the thickness but also the number of calories in the final product.
Along with the sugar in the syrup, preserved fruit also will need to be processed in a hot water bath. This is simply sealing the jars with fruit and syrup in and immersing them in boiling water for a set time (usually between 10 – 30 minutes).
Types Of Sugar Syrup
There are some set ratios for sugar syrup that really are personal choice as to which one you use. Depending on which recipe you use there may be a suggestion on using a heavy syrup or a light syrup, for instance, depending on how sweet the fruit you are preserving is.
The syrup percentages are listed here:
Very Heavy Syrup: 50% Sugar
Heavy Syrup: 40% Sugar
Medium Syrup: 30% Sugar
Light Syrup: 20% Sugar
Very Light Syrup: 10% Sugar
Liquid To Use In Fruit Syrup
When it comes to preparing your syrup the next choice you have to make is what liquid to use. There is, of course, the option to just use water and that is fine but there are other options:
These liquids can be a combination of water or fruit juice and alcohol if alcohol alone would be too strong or you could use 100% fruit juice.
Alcohol is a preservative in its own right and adds a dimension to the syrup in the fact it can be used in drinks or cocktails. If you are using a spirit then it can be a good idea to dilute it with water to reduce the alcohol content. I find that a 40% ABV spirit needs diluting with at least the same amount of water to 20% ABV or lower.
Fruit juice adds another dimension to the syrup but you have to remember that it has a fair amount of sugar already so less sugar is needed in the syrup. You also need to consider the flavour of the fruit juice as it can overpower more subtle fruits, apple juice or grape juice are good neutral choices for sugar syrups.
Preparing Fruit For Preserving In Syrup
Ideally, you want to use the absolute freshest fruit you can get hold of. You want to preserve the flavour and sweetness at their peak. Select fruit whilst it is ripe but not overly ripe because you want the fruit to hold its shape after packing and processing in a hot water bath.
To Peel Or Not To Peel
Removing the peel helps syrup penetrate to fruit but is not necessary. For certain fruits like grapes, gooseberries and cherries there is no need to do anything. Stone fruits such as peaches and nectarines I like to peel beforehand.
To peel soft-skinned fruits like peaches simply blanch them in boiling water for a few seconds and the skin will rub off the flesh quite easily.
For firmer skinned fruits like apples and pears whether you peel them is up to personal preference. The syrup will take slightly longer to penetrate into the flesh with skin on but if you prefer apples without skin it is much easier to peel them before packing in syrup.
Two Methods For Packing Fruit In Syrup
When you look at recipes for preserving fruits in syrup the method will be either hot pack or cold pack (these phrases are used for other methods of preserving like canning and pickling also). The preparation methods are either of the following: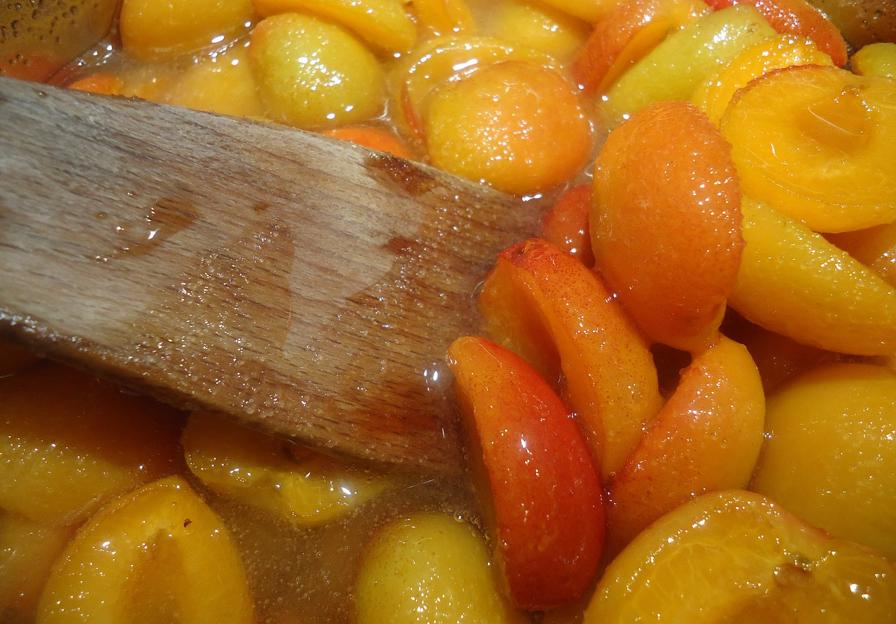 Hot Pack
Hot packing the fruit is where the syrup is prepared and heated to a simmer. The fruit is then blanched for a short period of a minute or so before being packaged into jars. The syrup and the fruit are both hot when packed into the jars.
Cold Pack
Cold pack, which can also be referred to as raw pack is when the prepared fruit is added to the jars whilst cold and hot syrup is poured over the fruit before being sealed and processed.
Hot packing fruit will start to break down the cell walls straight away allowing the syrup to penetrate. Cold packing is a lot gentler and better for soft and delicate fruits. The method you use should be dictated by a good, reliable recipe.
What Fruits To Preserve In Syrup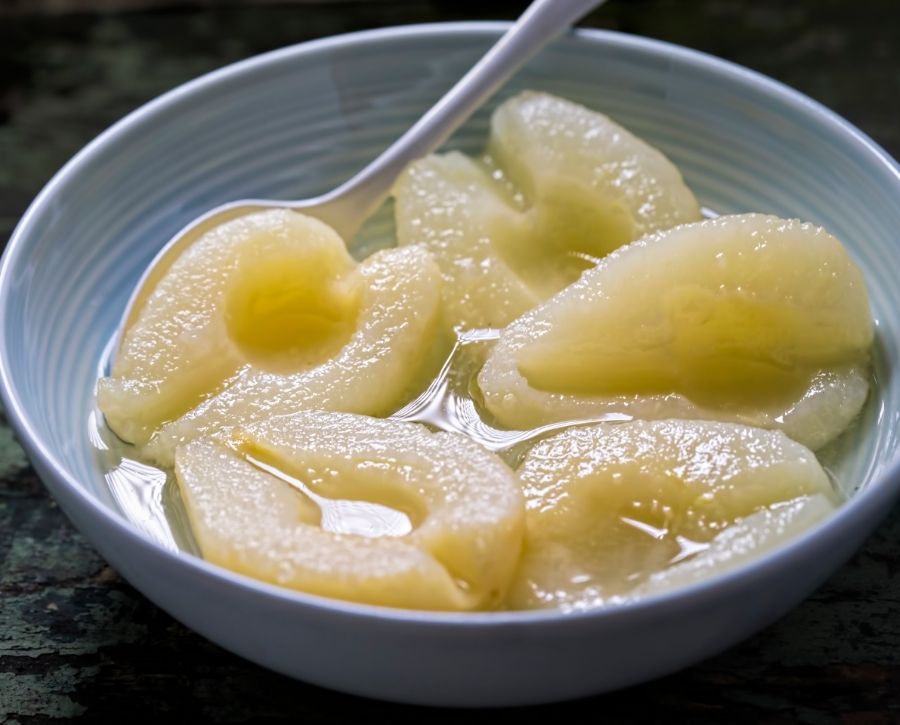 Quite a wide variety of fruits can be preserved in syrup but the best candidates tend to be fruits that are tart and sweet.
Classic examples are stone fruits such as:
Peaches
Nectarines
Apricots
Plums
Firmer fruits such as:
Berries are great to preserve in syrup:
Gooseberries
Grapes
Cherries
Cranberries
How To Preserve Fruit In Syrup
You should always follow a reliable and trusted recipe when it comes to preserving. Most fruit preserved in syrup recipes follow the same method which is outlined below.
Gather preserving jars with airtight lids and bands depending on the type of jar. Thoroughly clean and sterilise the jars and lids. An easy method to do this is in the oven as per this guide or use your hot water bath that will be used for processing the jars later on.
Prepare the fruit, rinse, peel and halve or slice if required.
Prepare the sugar syrup. Measure out the water, fruit juice or alcohol and add it into a heavy-based pan. Begin heating and slowly add the sugar, stir to dissolve and avoid scorching the sugar on the bottom of the pan. Continue heating to a boil and simmer for a few minutes to form a thick syrup.
The next step involves packing the fruit into jars. Depending on the method recommended in the recipe it will be either hot packed or cold pack.

Cold packed, the prepared fruit is placed into the jars fairly tightly to minimise air gaps and then the hot sugar syrup is poured over the top. Air bubbles need to be teased out and the jars sealed
Hot packed, the prepared fruit is added to the pan with the syrup and heated through before being packed into jars. The fruit doesn't need to be packed as tight as with cold packed fruits as less shrinking occurs.

The sealed jars can now be processed in a hot water bath according to your recipe instructions. The USDA has lots of trustworthy recipes and information.
How Long Does Fruit In Syrup Last
The sugar content as well as the acidity both act to preserve the fruit. Being in an sealed, airtight jar and then processed in a hot water bath will mean most fruits will last as long as the jars are sealed for around 12 months with no problems.
Once opened the fruit should be stored in the fridge and eaten within a few days.