You can make jam from pretty much any fruit, however, some fruits work better than others.
Why is this? Why do some fruits like strawberries and blueberries make runny jams?
In this post, we will cover what fruits work well as jam and look at a recipe that can help us make a jam from a huge range of fruits all using the same base recipe.
What Fruits Make Good Jam?
Jams and jellies need 3 key attributes to come together and make a really good, firmly gelled preserve. The 3 things are:
The fruit in a jam is the main source of pectin and acid. Sugar is added to these to bring everything together.
Sugar
Sugar is usually in the form of granulated sugar that is dissolved in the fruit. In some cases, you can add honey or maple syrup along with other sources of sugar but these are less common.
Acid
The acid works with sugar and pectin to help stabilise a gel. If there is not enough acid then you will have a hard time getting a jam to set.
With the exception of a few fruits, most are acidic. Most jam recipes also add acid in the form of lemon juice which lowers the pH and also accentuates the flavours of the fruit being used.
Acid also prevents bacteria and microorganisms from growing so it is important for the long term shelf stability of any preserve.
Pectin
If you are lacking pectin in the fruit you are using to make jam with then it is much less likely to gel and give a good set.
What Does Pectin Do?
Pectin is a naturally occurring polysaccharide that is present in the cell walls of fruit. It is what give them structure. When we make jam or jelly the pectin in the fruit combines with the sugar to thicken and gel.
Not all fruit contains pectin so in some cases we need to add pectin in some form to make a jam set.
Buying Pectin for Jam Making
Pectin is available to buy in both a powdered or liquid form. It is made from natural sources, usually from citrus fruit and apples.
The great thing about it is that you can measure a set dose and get a reliable set every time you make a jam.
When you come to buy pectin you need to decide whether to purchase powdered or liquid. Both work exactly the same but may be added at different points in the jam-making process. Follow the instructions on the package as to when and how much you should add.
A Master Jam Recipe
Taking into consideration the 3 key things that we need for a universal jam recipe we can include, acid, pectin and sugar with any fruit and create a jam from it.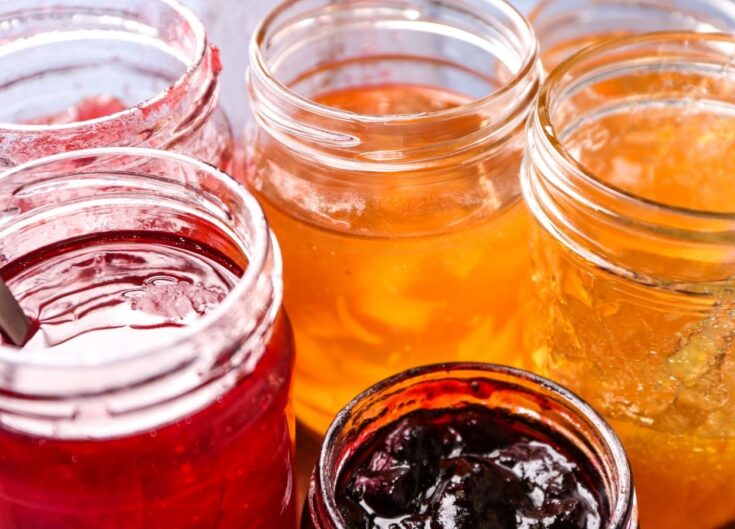 Yield:

4 x half-pint / 250ml Jars
Make Jam From Any Fruit - Fruit Preserve
Total Time:
3 hours
50 minutes
A master recipe for creating preserves from any fruit.
Ingredients
1200g Fruit
600g Sugar
Juice of a Lemon
A small bunch of herbs, spice or zest of your choice (optional)
Pectin (powdered or liquid)
Instructions
Pick through the fruit, remove any bruised or damaged parts and give the fruit a good rinse. Cut the fruit into bite-size pieces and place into a large bowl.
Stir the sugar into the fruit along with the lemon juice and add the herbs and spices if using. Cover the bowl and leave the fruit at room temperature to macerate in the sugar for a few hours or overnight.
After macerating remove the herbs and any whole spices. Place the fruit in a colander over a large heavy-bottomed pan or preserving pan. All the juice to drain into the pan for around 20 minutes and reserve the fruit in the colander in the bowl used for macerating.
Prepare a hot water bath and lower in 4 x half-pint jars.
Place the pan with the fruit juice on the heat and bring to a boil. Boil for around 10 minutes till the temperature reaches 104°C / 220°F or the foam on the syrup clears,
Add the fruit, pectin, according to the package instructions and any remaining syrup that as drained off to the boiling syrup in the pan. Bring to a boil and continue until the jam reaches the setting point at 105°C / 221°F at this point the foam will rise up the pan and will be difficult to stir down.
Do a wrinkle test by spooning the jam onto a chilled plate from the freezer, see these instructions. If the jam has not yet gelled return to a boil for a further 5 minutes and repeat.
Remove the jars from the hot water bath with tongs and ladle the jam into the still-hot jars, leaving a 1/2 inch headspace, wipe the rims and cover with the lids and bands.
Process the jars in the hot water bath for 10 minutes after reaching a boil. After 10 minutes remove from the heat and leave the jam for 5 minutes before lifting out with tongs. Allow to cool completely before testing the seals and storing.
Recommended Products
As an Amazon Associate and member of other affiliate programs, I earn from qualifying purchases.
Nutrition Information:
Yield:
20
Serving Size:
1
Amount Per Serving:
Calories:

161
Total Fat:

0g
Saturated Fat:

0g
Trans Fat:

0g
Unsaturated Fat:

0g
Cholesterol:

0mg
Sodium:

6mg
Carbohydrates:

42g
Fiber:

1g
Sugar:

36g
Protein:

1g
Adding Herbs & Spices
The great thing about this master jam recipe is that it's infinitely customisable. Adding a small amount of a herb or spice that compliments the fruit you are using will transform the finished product.
Jam Flavour Combinations
Apples: cinnamon, ginger, thyme, rosemary, nutmeg, star anise
Blackberry: clove, ginger, orange zest, mint, apple
Blueberry: vanilla, citrus, cinnamon, lavender, mint, nutmeg
Cherry: almond, black pepper, clove, sage
Nectarine: lime, basil, mint, vanilla, pepper, cardamom
Pear: pink peppercorn, rosemary, thyme, clover, ginger
Plum: bay, anise, cinnamon, red wine, lavender, thyme
Raspberry: mint, clove, vanilla, ginger, thyme
Rhubarb: lime, ginger, cardamom, pepper
Strawberry: mint, coriander, citrus, balsamic vinegar, thyme, black pepper
Do You Have To Process Jam In A Hot Water Bath?
Hot water bath canning is a simple method of ensuring your jam is preserved and shelf-stable at ambient temperature for up to a year.
If you don't intend to store your jam for that long before eating you can keep it in the fridge. If you want to make jam and know you are going to eat it the following day there is clearly no point in processing the jars in a water bath.
If you don't process your jam in a water bath, make sure you sanitise the jars before filling with jam and then keep them in the fridge. They will be good for a month or more before opening. Once opened eat them within a few weeks.
What Fruit Not To use This Recipe For
This recipe works well with the vast majority of fruit, however, there are a few that this recipe won't work for:
These fruits are all low in acid, although you can make jams out of them this particular recipe won't work and should not be used for them.