Chutney seems to be the mysterious preserve that falls between, jam, pickle and relish. What exactly is chutney, what is in it and how can you make your own chutney.
Chutney combines fruit, vegetable, sugar and vinegar along with a whole host of herbs and spices to make a delicious preserve perfect as a side to a dish or with rich foods like cheese.
What Ingredients Go In A Chutney
When you consider what goes into a chutney you have to think of the most common examples and where they originate.
The origins of chutney are predominately from India and the Middle East and then adopted by Britain due to colonialism. The idea behind British chutneys being preserves that used up produce at harvest to last further into the following year.
As there is quite a wide range of types of chutneys there is not necessarily exclusive ingredients and sometimes you may have a predominantly fruit chutney, vegetable chutney or combination of both. Here are the most common ingredients you'd expect to have in a chutney:
Fresh Fruit & Vegetables
Chutney typically combines fresh fruit and vegetables, although, you can find examples of predominantly fruit or predominantly vegetable chutneys. Mango chutney is mainly a fruit-based chutney but also includes garlic, ginger and chilli, Piccalilli is a vegetable chutney with cauliflower and root vegetables as the main ingredient.
Vinegar
You will find pretty much all chutney is tangy and has a bold acidity. Chutney is preserved by acidity, lowering the pH and then canning in jars means chutney is shelf-stable for a year or more. Different types of vinegar are used to provide flavour and colour, some chutney uses malt vinegar, cider vinegar, wine vinegar or white vinegar.
Sugar
To balance the acidity and boost flavour sugar is used to sweeten the chutney. Sugar is also a preservative and when heated with the fruit, vegetables and acid can thicken the chutney.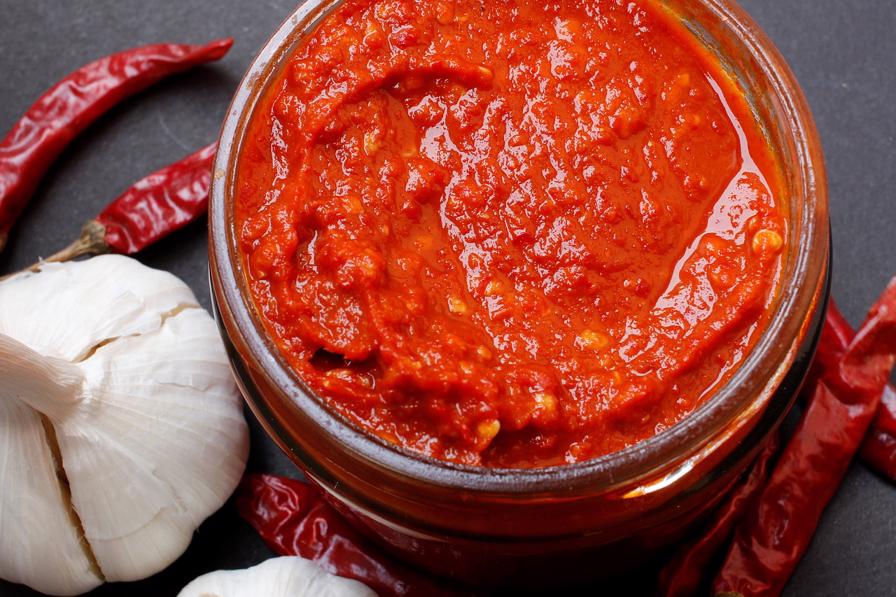 Spices & Herbs
Many of the most common chutney are heavily spiced. Mango chutney, piccalilli, lime chutney, tomato chutney are all full of spices. Mustard, chilli, clove, ginger, coriander, turmeric and cumin are just some of the spices you'll find in chutney. Chutney has origins in India and the use of spice is part of what makes Indian cuisine so renowned worldwide.
Dried Fruit
Another ingredient that is used in many chutneys, although not all, is dried fruit. Raisins, dates, figs and so on are used quite a lot to provide a depth of flavour, texture and body to the chutney.
Chutney Vs. Relish
When looked at side by side a chutney is very similar to relish in many respects. Using both fruit and vegetables in many cases, although not exclusively. The main difference between a chutney and a relish tends to be texture and time of cooking.
Chutney tends to be cooked for longer and slowly to produce a denser texture and benefits from storing for a few weeks to mellow before eating. Relish on the other hand is often lighter and most of the time can be eaten straight after making.
How Is Chutney Made?
Making chutney is similar to making jam in the sense you are boiling or stewing fruit and vegetables with sugar for a short period of time to drive off water. The addition of vinegar and spices make a difference to the aroma but the process is nearly the same.
In most cases, a chutney recipe will call for canning the end result, unless it is intended to be eaten fresh or within a short period of time. This is done in a hot water bath as chutney is acidified. A full guide on hot water canning can be found here.
The Process of Making Chutney
This outline details how a chutney is commonly made:
Prepare fresh fruit and vegetables, cutting into small dice or bitesize pieces.
The fruit and vegetable are placed in a heavy-bottomed preserving pan or large saucepan. The fruit and veg may be cooked for a while before adding vinegar, salt, herbs and spices.
The mixture is bought to a boil and simmered before adding sugar which prevents the vegetables from softening too much.
The chutney is cooked, reducing the moisture for up to an hour. Once the consistency is thickened and glossy the chutney is ready to go into jars.
Ladle the hot chutney into sterilised jars leaving 1/2 inch of headspace, wipe the rims add lids and bands until only just tight. Process for the time indicated in your recipe, depending on the ingredients, usually between 10 and 20 minutes.
Allow to cool, check seals and store in a cool dark cupboard.
Chutney Recipe
This recipe is for a very simple Apple and Date Chutney. It goes great with cheeses, cold meats, ham or pork chops. Give it a go.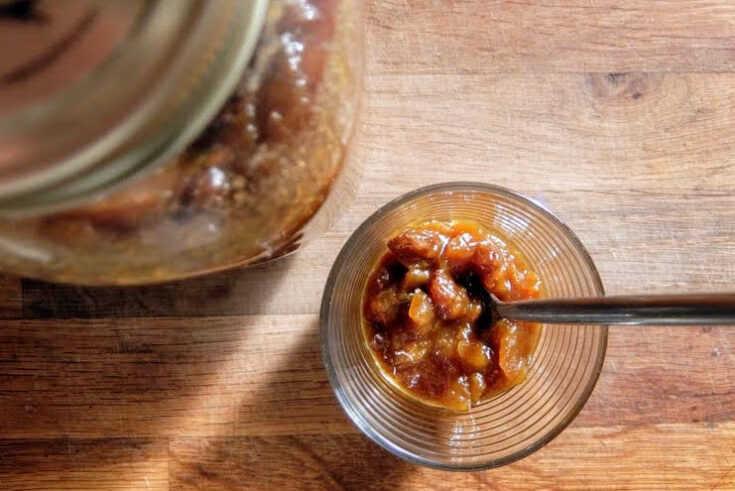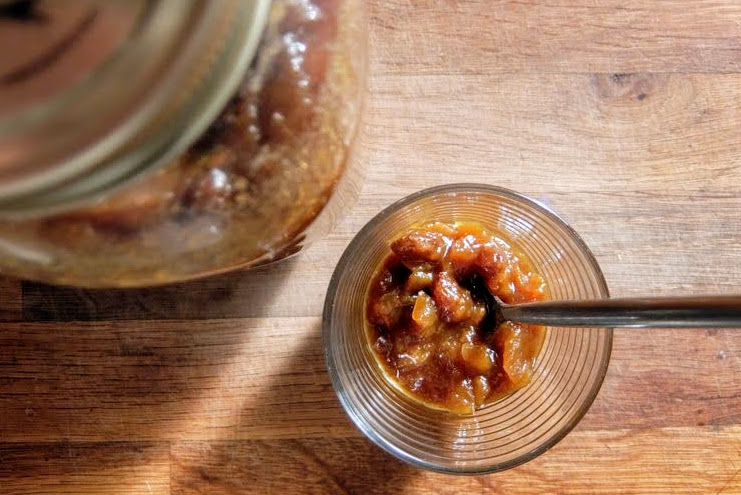 Yield:

2 x 1-pint jars
How To Make Chutney - Apple & Date Chutney
Total Time:
2 hours
20 minutes
A really simple, tradition apple and date chutney.
Ingredients
1.5kg Cooking Apples
3 Onions
500g Dates
500g Brown Sugar
150ml Malt Vinegar
150ml Cider Vinegar
1/2 tbsp Salt
2 tsp Mustard Seeds
1 tsp Ground Cinnamon
1/2 tsp Cayenne Pepper
Instructions
To begin, peel, core and dice the apples, and finely dice the dates and onions.
Prepare a hot water bath and bring to a simmer. Scald two 1-pint canning jars and leave in the water bath until ready to fill later on.
Put all the ingredients apart from the sugar and cider vinegar in a large heavy-bottomed pan and slowly begin to heat. The apples will release moisture and this needs to be cooked down slowly at a simmer for roughly an hour until everything is really soft. Keep stirring frequently so the mixture doesn't scorch.
Once all the fruit and veg is nice and soft add the brown sugar and cider vinegar and reduce down stirring frequently for another hour or so until the chutney is dark, thick and really soft.
To test the chutney is ready to jar drag a spoon through the mixture a channel will form that holds its shape for a few moments. If the channel fills up immediately it needs further cooking.
Ladle the hot chutney, leaving 1/2 inch of headspace into hot jars taken from the water bath. Wipe the rims and add the lids and bands. Process the jars in the hot water bath for 10 minutes once the bath reaches a boil. Remove from the heat and leave to stand for 5 minutes before lifting out.
Leave the jars to cool for 12 hours before checking the seals. Store for up to a year in a cool, dark place and refrigerate once opened. It is best to wait for a few weeks before opening the chutney for the flavours to come together.
Notes
Store for a few weeks before opening for the flavours to mellow. If processed in a hot water bath the chutney can be stored in a cool dark place for up to a year. Once opened, refrigerate and consume within a month.
Nutrition Information:
Yield:
40
Serving Size:
1
Amount Per Serving:
Calories:

124
Total Fat:

0g
Saturated Fat:

0g
Trans Fat:

0g
Unsaturated Fat:

0g
Cholesterol:

0mg
Sodium:

94mg
Carbohydrates:

31g
Fiber:

2g
Sugar:

28g
Protein:

1g