Pickled celeriac or celery root is a perfect side to a charcuterie board, sandwich or just on its own. The aniseed and vinegar combine to make a perfect counterbalance to oily and rich foods and because of the way it is shredded it is almost like coleslaw in its own right.
Celeriac or celery root is a root vegetable with a distinct aniseed taste similar to celery stalks. The pickled celeriac recipe below is measured after the celery root has been peeled. As it is quite rough and craggy you probably want around a kilo of celeriac.
I like to cut the celeriac into matchstick-size strips for this but it is quite laborious. If you prefer, use a large-holed box grater or food processor to shred the celeriac.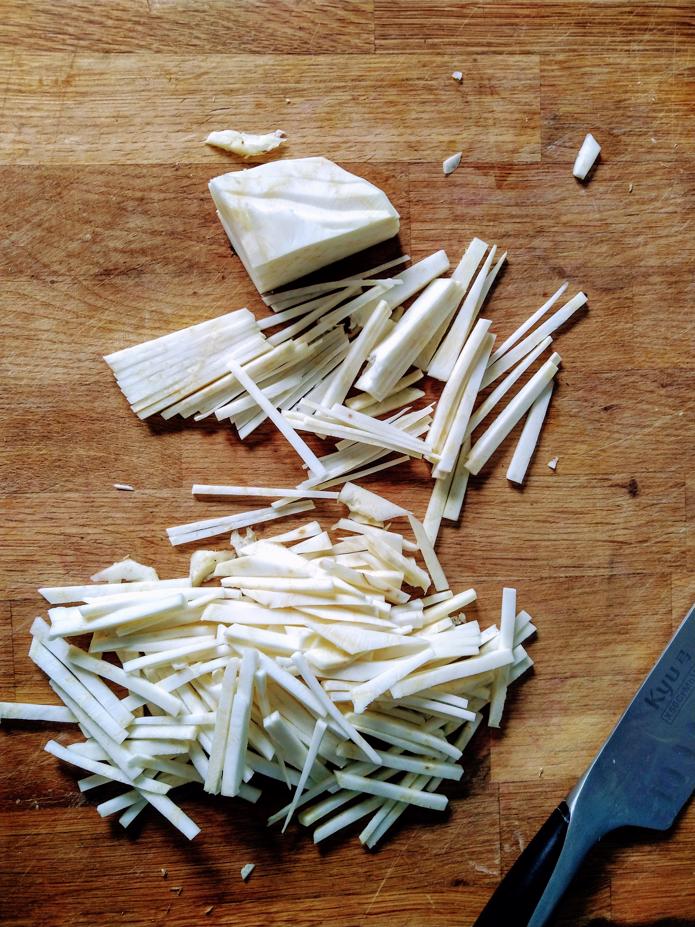 Celeriac Pickle Recipe
This recipe will yield around 4 x 500ml / 1 pint jars. You can increase or decrease the amounts according to how much celeriac you have.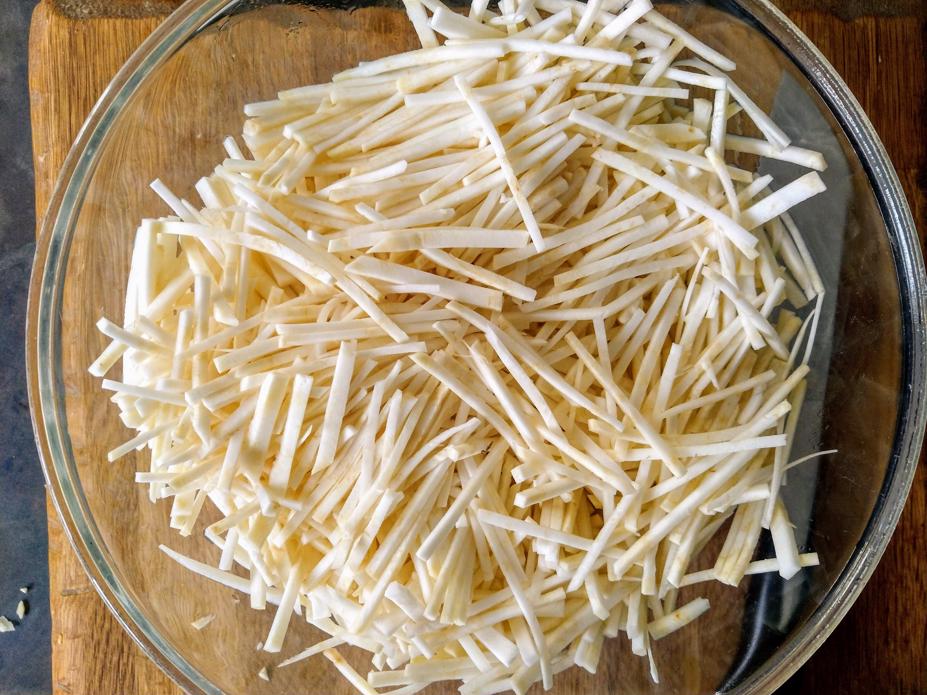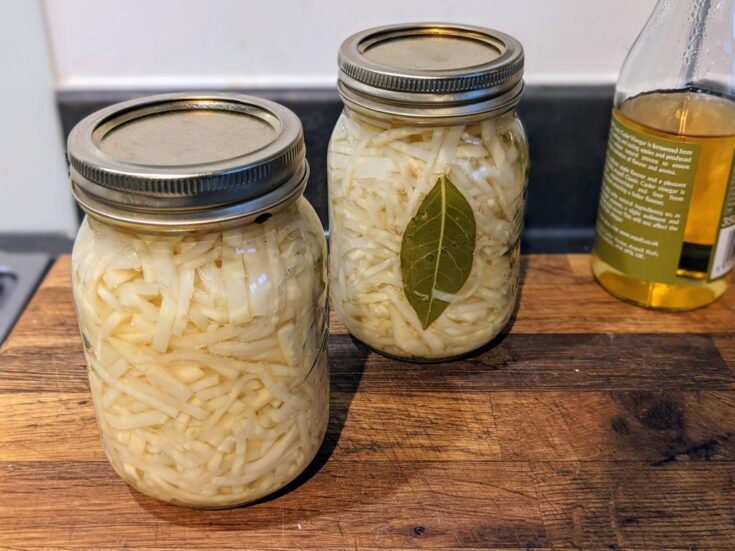 Yield:

4 x 500ml / pint jars
Celeriac / Celery Root Pickle Recipe
An aromatic and punchy celeriac pickle, great as an accompaniment or mixed with mayo for a very quick and easy slaw.
Ingredients
900g / 2lb Celeriac / Celery Root peeled
650ml / 23fl oz White wine vinegar
650ml 23 fl oz. Water
60g / 2oz Honey
1 tbsp Salt
2 tsp Black Peppercorns
4 Bay leaves
Small bunch of Thyme
Zest & Juice of 1 Lemon
Instructions
Cut the celeriac in matchsticks or alternatively shred the celeriac either with a food processor or on a large holed box grater.
Combine the celeriac, vinegar, water, honey, salt, and the lemon juice and zest in a large pan. Cover and bring to a simmer and then strain and reserve the brine hot in a jug.
Take sterilized jars that are still hot and add a bay leaf to each and add a few sprigs of thyme and a few black peppercorns. Pack the celeriac into the jars and then pour over the hot pickling brine leaving a 1cm headspace at the top of the jar.
Knock any air bubbles out of the jars, wipe the necks of the jars and seal with the lid fingertip tight. Place the jars in a boiling water bath submerged by about an inch and process for 15 minutes once the water has come to the boil.
After processing for 15 minutes remove from the heat, allow to stand for a few minutes and then lift the jars out and allow to cool to room temperature.
Recommended Products
As an Amazon Associate and member of other affiliate programs, I earn from qualifying purchases.
Do You Need To Can Pickled Celeriac?
The recipe above details how to can pickled celery root in a hot water bath. If you do want or need to store the pickled celeriac and you want to use it right away then you do not need to process the celeriac in a hot water bath.
You can treat the pickled celeriac as a refrigerator pickle and store the jars of celeriac in the fridge once cooled. Stored in the fridge and kept in the pickle brine the celeriac will last for around 2 – 3 weeks.
How To Serve Pickled Celeriac
Pickled celeriac is great for making coleslaw or remoulade. It can also be used as a side to a charcuterie or cheese board, the flavours and acidity make it a great palate cleanser.
How To Store Pickled Celeriac
The celeriac, if processed in a hot water bath should be stored in a cool, dark place and it will last up to a year as long as the seals are intact.
Once opened, store in the fridge submerged in the pickling brine for up to a month or more.