Asparagus has a short season and arguably it is at it's very best for only a couple of weeks before getting a little woody and lacking flavour. It makes it a perfect candidate for pickling and this pickled asparagus recipe is a good one.
Pickling asparagus and processing in a boiling water bath for 10 minutes means you can capture that short season and enjoy for up to a year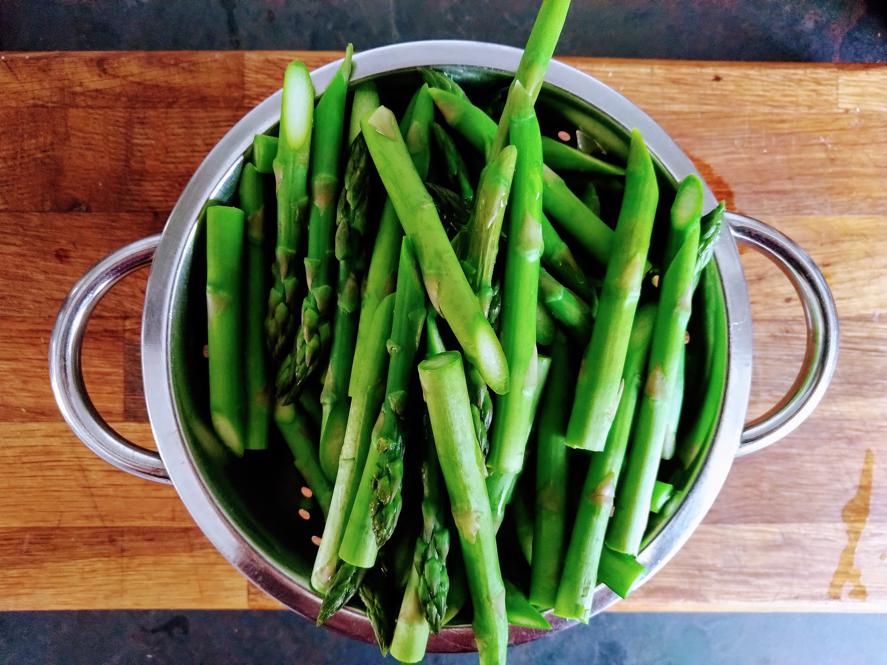 Pickled Asparagus Recipe
This recipe will make 3 x 500ml jars but can be increased or decreased according to how much asparagus you have.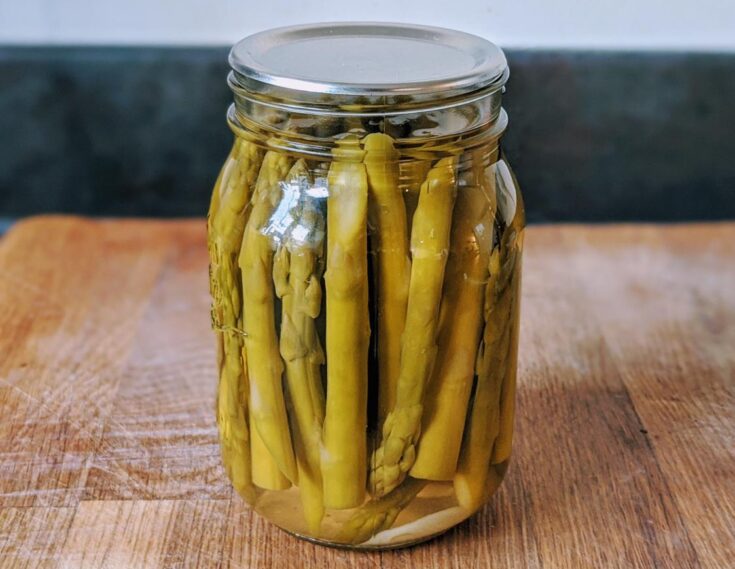 Yield:

3 x Pint / 500ml Jars
Pickled Asparagus Recipe
Perfectly capturing the seasonality of asparagus, great as a snack on their own or as part of salads. Great with egg dishes.
Ingredients
750g Asparagus
700ml White Vinegar
500ml Water
75g Sugar
60g Salt
1 tsp Dried Chilli Flakes
1 tsp Pickling Spice
1 tsp Lemon Zest
3 Cloves Garlic
Instructions
In a large pan combine the vinegar, water, sugar, salt, chill, zest and pickling spice and begin heating to a simmer, stirring to dissolve the sugar and salt.
Wash and then trim the woody base of the asparagus stalks making sure they fit upright in the jars. If the asparagus is too tall, trim in half and pack both halves. Blanch in boiling water for one minute.
After blanching pack fairly tightly into hot, sterilised jars with the tips pointing up. Add a garlic clove to each jar.
Ladle the hot pickling brine into each jar over the asparagus. A canning funnel is useful for this. Leave a 1 cm headspace in each jar and knock out any bubbles that may have formed.
Clean the jars, finger tighten the lids and place in a boiling water bath to process. Process the jars for 10 minutes on the heat and then turn off and let the asparagus jars sit for 5 minutes.
Remove from the boiling water bath and allow to cool.
Recommended Products
As an Amazon Associate and member of other affiliate programs, I earn from qualifying purchases.
Nutrition Information:
Yield:
6
Serving Size:
1
Amount Per Serving:
Calories:

100
Total Fat:

0g
Saturated Fat:

0g
Trans Fat:

0g
Unsaturated Fat:

0g
Cholesterol:

0mg
Sodium:

3903mg
Carbohydrates:

18g
Fiber:

3g
Sugar:

14g
Protein:

3g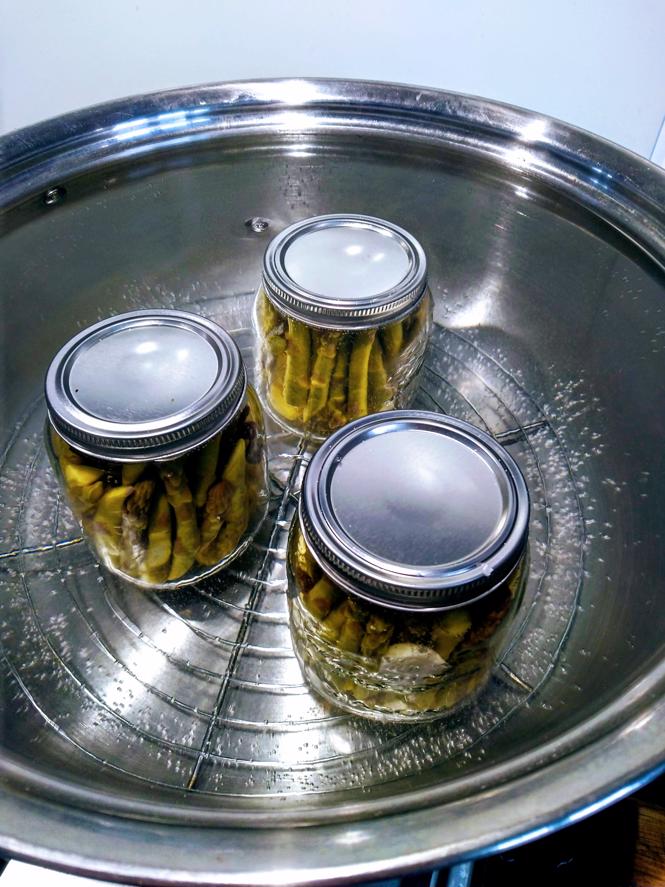 How To Store Pickled Asparagus
If the pickled asparagus is heat processed store the jars in a cool, dark place. As long as the seal is left intact the asparagus will last a year or more. Once opened store the asparagus in the refrigerator and eat within a week as the asparagus will not be in the brine.
How To Use Pickled Asparagus
Pickled asparagus is great on its own or I like to serve it along with eggs where the acidity balances out the rich yolk of the egg.