Apples are one of the easiest fruits to make jelly with. There is almost never a problem with apple jellies setting and the subtle, delicate apple flavour is the perfect foil for adding other flavours.
Making a spiced apple jelly allows you to be as creative as you want. You can go for a warming, sweet version like in the recipe below or you could make the jelly a bit more savoury depending on the spices you choose and adding a little cider vinegar.
Apple Jelly Is Perfect For Beginners
To get to grips with making jellies, apples are the perfect way to start. Using cooking apples means they break down really easily releasing all their juices and the amount of pectin is really high so the jelly gels really easily.
In fact, the pectin in apples is highest in the skins and core so there is no need to remove these when the apples are cooked. The skins, seeds and fibrous parts are all strained out in the jelly bag so the preparation is really minimal.
Making A Clear Apple Jelly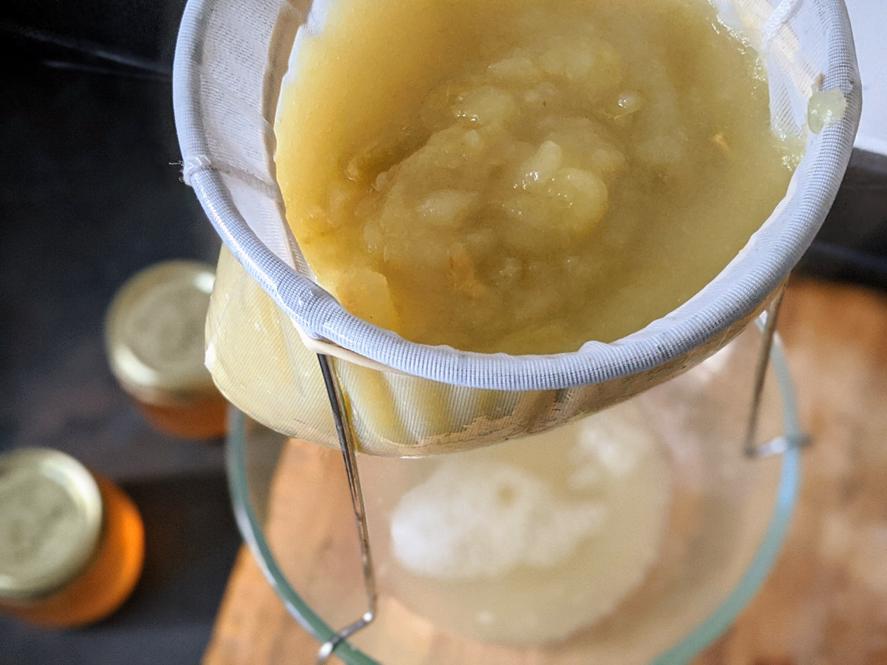 To ensure that your apple jelly is clear and not hazy or opaque you need to be patient straining the apples.
When you add the cooked apples to a jelly straining bag you might be tempted to push the mixture through or press with a spoon. If you force the apples at all you will end up with a cloudy jelly.
Instead, allow the apple juice to drip, slowly overnight. Don't touch it and your jelly will be clear once cooked.
Adding Extra Flavour To The Jelly
Apple jelly on its own can be a little one dimensional so adding flavours and spices is an easy way to lift the jelly into something unique and exciting.
Apples are often used as a base for other jellies as they provide plenty of juice and pectin. I have made rosehip jelly, chilli jelly and lavender jelly all ingredients with no juice on their own. Using apples as a base for these jellies provide a fairly neutral palate and lets the flavourings shine alongside the apple.
What Apple To Use For This Jelly?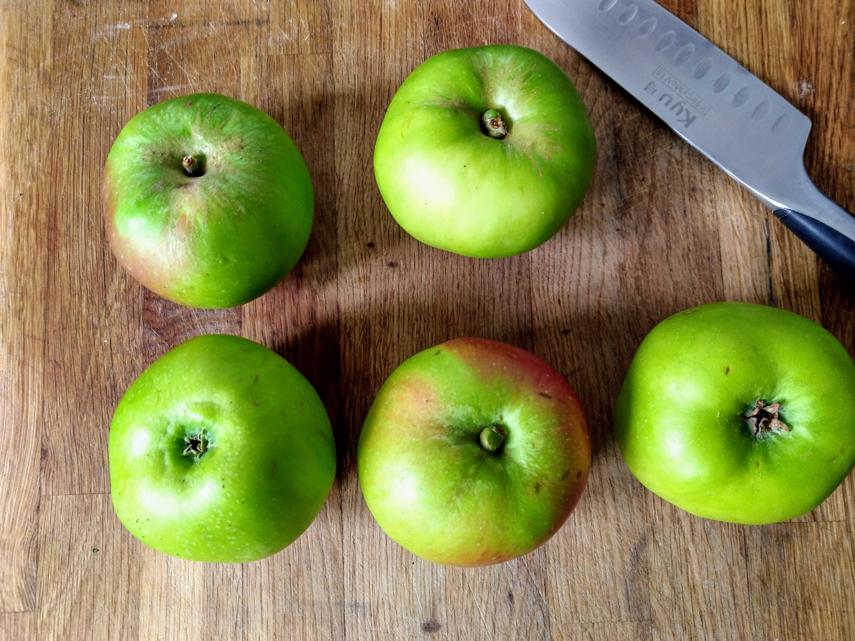 The type of apple that is best for making jellies are cooking apples that break down easily when heated.
Cooking apples such as Bramley will release all their juice and the flesh will break down into a mush. This kind of texture is perfect for straining and the skin and fibrous parts of the cooking apples will be left in the straining bag.
You can, of course, experiment with different varieties of apples or crab apples to experiment for yourself.
Spiced Apple Jelly Recipe
This recipe will make 3 – 4 half-pint / 250ml jars.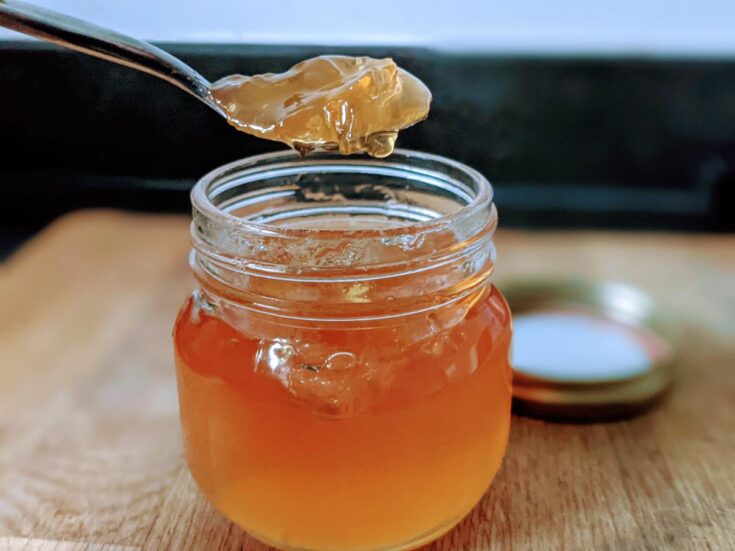 Yield:

3 - 4 half-pint / 250ml jars
Spiced Apple Jelly Recipe
Total Time:
7 hours
5 minutes
A simple and easy to make jelly that adds a warm hit of ginger and cinnamon against a crisp apple sweetness.
Ingredients
5 large cooking apples (such as Bramley)
2 cups of water
400g / 2 cups granulated sugar
Juice of 1 lemon
1-inch piece of root ginger (grated)
Zest of 1 orange
Stick of cinnamon
Instructions
Start by giving the apples a good rinse under running water and then dice into 2 cm cubes, include the skin and core of the apples. Place in a large pan with 2 cups of water and the juice of a lemon.
Place the pan of apples on the heat and bring to a simmer. The apples should start breaking down. Keep stirring to avoid scorching on the bottom of the pan and simmer for 30 minutes so the mixture is really soft.
Place a jelly straining bag over a large bowl and carefully ladle and pour the hot apple mixture into the bag. Allow the apples to strain without stirring or pressing (this will turn the jelly cloudy) for 3 - 4 hours or even overnight.
After the apples have strained measure the amount of apple juice collected. For every 100ml of juice collected, add 80 grams of sugar. As an example, if you have 500ml of apple juice add 400 grams of sugar.
Prepare a hot water bath and bring to temperature, scald 3 half-pint jars. Leave the jars in the water bath until ready to use
In a heavy-based pan add the apple juice and sugar solution along with a small cheesecloth or muslin square tied into a bag with the cinnamon, orange zest and ginger secured. Bring to a boil and allow the jelly to simmer.
Simmer the jelly for around 20 - 30 minutes before checking the gel. The apple jelly needs to reach 105°C / 221°F. If you don't have a jam thermometer then perform a wrinkle test following these instructions.
Once the jelly has reached gelling point remove from the heat. Take the jars from the hot water bath and fill whilst still hot, leaving half an inch of headspace. Wipe the rims of the jars and add the lids and bands until fingertip tight.
Process the jars in the hot water bath completely covered for 10 minutes once the bath has reached a boil. After 10 minutes, remove from the heat and allow to stand for 5 minutes before lifting the jars. Allow to cool completely before checking the seals.
Notes
Store the sealed jars in a cold dark place for up to a year. Once opened refrigerate and consume within a month or so
Recommended Products
As an Amazon Associate and member of other affiliate programs, I earn from qualifying purchases.
Nutrition Information:
Yield:
20
Serving Size:
1
Amount Per Serving:
Calories:

111
Total Fat:

0g
Saturated Fat:

0g
Trans Fat:

0g
Unsaturated Fat:

0g
Cholesterol:

0mg
Sodium:

2mg
Carbohydrates:

29g
Fiber:

2g
Sugar:

26g
Protein:

0g
How To Use Spiced Apple Jelly
I like apple jelly on warm toast or English muffins with butter. A spiced apple jelly, like the one here, is good with a lot of sweet dishes and as a spread but you can also try it with savoury dishes or cured meats as a nice contrast to the saltiness.