A great way to use a glut of pears is to make a pear chutney. It is not the first thing you think of when it comes to preserving pears but the delicate flavour and sweetness pairs so well with spices. The tartness of vinegar and sugar make this chutney very moreish and the perfect condiment for a cheeseboard.
A lot of chutney recipes have apples in them even if they use other fruit. The pear misses out which is a shame because they make great chutney.
There are plenty of pear varieties to choose from some will break down and create a smooth chutney, others will hold their shape after cooking. Try looking for some less usual varieties to make your pear chutney a bit more special.
Adding Ginger & Spice
Ginger pairs really well with pear and doesn't overwhelm the flavour of this chutney. A thumb-sized piece of fresh ginger adds a kick and complements the sweetness.
For this spices in the pear chutney, I have added turmeric which adds colour and earthiness and cumin for a distinct, bittersweet heat that works well with the ginger.
When making your own pear chutney by all means feel free to experiment with the spices and try different combinations. A sweeter version might have cinnamon and nutmeg which also pair well with the pears.
Pear Chutney Recipe
The following recipe will make 4-5 half-pint / 250ml jars.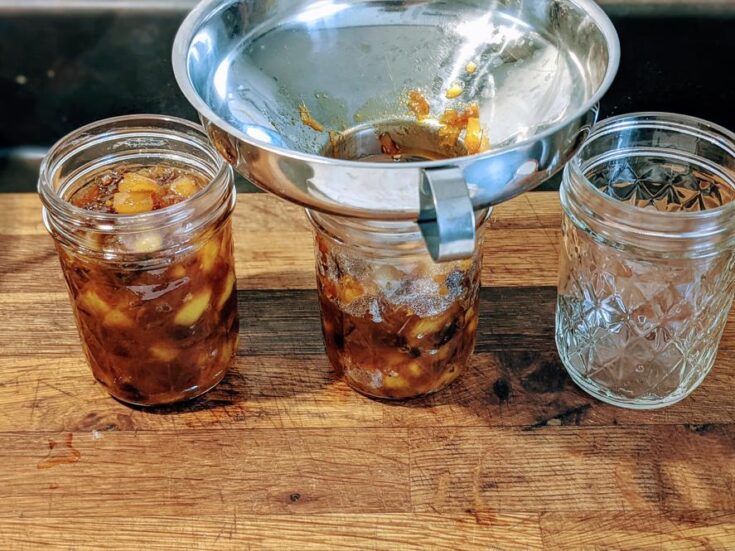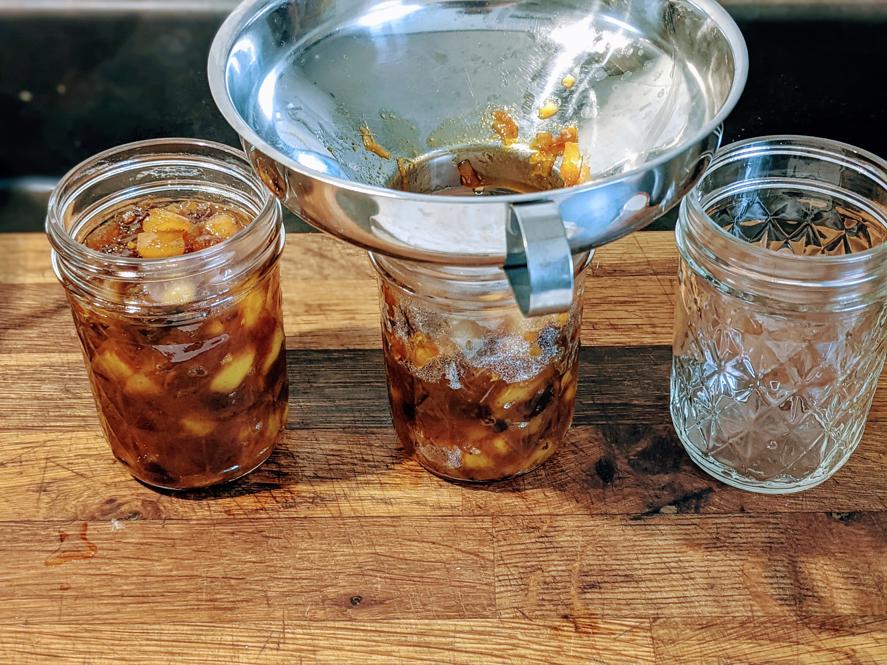 Yield:

4 - 5 half-pint / 250ml jars
Pear Chutney Recipe With Ginger & Spice
Total Time:
1 hour
10 minutes
A simple and flavour packed pear chutney. Ginger and pear go together really well and this chutney is perfect with cheese, ham and savoury pastries
Ingredients
8 Pears (peeled & cored)
380ml Brown sugar
380ml White wine vinegar
50g Fresh Ginger root (peeled and finely grated)
120g Raisins
2 Onions (finely diced)
1tsp Turmeric
1tsp Ground Cumin
Instructions
Prepare a hot water bath and scald 4 or 5 half-pint jars in the water. Keep hot until ready to use.
To begin, combine the vinegar, sugar, turmeric and cumin in a large heavy-bottomed pan. Place on a low heat and bring to a simmer to dissolve the sugar. Once at a simmer add the diced onion and finely grated ginger.
Continue simmering the vinegar and onion mixture until it is reduced by around half.
Whilst simmering dice the pear into small cubes and add the pear along with the raisins once the vinegar has reduced by half.
Being back to a simmer and simmer for 10 to 20 minutes until thickened slightly. To check the chutney consistency a spoon can be dragged along the bottom of the pan, a channel should form without being filled in straight away with liquid.
Remove the jars from the hot water bath and ladle in chutney whilst still hot, a jar funnel is helpful for this. Leave a 1/2 inch headspace, wipe the rims of the jars and place in lids and bands, twist on until fingertip tight.
Process the jars, completely covered in the hot water bath for 10 minutes after a rolling boil is achieved.
After 10 minutes remove from heat and allow the jars to stand for 5 minutes before lifting out with tongs. Allow to cool completely before checking seals and storing in a cool dark place.
Recommended Products
As an Amazon Associate and member of other affiliate programs, I earn from qualifying purchases.
Nutrition Information:
Yield:
30
Serving Size:
1
Amount Per Serving:
Calories:

82
Total Fat:

0g
Saturated Fat:

0g
Trans Fat:

0g
Unsaturated Fat:

0g
Cholesterol:

0mg
Sodium:

4mg
Carbohydrates:

21g
Fiber:

2g
Sugar:

17g
Protein:

0g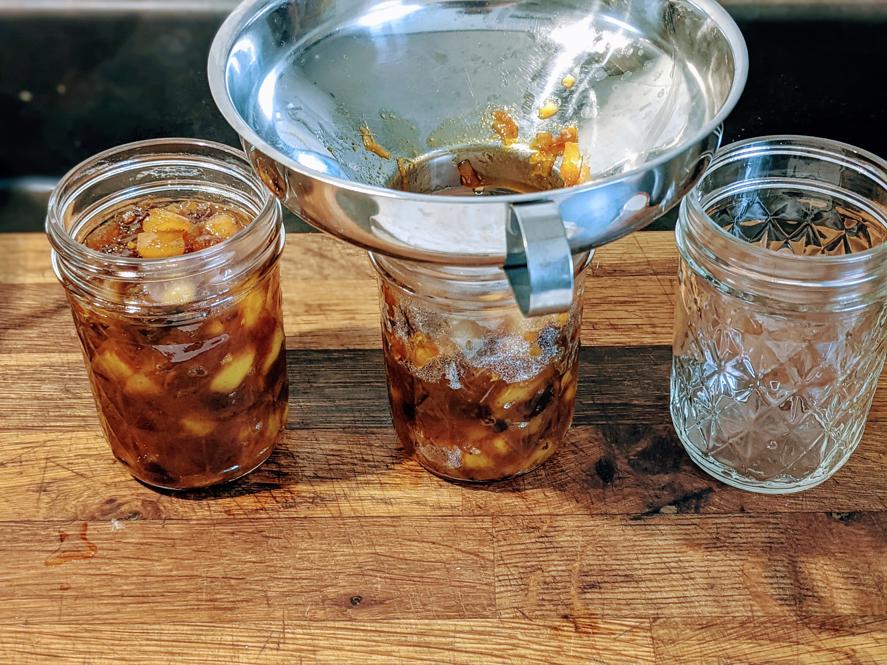 Does Pear Chutney Need Canning?
If you want to store your chutney for more than a month or so then you will want to process the jars in a hot water bath. Canning the pear chutney means it can be stored in a cool dark place for up to a year.
If you intend to eat your chutney fairly soon then you can treat it as a refrigerator pickle. Once the jars have cooled keep them in the fridge and the chutney will last for a month or so and can be used within a week.
How To Tell If The Chutney Is Ready?
There is some confusion around how to tell when a chutney is ready to jar. To a certain extent it is a matter of practice.
The texture should be fairly thick and one of the most common methods to check consistency is to drag a spoon along the bottom of the pan, a clear channel should be made without it filling back up with liquid straight away. If the channel holds up for a few moments then you have about the correct consistency for the chutney.