There is something quite satisfying about making something like this chilli jelly that has so many culinary uses as well as being delicious on its own.
How To Make Chilli Jelly
A jelly needs juice as a base and chillies are not exactly juicy so we need a neutral base to which we can showcase the chilli spice.
Cooking apples are perfect for this. Similar to the spiced apple jelly here, cooking apples provide an abundant amount of juice and lots of pectins to set the jelly. They are fairly neutral flavoured and will allow the chilli to take centre stage.
I use this chilli jelly in any recipe that requires a little heat and sweetness. Stews, sauces, braises can all be boosted by stirring in a spoonful to provide a background warmth and sweetness.
The sugar in this jelly will,of course, make this sweet. It needs the sugar to set the jelly and preserve it but we can balance out the sweetness with some acidity.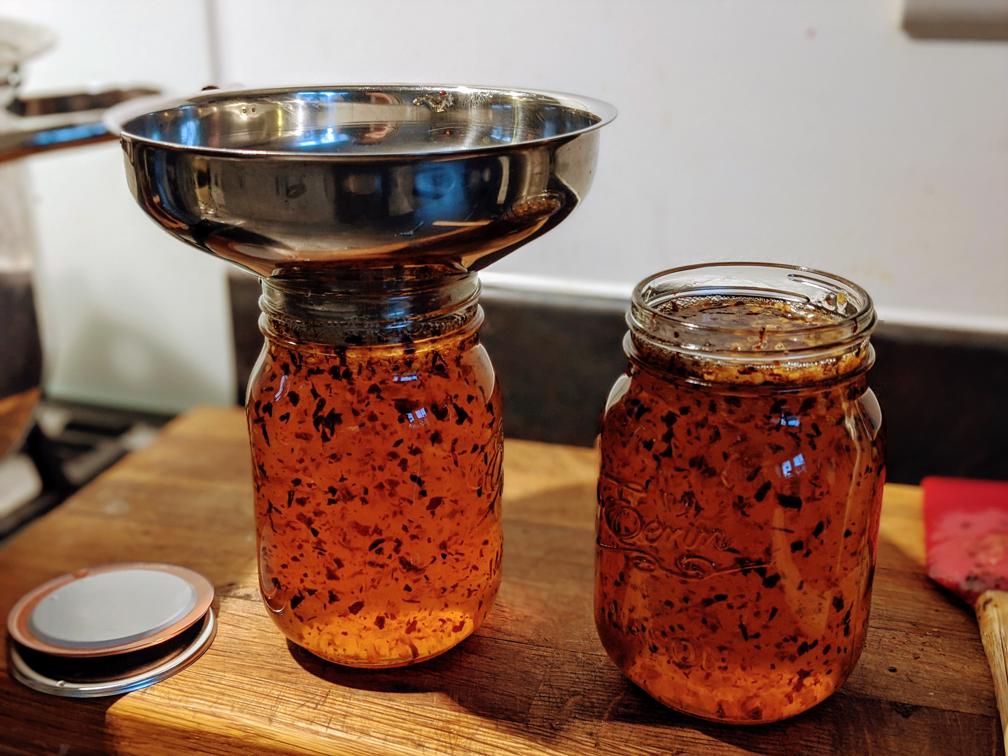 Balance Sugar With Acid
Adding vinegar to this jelly helps to balance the sweetness and lifts the flavour making it brighter and lighter.
Unlike using a nice apple cider vinegar being as we are using cooking apples as a base but any flavourful vinegar would work.
What Types Of Chillies To Use?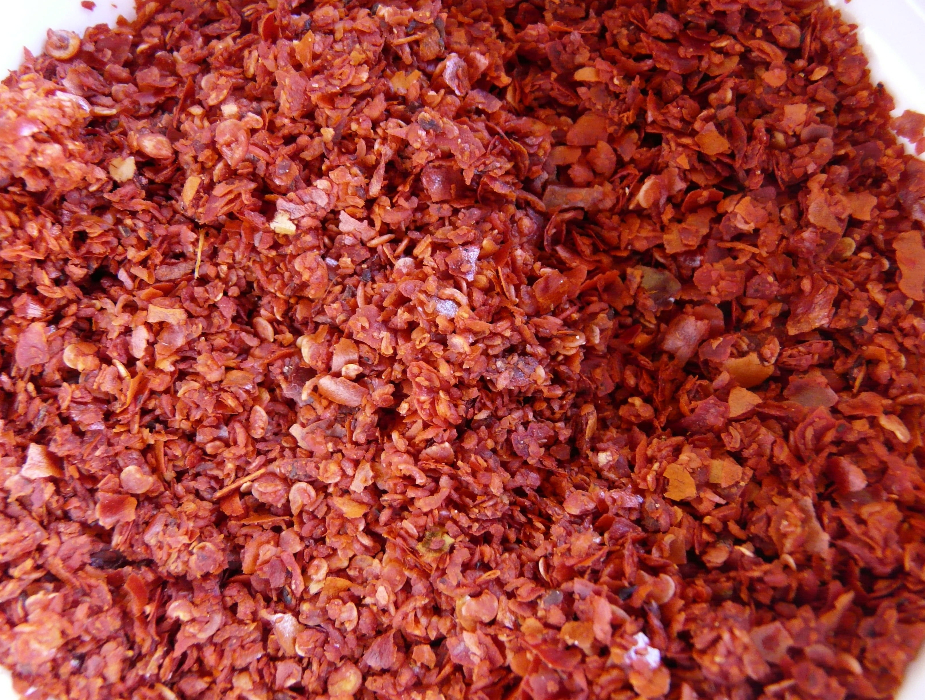 I think the best option here is to use dried chilli flakes rather than fresh chilli. Using chilli flakes looks a lot better when they are suspended in the jelly and it is really easy to replicate the recipe and get the same result in terms of the amount of spice.
There is a whole range of dried chilli flakes you can source now ranging from mild to extremely hot so you can tailor the recipe to your level of heat.
I have made this chilli recipe with Gochugaru or Korean chilli flakes which gives a subtle, smokey heat or you can go for really hot birdseye chilli flakes if you want something that is really going to be fiery.
In this recipe, I have used two tablespoons of regular dried chilli flakes for 2 pints of chilli jelly and it gives a nice warming spice without being too much. You can decide for yourself how to tweak the spice.
Chilli Jelly Recipe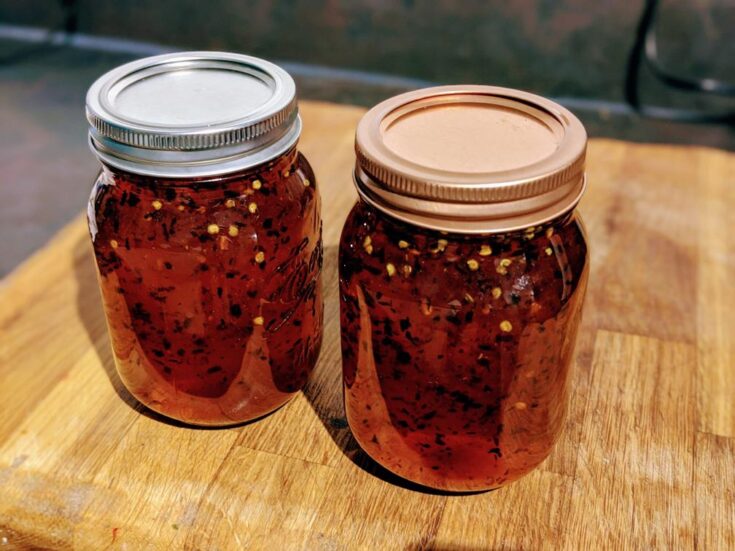 Yield:

2 Pint Jars
Chilli Jelly Recipe
Total Time:
1 hour
5 minutes
A chilli jelly that can be tweaked to make as fiery as you want. Perfect for adding a bit of spice to dishes and great as a glaze for meat or fish.
Ingredients
1kg cooking apples (such as Bramley Apples)
150ml cider vinegar
800g sugar
2tbsp dried Chilli Flakes
Instructions
Rinse the apples thoroughly and then chop them unpeeled and including the cores into 2cm or inch cubes. Put them in a large saucepan with 450ml / 2 cups of water which should be just enough to cover.
Place the pan on the heat and bring to a boil. Reduce to a simmer and cook the apples for around 30 minutes until the apples are completely soft and mushy. Remove from the heat and carefully ladle the apple mixture into a jelly straining bag above a bowl.
Allow the juice to drip through the jelly bag for at least 4 -5 hours or even overnight. Do not try and force the juice through or stir as the resulting chilli jelly will be cloudy.
After draining as much of the juice as possible measure the resulting amount. For every 100ml of juice add 80 grams of sugar to it. If you have a 1000ml / 1 litre of juice add 800 grams of sugar. Along with the sugar add the cider vinegar and pour everything into a heavy-based pan.
Prepare a hot water bath and bring to temperature. Scald 2 1-pint jars or 4 half-pint jars in the water bath and leave them submerged until you are ready to use.
Set the pan on the heat and begin to bring to a boil, stirring to dissolve all of the sugar. Once a boil has been reached add the chilli flakes and continue to boil for around 20 - 30 minutes before checking the gel.
The chilli jelly needs to reach 105°C / 221°F. If you don't have a jam thermometer then perform a wrinkle test following these instructions.
Once the jelly has reached gelling point remove from the heat and allow to cool for 10 minutes and the chilli flakes to disperse throughout the jelly. Take the jars from the hot water bath and fill whilst still hot, leaving half an inch of headspace. Wipe the rims of the jars and add the lids and bands until fingertip tight.
Process the jars, completely submerged in the hot water bath for 10 minutes at sea level. After 10 minutes allow the jars to sit for a minute or two before lifting out and allowing to cool completely.
Check the seals and store in a cool dark place for up to a year. Once opened, store the chilli jelly in the refrigerator and consume within a month or so.
Recommended Products
As an Amazon Associate and member of other affiliate programs, I earn from qualifying purchases.
Nutrition Information:
Yield:
30
Serving Size:
1
Amount Per Serving:
Calories:

123
Total Fat:

0g
Saturated Fat:

0g
Trans Fat:

0g
Unsaturated Fat:

0g
Cholesterol:

0mg
Sodium:

5mg
Carbohydrates:

31g
Fiber:

1g
Sugar:

30g
Protein:

0g