I must confess, I had never tried Kimchi before I made this recipe. In fact, the only thing I knew about Kimchi is that it is lacto fermented cabbage, which I later found out Kimchi isn't just fermented cabbage.
What Is Kimchi?
The term Kimchi encompasses hundreds of different variations of salted and fermented vegetables. It doesn't just relate to Chinese leaf cabbage but covers all kinds of vegetables, daikon, green beans, cucumber, courgette.
The most common, of course, is cabbage and Kimchi couldn't be further apart from sauerkraut in terms of flavour and colour.
Where To Start On Your Kimchi Making Journey
Coming from a point of having never tasted, let alone made Kimchi before I did plenty of research and reading to give myself a base to work from.
I found the book Kimchi by Byung-Hi Lim to be really helpful and the recipes were clear and concise so I have based the recipe on the recipe listed os Baechu Kimchi.
I really recommend the book and have made a number of the recipes in it.
What Kind Of Cabbage To Make Kimchi?
This is where my journey began. I knew I wanted to make Kimchi as authentic as possible and understand that the texture is really important.
You can make Kimchi from any cabbage you like but traditionally it is made from a type of cabbage called Chinese Leaf cabbage
Chinese Leaf Cabbage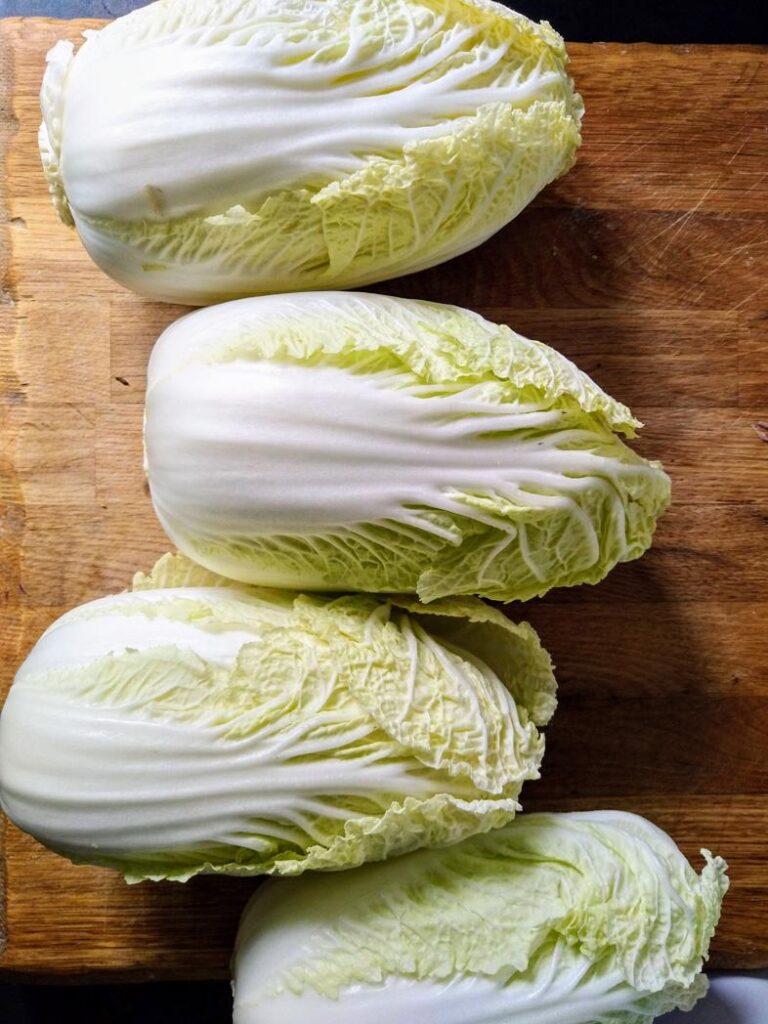 Chinese leaf or Napa cabbage is a delicate leaved type of cabbage from the same family of plants as Pak Choi and Turnip.
The flavour is delicate and subtle which makes it a perfect vehicle for the intense flavours of Kimchi and the texture is perfectly crisp for fermentation.
I have seen supermarkets stock Chinese leaf in both the cabbage section and the lettuce section of the produce aisles but it is readily available almost everywhere in the UK and is even grown here.
Gochugaru / Korean Chilli Powder
Another key component of this Kimchi recipe is the chilli. Kimchi uses quite a prodigious amount of chilli so it is a good idea that it is not too spicy and has a subtle smokey flavour rather than blow your head off heat.
Gochugaru is the name to look for but it can also be listed simply as Korean chilli powder or flakes.
Kimchi is cleary spicy but it is also very flavourful and Gochugaru has just the right amount of heat so if you can find it I would strongly advise to use this for your Chinese leaf kimchi.
How To Make Baechu – Chinese Leaf Kimchi
This recipe will make a fairly large amount of kimchi, you'll need 4 Chinese leaf or napa cabbages.
A key part of the process is making the Kimchi paste and covering the Chinese leaf in layers.
What You'll Need To Make Kimchi
Most of the process of making this kimchi is done in the fridge. You will need a non-reactive container, either glass or plastic with an airtight lid.
Unlike other ferments, this particular Kimchi is not made in brine but rather a paste that is high in salt. There are not weight to worry about to hold the ferment down so really you just need the following:
Large bowl
An airtight container that is non-reactive such as glass or plastic
Space in your refrigerator
Sharp knife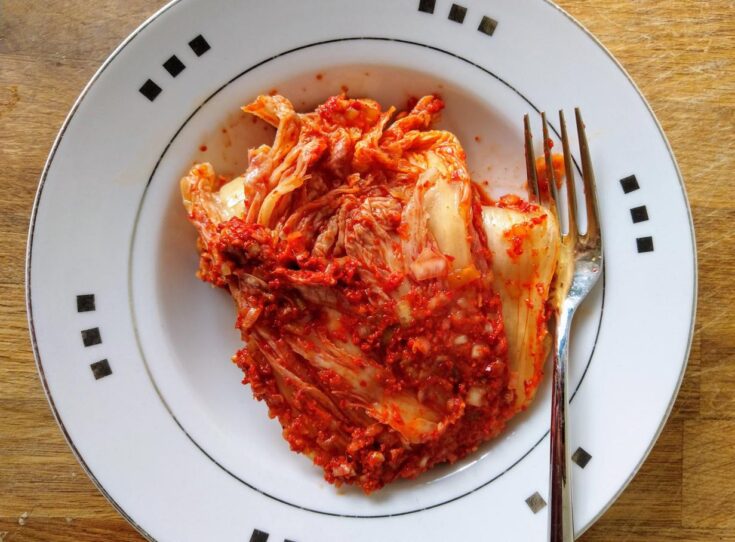 Yield:

4 cabbages
Baechu - Chinese Leaf Kimchi Recipe
Total Time:
7 days
45 minutes
An authentic Chinese leaf kimchi adapted from Kimchi
Ingredients
1kg Chinese Leaf (roughly 4 heads)
100g Salt
Kimchi Paste
75g Gochugaru / Korean chilli powder
150g finely chopped Leek
2 tbsp Garlic finely grated
1 tbsp Ginger finely grated
100g Daikon grated
1 tbsp Fish Sauce
1 tbsp Salt
1 tbsp Granulated Sugar
Instructions
Cut the Chinese leaf cabbage in half lengthwise and give the cabbage a rinse if not already washed.
Salt the cabbage with approximately 100g salt working through the layers of the leaves of each cabbage. Place the cabbage in a large bowl or basin, cut side up and just cover with water. Place a plate on top of the cabbage to submerge everything and leave to stand at room temperature for 24 hours.
After 24 hours drain the water and rinse the Chinese leaf thoroughly. Cover the cabbage in cold water and drain multiple times to make sure excess salt is removed. Drain thoroughly and squeeze the cabbage leaves gently to remove excess water and dry out the Chinese leaf.
Combine and thoroughly mix together the ingredients for the kimchi paste.
Begin spreading the kimchi paste onto the chinese leaf. You need to be quite through and get paste onto each leaf and right to the base of the cabbage so that everything is covered.
Take each kimchi paste covered cabbage half and place into a jar, or container with a tight-fitting lid, cut side up. Place the cabbage tightly together without applying too much force. Aim for as little space as possible between all the cabbage halves.
With the lid on tightly leave the Kimchi at room temperature for 24 hours and then place in the fridge. The Kimchi will be ready in around 7 days and will continue to develop flavour and tartness for upto a month.
Nutrition Information:
Yield:
10
Serving Size:
1
Amount Per Serving:
Calories:

24
Total Fat:

1g
Saturated Fat:

0g
Trans Fat:

0g
Unsaturated Fat:

0g
Cholesterol:

2mg
Sodium:

4749mg
Carbohydrates:

4g
Fiber:

0g
Sugar:

2g
Protein:

1g
How Long Will Kimchi Last?
This particular Kimchi is made and kept in the fridge so it will be good to eat and continue developing more flavour for up to 2 months.