Roasted Plum compote is so easy to make that I think it is one of the best ways to preserve plums, although not the only way.
Not only is it great as a sweet treat it is also easily turned into a tart and elegant plum sauce that goes great with savoury dishes such as duck.
Along with this it works great with almost all types of plum so you can make use of whatever variety you have available.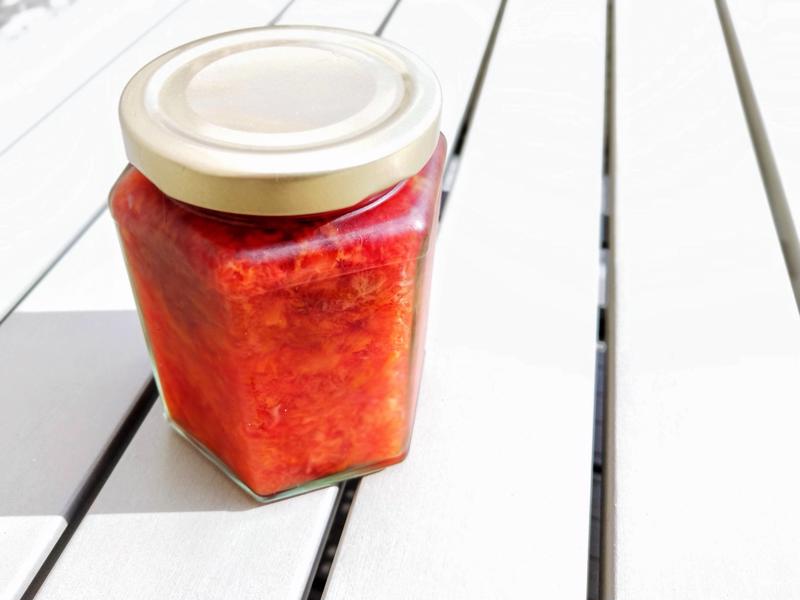 Plum Compote As A Preserve
I first came across this recipe in The Book Of Preserves by Pam Corbin and it is one of my favourite ways of preserving plums.
What I love about this roasted plum compote is its versatility.
Instead of making a jam with the plums this compote uses only a relatively small amount of sugar which leaves a lot more range to be had when you come to use the plum Compote.
Roasting Plums Boosts Flavour
Roasting the plums does two things:
Intensifies Flavour: The plums soften, the sugars caramelise and the flavour is increased by removing water.
Aids Preservation: Roasting the plums evaporates some of their water content. Removing water aids preservation and ensures the roasted plum compote is stable in jars for up to 6 months.
Adding Sweetness
Plums can be fairly tart and to offset this a small amount of honey is called for in the recipe, although not as much as would be required in a jam.
Honey, of course, further adds to the flavour but also helps to preserve the compote so it can sit in a jar and not spoil.
The amount of honey needed is roughly only 10% of the weight in plums, where as a jam would use around equal amounts of sugar to plums so you can see the sugar content is pretty low for a preserve like this.
Preparing The Plums To Make Compote
The beauty of this compote recipe is that the process is very simple. The plums are roasted whole so the only thing you need to do to them are give them a quick rinse and remove any bad or damaged plums.
Roast Plum Compote Recipe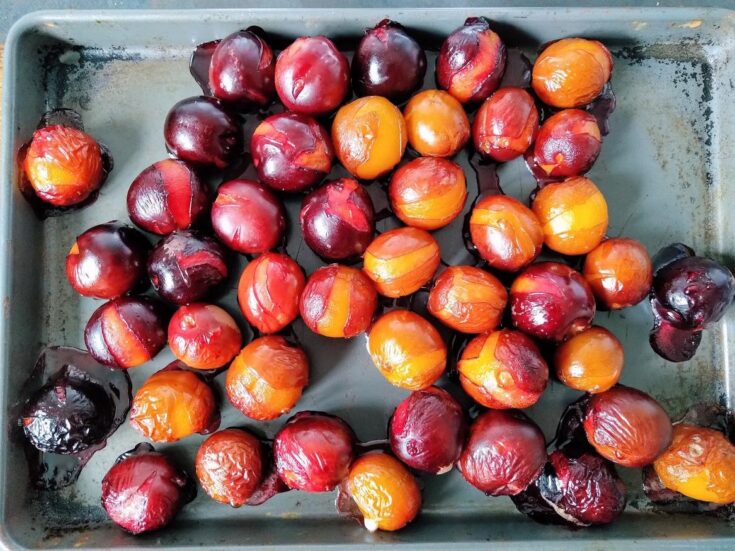 Yield:

2 x Half-Pint Jars / 250ml Jars
Roasted Plum Compote
A delicious roasted plum compote that is great with roast duck but also sweet dishes. Works as a base for Asian style plum sauce.
Instructions
Preheat the oven to 180°C / 350°F gas mark 6.
Arrange the whole plums on a baking tray and place in the middle of the oven. Bake for around 20 minutes or until the skins of the plums begin to split and the flesh softens.
Remove the plums from the oven and allow to cool. Once cool enough to handle pinch the skins off the plums which should slide off easily. Cut or break in half and remove the stones the plums can be put into a large pan ready to simmer.

Put the pan with the stoned and skinned plums on the heat, bring to a simmer and add the honey and allow to boil for 7 - 10 minutes.
In the meantime, set up a large pan of boiling water large enough to sterilise 2 small jars. Leave them in boiling water until you are ready to fill the jars with the compote.
Once the plum compote has boiled for 7 - 10 minutes lift the jars from the boiling water bath with a jar lifter or tongs and place on a tea towel. Carefully fill the hot jars with the hot plum compote up to the brim, a jar funnel is good for this. Seal the jars whilst hot.
Drop the sealed jars back into the boiling water bath and simmer completely submerged for 5 minutes. After processing for at least 5 minutes lift out the jars and sit them on a tea towel.
The sealed roast plum compote will keep for up to 6 months in a cool, dark place. Once opened, store in the fridge and eat within 6 days.
Nutrition Information:
Yield:
20
Serving Size:
1
Amount Per Serving:
Calories:

38
Total Fat:

0g
Saturated Fat:

0g
Trans Fat:

0g
Unsaturated Fat:

0g
Cholesterol:

0mg
Sodium:

0mg
Carbohydrates:

10g
Fiber:

1g
Sugar:

9g
Protein:

0g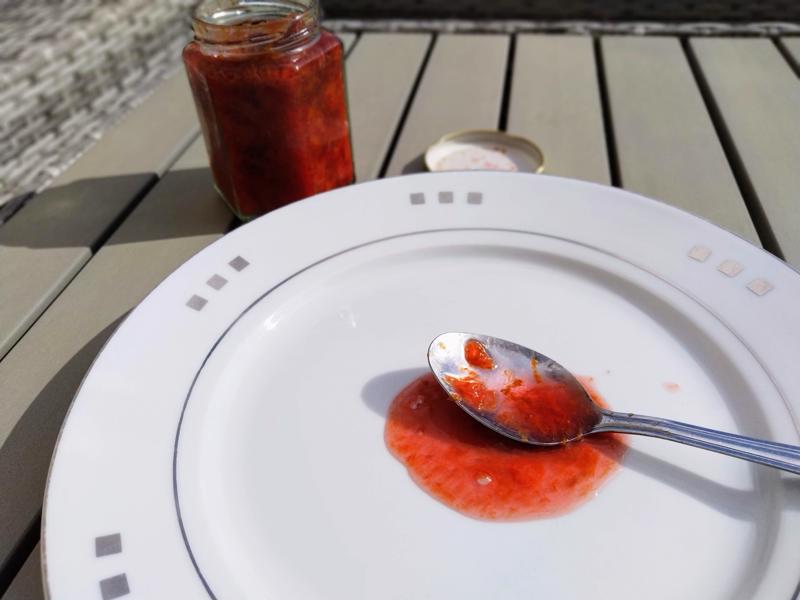 This plum compote works great in sweet dishes but also with roasted meat or fish as well. It can easily be turned into a Chinese style plum sauce by adding vinegar, garlic and chilli flakes so it is well worth doing.