It is a great time of year when plums are in season. Whether you have a plum tree, maybe walk past a wild escapee or pick them up at your greengrocers or farmers market I always find an abundance of plums to be a great glut to have.
Turning Sweet Plums into Something Savoury
I think plums are one of those fruits that are just as good in a savoury dish as they are in a dessert.
Plum sauce is a great example and complements game and duck for example so with this in mind it is good to try something different.
Fermenting Plums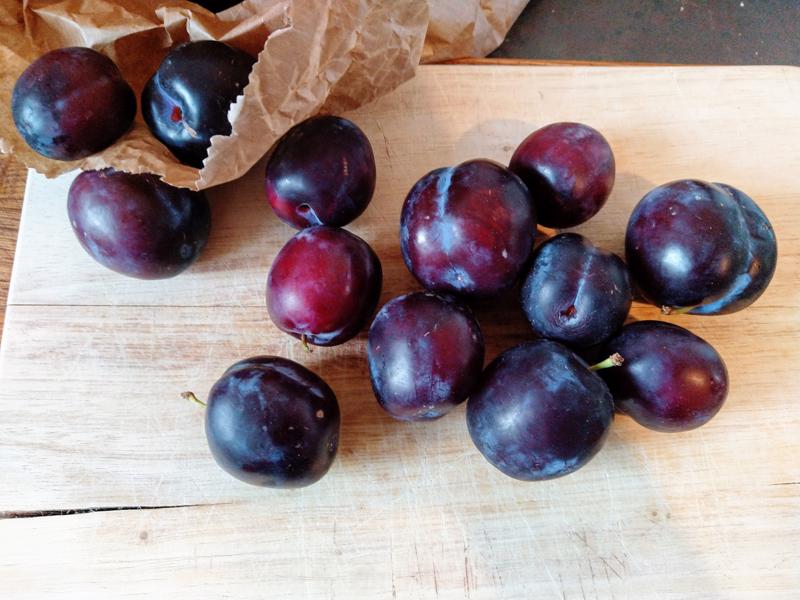 Fermentation is most often associated with vegetables like pickles, sauerkraut and so on.
Fermenting fruit is not unusual in many cultures but seems to be less common and plums are a great introduction to fermenting fruits.
In Japan there is Umeboshi which is a salty fermented type of plum. These Japanese plums called Ume are similar to under-ripe sweet plums.
The world renowned restaurant Noma also makes use of fermented plums and the book Noma Guide to Fermentation contains a recipe for fermented plums that inspired this article.
Fermented plums can be used in both sweet and savoury dishes and the flavours created are tart and have an umami quality that heightens whatever they are added too.
When you ferment a fruit, sugar is consumed by lactic acid producing bacteria. The acid produced in effect pickles them at the same as adding a complex tart and savouriness.
Lactic Acid & Fruit
Lactic acid producing bacteria require sugar to feed on and reproduce. These bacteria are responsible for fermentation.
In the same way as dill pickles or sauerkraut is fermented a plum is dealt with in exactly the same way.
A small amount of salt is added to the plums, around 2.5% by weight and this inhibits spoilage at the same time as benefiting our desirable lactic acid producing bacteria.
This salty environment creates the ideal conditions for preserving the plums using fermentation which creates acidity and complexity of flavour.
What You'll Need To Ferment Plums
There are two methods you can use to ferment plums. Either using a jar and fermenting the plums in the jar using a brine or using a vacuum sealer to create an environment with no oxygen.
Lactic acid fermentation is anaerobic so we want to create an environment for the plums free of oxygen.
Using a Fermentation Jar
The most common method is to use a jar and place the plums in the jar with a small amount of brine. The salt in the brine will draw water out of the plums adding to the brine.
As long as the plums are immersed in the brine then they won't be in contact with oxygen and will ferment just fine.
A small bag filled with brine or fermentation weights are used to hold the plums down ensuring they don't rise to the surface.
The jar is sealed either with a lid and airlock or sealed and burped regularly to release any carbon dioxide which is created during fermentation to escape.
Using a Vacuum Bag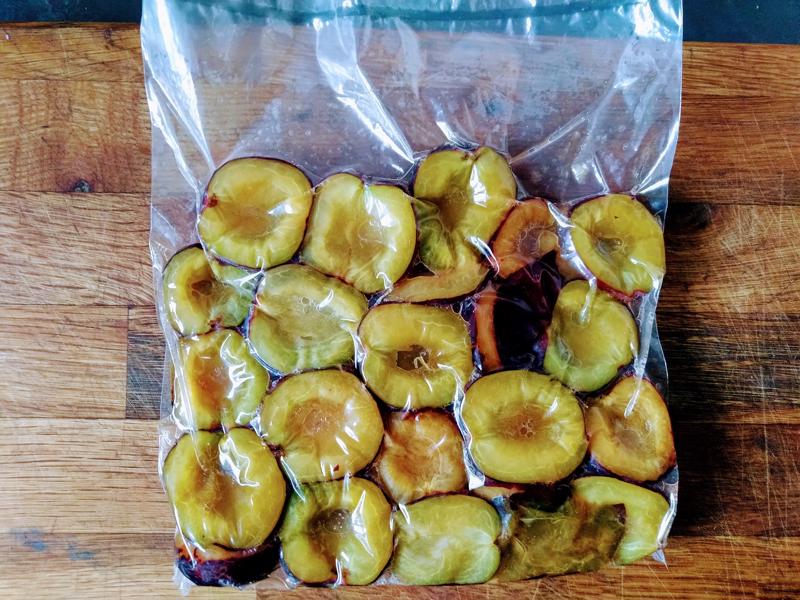 Using vacuum bags and a vacuum sealer you can effectively seal the plums in a very low oxygen environment.
There is no need for brine and the plums can be simply tossed with salt as they will release liquid creating their own brine.
The plums can then be vacuum sealed and left at room temperature to ferment.
Once the plums begin to ferment the carbon dioxide will start to inflate the bag. It is a useful way to monitor the progress. If the bag looks to be inflating too much snip a corner of and reseal being careful not to vacuum the juice out of the bag.
How Long Fermentation Will Take?
The plums should be fermented at room temperature or slightly warmer even at a range of 20-28 Celsius. At this temperature fermentation produces acid quickly and prevents the plums breaking down too much.
Fermentation shouldn't take much more than 5 – 7 days. At which point their will be a nice sourness whilst still maintaining the flavour of the plums.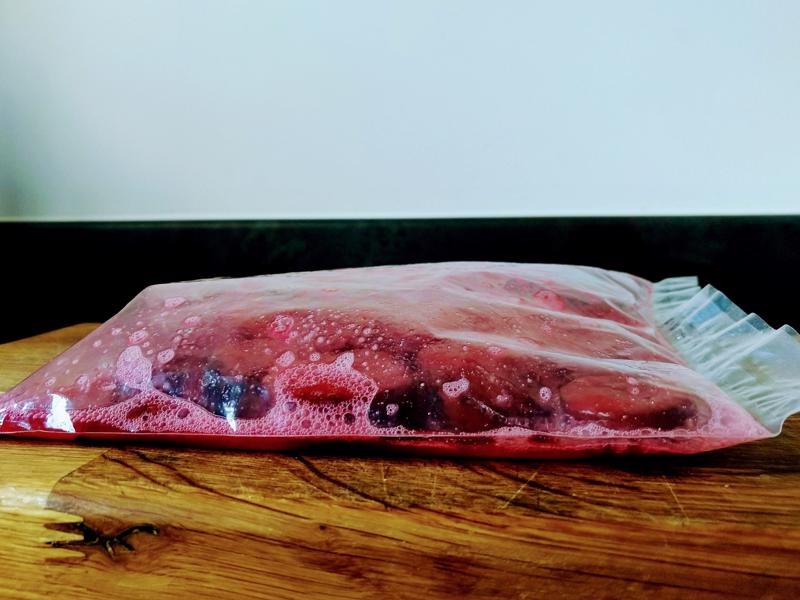 fermenting for longer than 7 days runs the risk of the plums breaking down too much and the acidity may overpower the flavour of the fruit.
Fermented Plums Recipe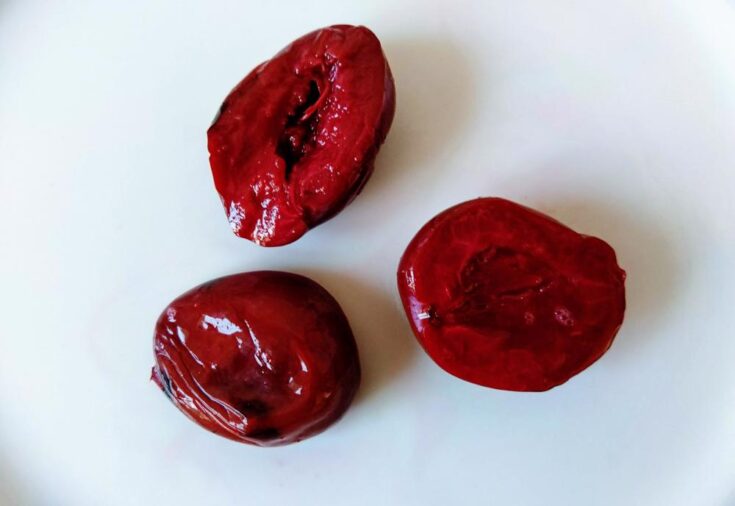 Yield:

1kg
Lacto Fermented Plum Recipe
Total Time:
5 days
20 minutes
An unusual ferment. These fermented plums are tart, salty and great with sweet or savoury food. Try them on ice-cream!
Instructions
Method If Using Vacuum Bags
Give the plums a quick rinse to remove any debris. Cut in half a remove the stone and then place inside the plums inside a vacuum bag.
Sprinkle in the salt and shake gently to cover the plums. The 20 grams of salt is 2% of the weight in plums. If using a slightly different amount of plums calculate 2% and use this weight of salt instead.
Arrange the plums in an even layer and use a vacuum sealer to remove the air and seal the plums on the bag.
Allow to ferment at room temperature or slightly warmer for 5 - 7 days. If the temperature is cooler then it will take longer.
The bag will slowly inflate as carbon dioxide is released during fermentation. If the bag is at risk of bursting cut open to release the pressure and carefully reseal.
After fermentation, place the plums in the fridge to halt or dramatically slow fermentation before using. If you don't intend to use the fermented plums right away I would suggest draining the brine and then freezing.
Method of Using A Fermentation Jar
Rinse the plums to remove any debris and prepare by cutting in half, removing the stone and cut each half into 4 smallish pieces.
Combine the plums and salt in a bowl and mix thoroughly. Leave for 5 to 10 minutes and you will notice juice pooling in the bottom of the bowl.
Spoon the plums into the jar and pack tightly with as little space around each price as possible. Pour all the brine in on top.
The plums should be fully covered by the brine. A fermentation weight or a ziplock bag filled with water should be placed on top of the plums to weigh them down and force the brine to cover them.
If more brine is needed to completely submerge the plums make a 2% brine with water and salt. That is 2 grams of salt per 100ml of water.
Cover the jar and allow to ferment at room temperature or slightly warmer. Fermentation will take around 5 to 7 days.
Burp the jar if necessary to prevent carbon dioxide from building up too much creating to much pressure in the jar.
As with the vacuum procedure, at the end of fermentation place the plums in the fridge to halt or dramatically slow fermentation before using. If you don't intend to use the fermented plums right away I would suggest draining the brine and then freezing.
Recommended Products
As an Amazon Associate and member of other affiliate programs, I earn from qualifying purchases.
Nutrition Information:
Yield:
5
Serving Size:
1
Amount Per Serving:
Calories:

92
Total Fat:

1g
Saturated Fat:

0g
Trans Fat:

0g
Unsaturated Fat:

0g
Cholesterol:

0mg
Sodium:

1550mg
Carbohydrates:

23g
Fiber:

3g
Sugar:

20g
Protein:

1g