Dried melon is unusual in terms of other dried fruit and not often available to buy. Dehydrating melon yourself may be your only option to try it so this recipe is all you need.  
The great thing about dried melon is it tastes just like candy so it is one of the healthiest sweets you are ever going to have. It really satisfies that craving for candy.
Dehydrated melon really is best eaten as a dry product, rather than rehydrating. The texture of melon means it doesn't rehydrate well. Once you have tried dried melon though you won't want to eat it any other way.
If drying doesn't sound good to you another great way to preserve it is this melon jam which is one of my favourites.
What Kind Of Melon To Dehydrate?
You can dehydrate any kind of melon but as with any fruit the more water inside the flesh the longer it is going to take.
Watermelon for example will shrink quite considerably when dried and the texture is almost like taffy with a fluffy chewiness.
Honeydew or Cantaloupe have dense firm flesh but still contain a lot of water. The colour gets darker and the texture has a chew just like candy.
Galia and Piel De Sapo have a similar texture to honeydew or cantaloupe the main differences are primarily the colour and level of sweetness.
The best thing to do when it comes to choosing melon is to get the best quality you can. The more flavour in the melon to begin with the better the end result. Remember that the sweetness and flavours are intensified after drying the melon.
What Do You Need To Dehydrate Melon?
You can dry melon in a purpose-made dehydrator which is really simple and efficient or you can use your oven. A convection oven with a fan is ideal but it will take longer and use more energy than a food dehydrator would.
If you intend to dry the melon in an oven then I would suggest investing in some racks to spread the melon out on. Airflow is really important when drying food, not just heat. 
Racks will allow the fruit to be spread out and air will flow through the racks taking away the moisture.
The temperature you dry fruit at is warm, not hot. Too hot and the melon will cook so we want a gentle heat. If you are using an oven this usually means setting the oven to the lowest temperature it can be set to.
Preparing Melon For Drying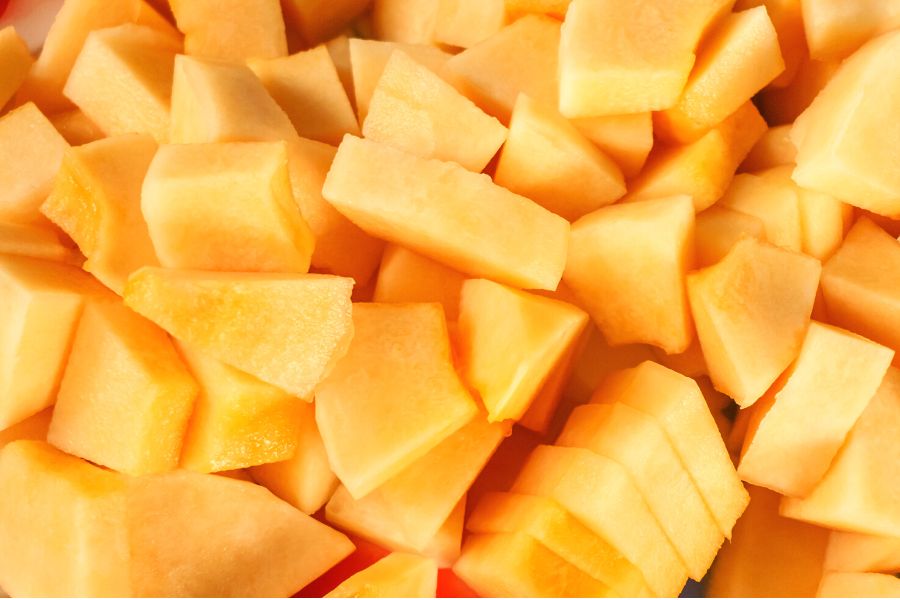 The easiest way to prepare melon is to cut the whole thing in half and scoop out the seeds and stringy parts from the centre.
Place the flat side down on the board and then slice into 1cm / 3/8-inch thick sections. The skin can then be removed from these sections leaving no green parts and these segments are then cut into smaller 2cm wide pieces
How Thick To Slice Melon For Drying?
A thickness of around 1cm / 3/8-inch thick is about right for drying melon.
The thicker the melon pieces the longer they will take to dry and too thin will result in a melon that is too crisp and hard.
Do You Need To Pretreat Melon Before Dehydrating?
Melon needs no pretreatment before drying. You can simply slice the melon, remove the skin and set them to dry.
If you want a sweeter treat then you can blanch the sliced melon in a sugar syrup that will really give you a candy-like finish to the dried melon.
To prepare a sugar syrup to pretreat the melon, combine 600ml of water with 300g of sugar or a 2:1 ratio by weight. Bring this to a simmer in a pan and immerse the melon in the syrup to blanch for 3 – 4 minutes before removing and rinsing in cold water. Pat dry and then arrange on trays to start drying.
Drying Melon In An Oven
To dry melon in your oven set the temperature to 60C or the lowest your oven reaches if it doesn't go this low.
If the oven has a fan make sure this is running too as the airflow will speed up drying.
Arrange the sliced melon on racks that allow air to flow through rather than on trays. Set the racks with the fruit on in the oven to start dehydrating.
How Long Will Melon Take To Dry In The Oven?
Melons like Honeydew or Cantaloupe will typically take around 5 – 9 hours to dry in the oven. Watermelons will take a little longer.
Rearrange the racks and rotate them every hour or so to ensure even drying.
Drying Melon In A Dehydrator
A dehydrator is really efficient at drying fruit compared to an oven. Arrange the sliced melon on the racks, set them in the dehydrator and set the dehydrator to low or around 55 – 60C.
That is all you need to do until it is time to start checking if the melon is done.
How Long Will Melon Take To Dry In A Dehydrator?
A typical dehydrator will take around 5 – 6 hours to dehydrate Cantaloupe or Honeydew and watermelons may take a little longer.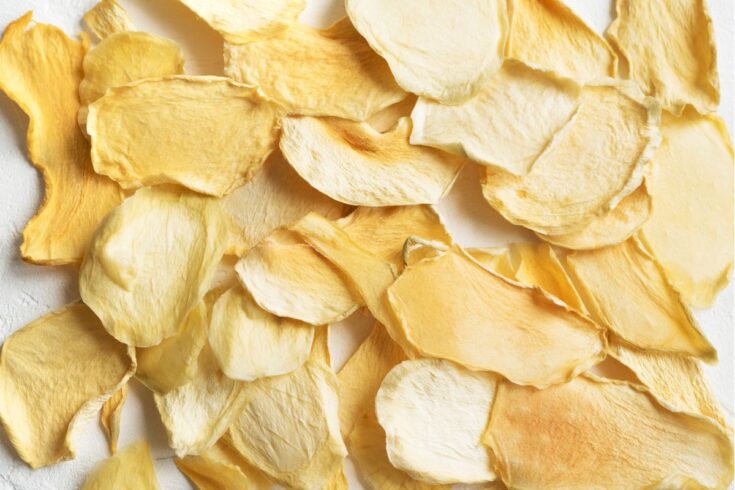 Yield:

1 Melon
Dehydrating Melon - Drying Melon In An Oven Or Dehydrator
Additional Time:
10 hours
Total Time:
10 hours
10 minutes
Dried melon is the perfect snack and tastes sweet and chewy just like candy,
Ingredients
1 whole melon (honeydew, cantaloupe)
Instructions
How Do You Dry Melon In A Dehydrator?
Once sliced into even 1cm / 3/8 inch thick slices to ensure equal drying it is really simple to dry the melon in a dehydrator.
Arrange the slices of mango on the dehydrator racks with plenty of space between them to allow even airflow.
The racks can then be arranged in the dehydrator ready to start drying.
A dehydrator set at around 50C / 120F will take around 5 - 6 hours to dehydrate the melon.
How To Dehydrate in the Oven
Using an oven to dehydrate melon is not quite as quick or efficient as using a dehydrator but still very simple.
You will need a few racks to arrange the melon on allowing room for warm air to circulate around the fruit.
Set your oven to its lowest temperature preferably with the fan on. If you don't have a fan oven prop the door open to allow air circulation.
Dry for around 5 hours before checking, rotate the racks every hour or so to ensure even drying.
It will take around 5 - 9 hours to fully dry melon in an oven.
Recommended Products
As an Amazon Associate and member of other affiliate programs, I earn from qualifying purchases.
Nutrition Information:
Yield:
10
Serving Size:
1
Amount Per Serving:
Calories:

6
Total Fat:

0g
Saturated Fat:

0g
Trans Fat:

0g
Unsaturated Fat:

0g
Cholesterol:

0mg
Sodium:

3mg
Carbohydrates:

1g
Fiber:

0g
Sugar:

1g
Protein:

0g
How To Store Dehydrated Melon
Once the Melon is dehydrated allow it to cool to ambient temperature uncovered. Then the melon can be stored in an airtight container or jar in a cool, dark place.
Oxygen absorbers will lengthen the shelf-life of any dehydrated fruit or vegetables but aren't strictly necessary.
Dried melon will store for 6 months or more as long as it is not exposed to moisture or air.