Crab apple jelly is the perfect thing to make with a glut of crab apples. The problems of preparing kilos or pounds of crab apples are limited because making jelly means they don't need peeling or the cores removing.
Preserve Crab Apples As A Jelly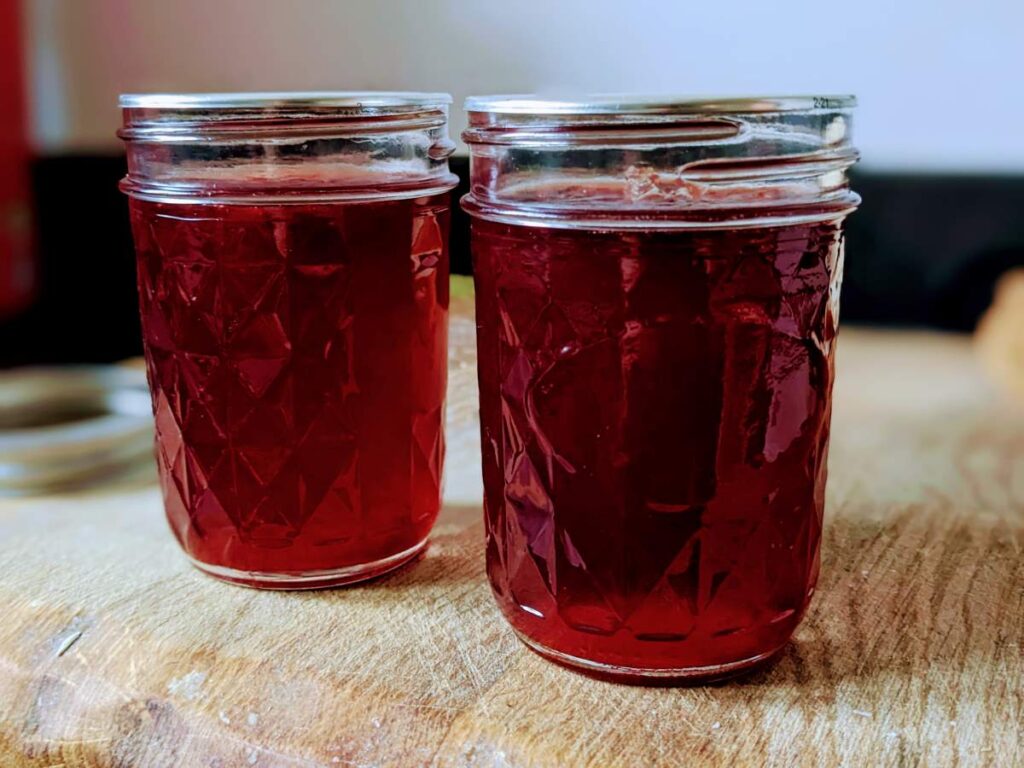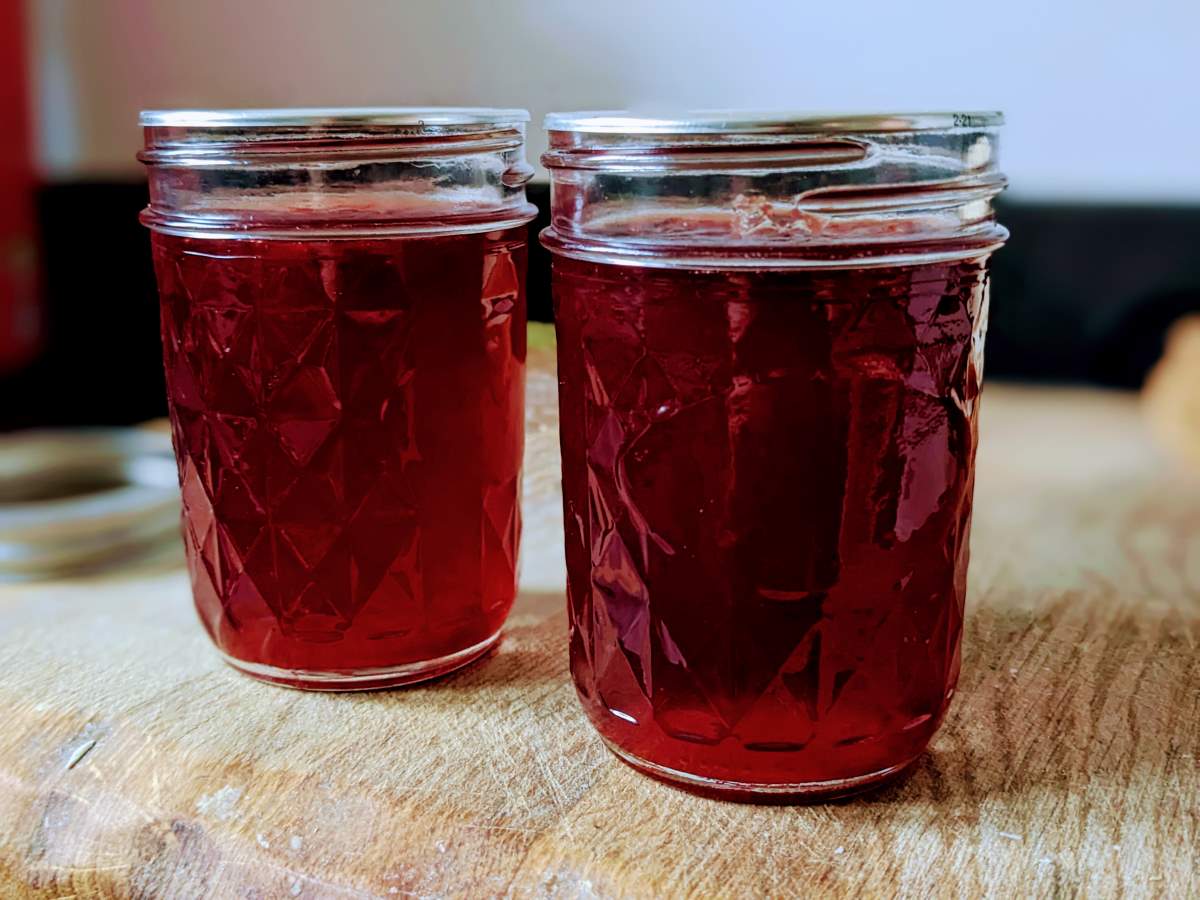 I have a small crab apple tree in my garden called "jelly king", a very apt name. This is something I tend to make every year, In fact, my one tree that is barely 6 feet produces up to 2 kilos of fruit a year so it is well worth growing one yourself.
One part of preserving that many people get tired of is preparing large amounts of fruit. Crab apples, depending on the variety, are quite small and tough. When it comes to preserving them it would be a real chore to peel everyone and core them.
Easy To Prepare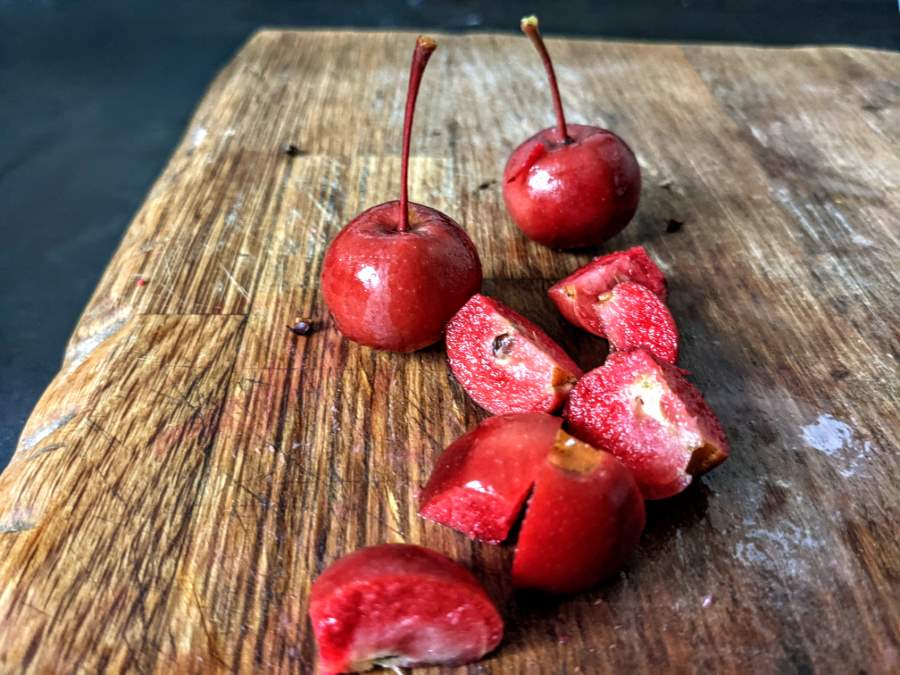 For this jelly, no peeling or coring is necessary everything gets strained out after cooking and the skins of the crab apple give the finished jelly its colour so depending on the variety the colour can range from golden to green to deep red.
Crab apples are much more tart, firm and bitter than eating apples but this is a bonus for the preserver. A crab apple tends to have more pectin and acidity which make really strong gels and crab apples can be used as a base to make your own pectin stock.
My crab apples are bright red/purple and so is the flesh so the jelly it makes is the same hue and really pretty in the jar.
The recipe I have listed below is for plain crab apple jelly but with such a strong base for jelly, it is endlessly customisable with spices, herbs, alcohol or other flavours.
I have had a lot of success with spices to make a warming apple jelly but herbs might make something slightly more savoury that pairs well with meat or cheeses.
Making Crab Apple Jelly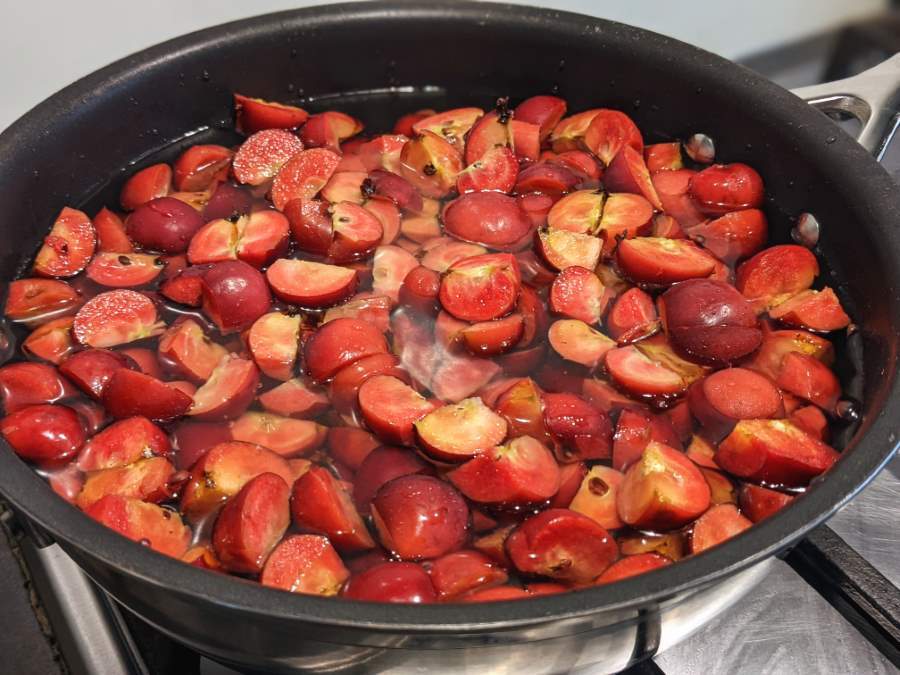 Making any fruit jelly is a simple process but you will need some time and a few pieces of additional equipment you may not have.
A jelly-straining bag is a must for making jelly. We need to strain the juice from the crab apples and leave everything else behind. 
A jelly bag is basically a fine mesh bag that fits in a stand over a bowl. We add the cooked crab apples to the bag and allow all the liquid to drain under gravity.
It is important when making jelly not to squeeze the pulp which will create a cloudy jelly. The less agitation, the clearer the finished jelly. As straining the apple jelly takes time some people leave the jelly straining overnight. I usually let it strain for a couple of hours.
Once you have collected the juice we can measure the yield and then add around 3/4 the amount of sugar by weight and make the crab apple jelly itself.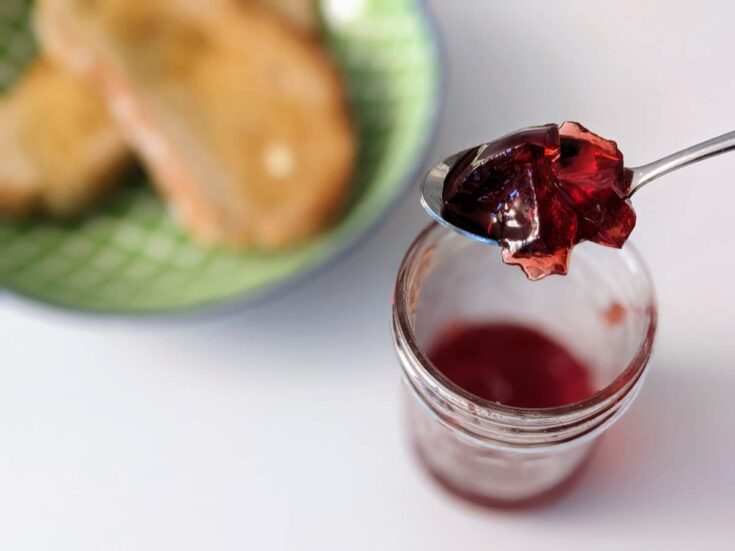 Yield:

4 x 1/2-pint jars
Crab Apple Jelly Recipe
Making this crab apple jelly is really simple. It is the quickest way I know to preserve crab apples and straining the apples means no peeling or coring is necessary.
Ingredients
2kg Crab Apples
600g sugar
1 lemon
Instructions
Prepare the crab apples by giving them a good rinse and removing any damaged or bad fruit.
Depending on the size of the crab apples, cut them in half or quarters so each piece is smaller than a couple of centimeters square,
Place the crab apples in a large pan and add enough water to just about cover. Bring to a boil and simmer until pulpy, stirring frequently.
Once broken down, turn the crab apple pulp into a jelly-straining bag over a jug or bowl, Leave to drain for around 3 hours or overnight if you prefer. Don't squeeze the bag.
Prepare a hot water bath canner and bring it up to temperature. Sterilise jars in the canner.
Measure the juice after straining and allow 400g / 1lb of sugar per 600ml / 1 pint of juice.
Place the sugar and crab apple juice in a pan and bring to a simmer, stir occasionally to dissolve all the sugar. Add the lemon juice and pared rind and bring to a rapid boil.
Boil rapidly and skim any scum that surfaces every once in a while. Test for a gel using the following methods after boiling for around 10 - 15 minutes.
Once you have reached the setting point remove jars from the hot water canner and fill them while still hot. Leave 1/2-inch of headspace, wipe the rims of the jar and screw on bands and lids fingertip tight.
Process the jars in the hot water bath for 10 minutes. Turn of the heat and remove the jars after 5 minutes standing.
Leave to cool and test the seals. Enjoy any jelly that hasn't been sealed straight away and stored in the fridge once opened. The crab apple jelly will last for a year stored in a cool, dark place, once opened keep it in the refrigerator.
Notes
Store sealed jars in a cool dark place for up to a year. Once opened keep in the fridge.
Recommended Products
As an Amazon Associate and member of other affiliate programs, I earn from qualifying purchases.
Nutrition Information:
Yield:
36
Serving Size:
1
Amount Per Serving:
Calories:

107
Total Fat:

0g
Saturated Fat:

0g
Trans Fat:

0g
Unsaturated Fat:

0g
Cholesterol:

0mg
Sodium:

1mg
Carbohydrates:

28g
Fiber:

0g
Sugar:

17g
Protein:

0g