I think blueberries are a prime example of a fruit that is better as a jelly than as a jam. The skins in blueberries can make a jam slightly bitter.

Making a blueberry jelly and removing the skins gets rid of this astringency, you end up with a delicious blueberry flavour, colour and such a smooth texture. This blueberry jelly is definitely worth a try.

Blueberry Jelly Is Better Than Blueberry Jam, Fact!

Jelly differs from jam in the way that it is processed. The blueberries are heated to break them down and release the juices. This is then strained or sieved to separate the juice from the solid material and the juice is then used to make the jelly.

Jellies are particularly good for fruits that have lots of pips like raspberries or for fruits where you don't necessarily want the skins but they are too hard to peel, like these blueberries.

Blueberry Jelly Vs. Blueberry Jam

The recipe from making this blueberry jelly is exactly the same as for making a blueberry jam but you will need one additional piece of equipment, a jelly straining bag.

A straining bag is a simple device that usually consists of a stand and a straining bag. They can even be made if you don't want to buy one and this guide will give you a bit more information.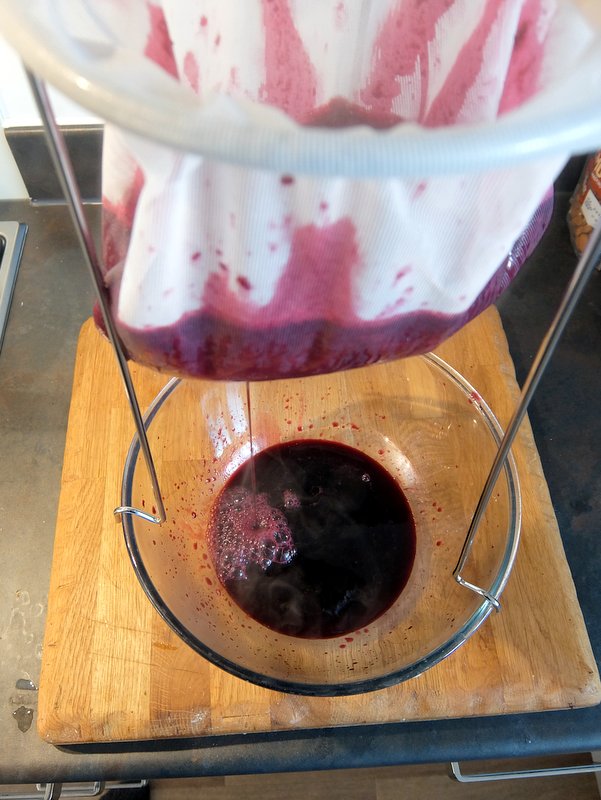 Once we start heating the blueberries they release their juices and then the mixture is ladelled into the jelly straining bag and left for a few hours. The result is a deep, dark juice full of the flavour of the blueberries with none of the skins.

The juice of the blueberries can then be heated again with sugar until is reduces and hits the setting point. Pectin is required in this recipe so let's have a look at the options for us.

Pectin Is Needed to Set This Jelly

All fruit has some amount of pectin in but some have low levels. Pectin is required to set the jelly and blueberries, unfortunately, do not have much so we need to add some.

Fruits like lemons or other citrus fruits have high concentrations of pectin, this is partly why there is often lemon juice or zest added to jam recipes and you can actually make your own pectin should you wish.

In most cases, I use a shop bought variety because it is easier. The choices are really between:

Jam Sugar
Liquid Pectin (Certo)
Jam sugar is regular sugar mixed with granulated pectin and a small amount of acid and leads to perfectly set jams and jellies almost every time. I can get this fairly easily from my local supermarket so use this a lot.
Liquid pectin like Certo is an easy to use additive where you can easily measure out the amount and add it to the jam or jelly whilst you are cooking it. It is best to follow the directions on the bottle because different varieties will need slightly different amounts.

What If You Don't Use Extra Pectin?

If you don't have any pectin in this jelly is will not set. You will find it quite runny and although it will still taste good ensuring that enough moisture is removed and the blueberry jelly actually gels is all part of the preserving process.

How To Make Blueberry Jelly – Makes roughly 2 small jars or 1 pint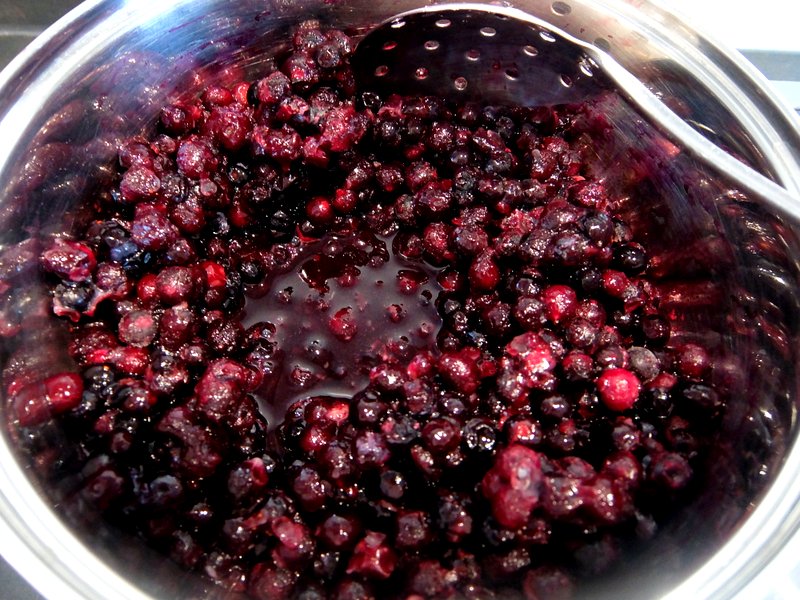 You'll need to make sure you have a few pieces of equipment before you start making this jelly. I would recommend the following.

Preserving Pan (a quite large heavy-bottomed pan will suffice)
Jelly Straining Bag or Cheesecloth & Colander
Jars
Thermometer
Blueberry Jelly Recipe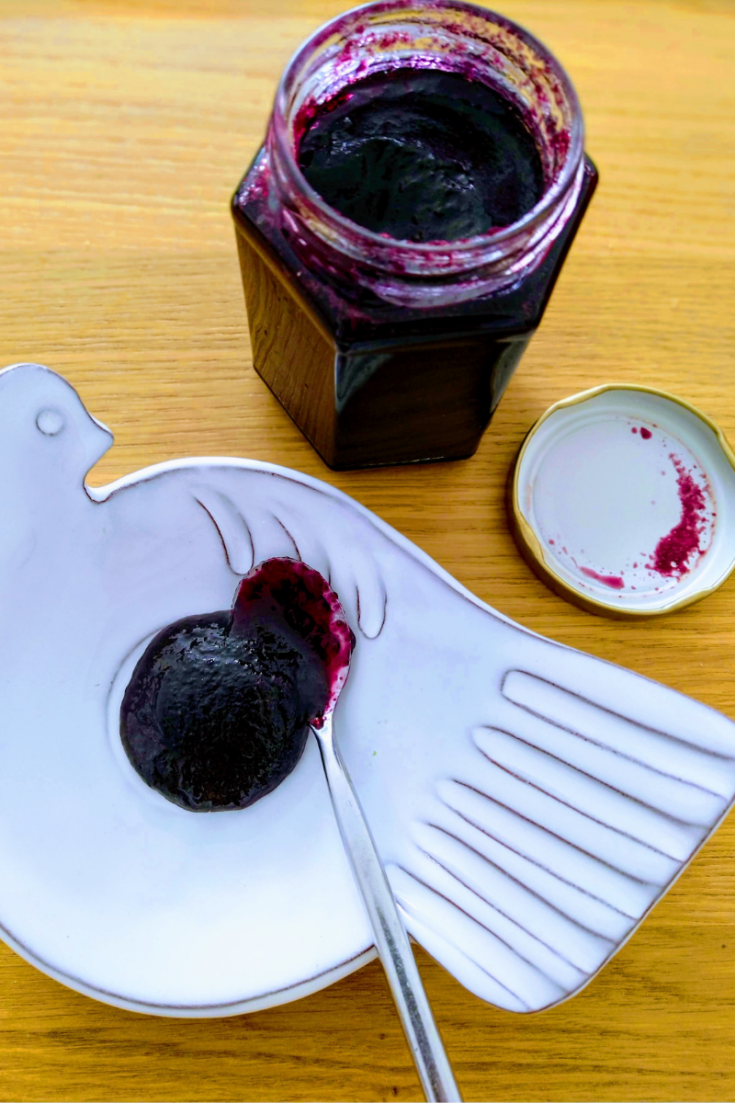 Yield:

2 x half-pint / 500ml jars
Blueberry Jelly Recipe
A blueberry jelly set with pectin. If you can't find liquid pectin try powdered pectin and follow the instructions on the package.
Ingredients
1kg Blueberries
Either 450g Preserving Sugar (roughly)
Or 450g Sugar and Pectin such as Certo
Juice of 1 Lemon
120ml Water
Instructions
Thoroughly rinse the blueberries and remove any debris or spoiled berries. Add them to your heavy bottomed preserving pan with the water and heat on low, crushing around half of the berries to begin breaking them down.
Bring to a simmer and allow all the berries to break down, you will notice the choices start to flow freely after just a few minutes. Remove from the heat.
Carefully ladle the hot blueberries into the jelly straining bag set over a bowl. If you don't have a straining bag use a cheesecloth set over a colander. Allow the juice to run into the bowl without pressing or squeezing at all. Leave to strain for at least 4 hours but up to 8 hours is fine.
After straining for at least 4 hours weigh the amount of juice and weigh out the same amount of sugar. Add the blueberry juice, sugar, lemon and pectin if using to a preserving pan and begin heating.
Bring the blueberry jelly to a boil and boil vigorously to reach the setting point. This will take 10 or 20 minutes at least and you can check the setting point either when the jelly reaches a temperature of 105°C / 221°F or by doing a wrinkle test.
Once the jelly has reached setting point ladle into still hot, sterilised jars and seal.
The blueberry jelly will last for months but once opened, store in the fridge. The jars can also be processed in a boiling water bath for ten minutes and the shelf life will be up to a year.
Recommended Products
As an Amazon Associate and member of other affiliate programs, I earn from qualifying purchases.
Nutrition Information:
Yield:
20
Serving Size:
1
Amount Per Serving:
Calories:

211
Total Fat:

0g
Saturated Fat:

0g
Trans Fat:

0g
Unsaturated Fat:

0g
Cholesterol:

0mg
Sodium:

6mg
Carbohydrates:

55g
Fiber:

1g
Sugar:

50g
Protein:

0g