Pickled jalapenos don't last long in my house. Pizza, burgers, sandwiches, nachos, hot dogs they all benefit from a spoonful of these sweet and piquant pickled jalapenos.
The recipe is so simple and takes just a few minutes to put together. You can use them all straight away or put them in the refrigerator for a few weeks or up to a month.
Simple Pickled Jalapenos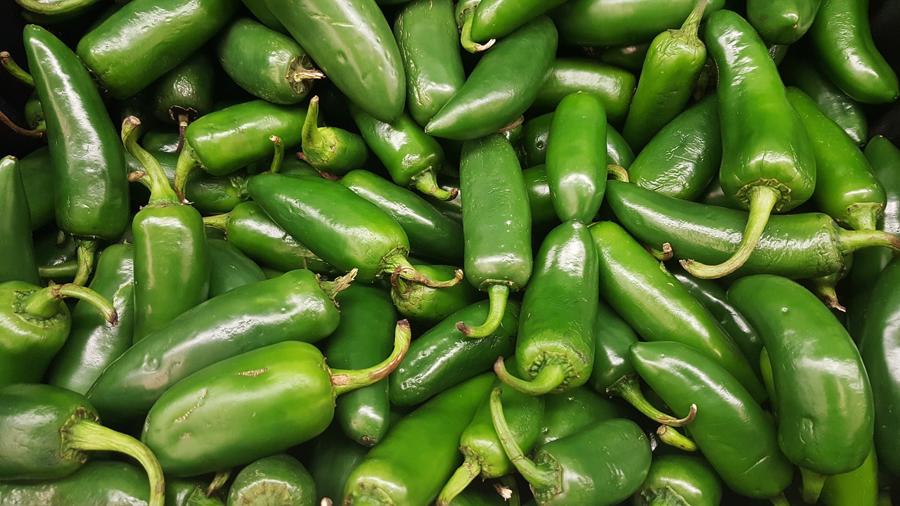 This recipe is really rather simple and only uses a few ingredients.
Of course, the star of the show is the jalapenos, although you could really use any chilli you want in their place. The great thing about jalapenos is they balance spiciness (they are not going to blow your head off) with a fruitiness and flavour.
Along with the chillies you simply need vinegar, sugar, garlic and salt.
Pickling Liquor
Vinegar, sugar, salt and water are all we need. This is what preserves the jalapenos and serves to flavour them.
When it comes to vinegar I have used white vinegar, you could also use cider vinegar or wine vinegar if you wanted, although I think the flavour and spiciness of the chillies tends to dominate the flavour of the vinegar somewhat.
Sugar is used to lessen the aggressiveness of the vinegar and give a little balance. It also helps to keep the texture of the jalapenos by drawing moisture out of them.
Salt enhances the flavour as well as helping to maintain the crunch and texture of the chillies.
Pickled Jalapenos with Garlic Recipe – Makes one pint jar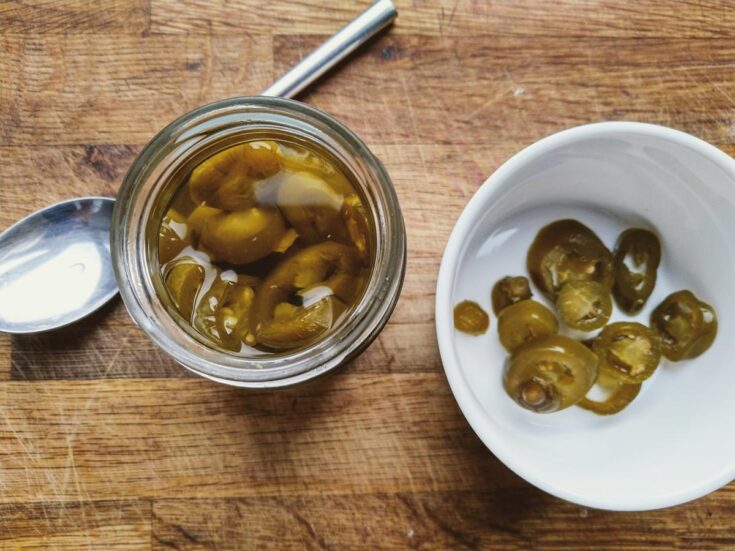 Yield:

1 Pint Jar
Pickled Jalapenos With Garlic
A really simple pickled chilli recipe that goes with everything you need a little heat for.
Ingredients
12 - 15 Jalapenos
3 Clove Garlic
250ml White vinegar (5% acidity)
150ml Water
1 tbsp Sugar
1 tbsp Salt
Instructions
Prepare a jar by cleaning and sterilising, use this guide for help.
Give your jalapenos a rinse and ensure they are clean and then you can begin slicing them. Cut into rounds, seeds and all and discard the stalks.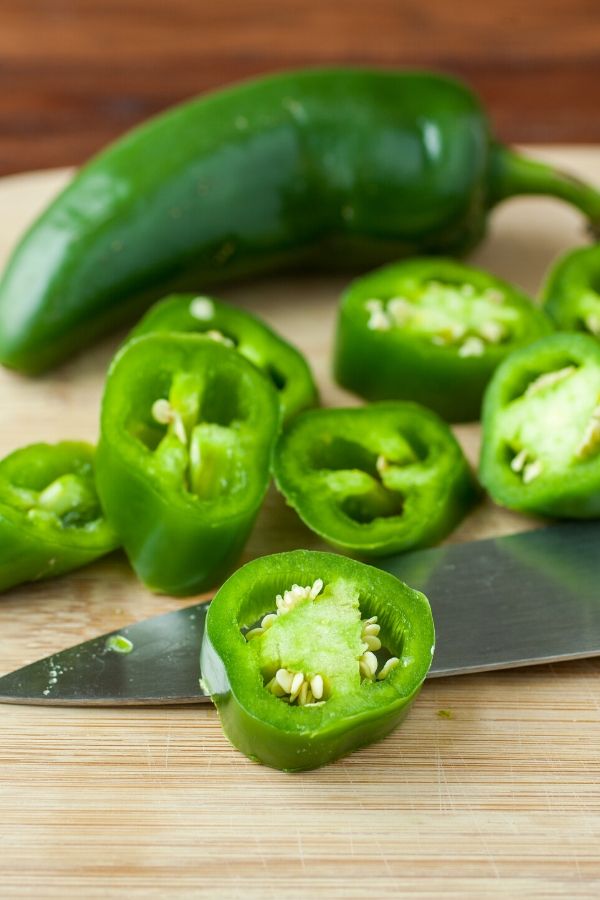 Prepare the pickling vinegar by adding the peeled, gently crushed garlic to a pan along with the water, vinegar, sugar and salt. Bring the pickling liquor to a simmer over a gentle heat.
Once the pickling liquor is simmering add the sliced jalapenos and allow to simmer for a minute before turning off the heat.
Ladle the hot liquid and jalapenos into the sterilised jar, a jar funnel is good for this. Seal the jars with the lid and allow to cool to room temperature.
Store the jars in the fridge for a month if not more. Mine never last that long.
Nutrition Information:
Yield:
6
Serving Size:
1
Amount Per Serving:
Calories:

28
Total Fat:

0g
Saturated Fat:

0g
Trans Fat:

0g
Unsaturated Fat:

0g
Cholesterol:

0mg
Sodium:

1166mg
Carbohydrates:

5g
Fiber:

1g
Sugar:

4g
Protein:

0g
Pickled Jalapeno Variations
I like to experiment with the recipe every once in a while and there are some really simple ways to do this.
First of all there is the vinegar. There is a whole variety of different vinegars you could substitute, just make sure they are of at least 5% acidity:
White/Red Wine Vinegar
Malt Vinegar
Cider Vinegar
Rice Vinegar
Experiment and see which you prefer, the jalapenos are quite powerful so the difference will be subtle with some vinegar.
Next, you could try substituting the sugar for something like maple syrup or even treacle so really get the caramel overtones.
Spices and herbs are an easy way to vary the pickled chillies as well. Try adding coriander seed, mustard seed, bay leaves or fresh herbs such as coriander. There is a lot of room for experimentation here