Not strictly a preserve, these confit tomatoes will last an extra week in the fridge, however, they use similar principles of semi-drying that we find in preserving. I find the joy of preserving to be the transformation that occurs in the flavour and texture that the food undergoes and these confit tomatoes are little bursts of flavour that are well worth trying, even if you eat them all straight away.
What Does Confit Mean?
Confit is a french word that translates roughly to mean preserve. Most people will have heard of duck confit which is duck preserved in fat. As a means of cooking confit is a food that has been cooked slowly, at low temperatures in fat, oil or sugar as a means of preservation.

In the modern kitchen, confit now best describes foods that have been cooked slowly rather than preserved. Confit potatoes, for example, are not preserved at all, just cooked slowly in butter or fat. This is the principle we will use to make confit tomatoes.

What About Confit Tomatoes?
By cooking tomatoes slowly in an oven using a flavourful oil like olive oil the flavour ramps up. The low cooking temperature, over a long period results in moisture being drawn out of the tomatoes and the oil mingles its way in.

When you draw the moisture out of the tomatoes the flavour intensifies making each tomato a little flavour bomb.

I have seen recipes for confit tomatoes in a few cook books from some highly acclaimed chefs. Raymond Blanc and Thomas Keller both have published recipes for this simple dish. If you needed any assurances that these confit tomatoes are tasty then this is surely it. It is so easy to make these confit tomatoes you should definitely give this a try.

Preparing The Tomatoes

To make confit tomatoes you need to remove the skins. This is a simple process but requires a little bit of labour. I assure you it will be worth the small amount of effort.

To remove the skins of the tomates, prick each one with the tip of a knife and plunge them into a pan of boiling water. Leave them for no more than 20 – 30 seconds before removing with a slotted spoon and plunge immediately into ice cold water.

The heating and rapid cooling should loosen the skin of the tomatoes just enough to slip the skin off easily. Once peeled we are ready to make the confit tomatoes

Confit Tomato Recipe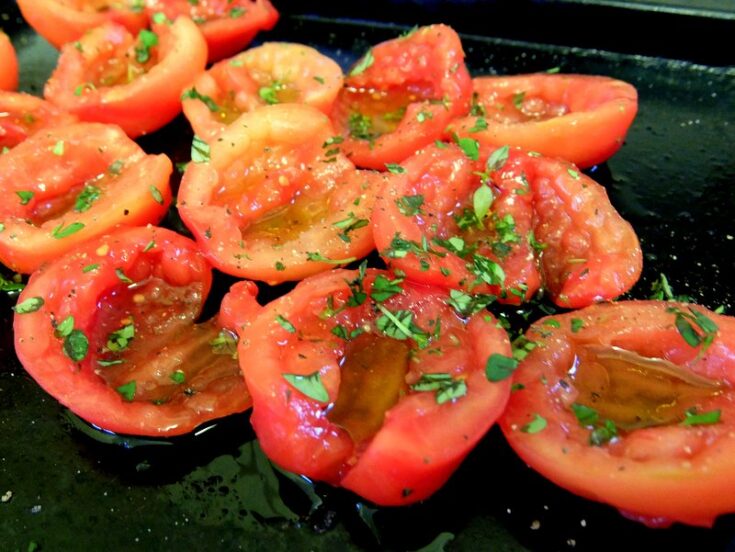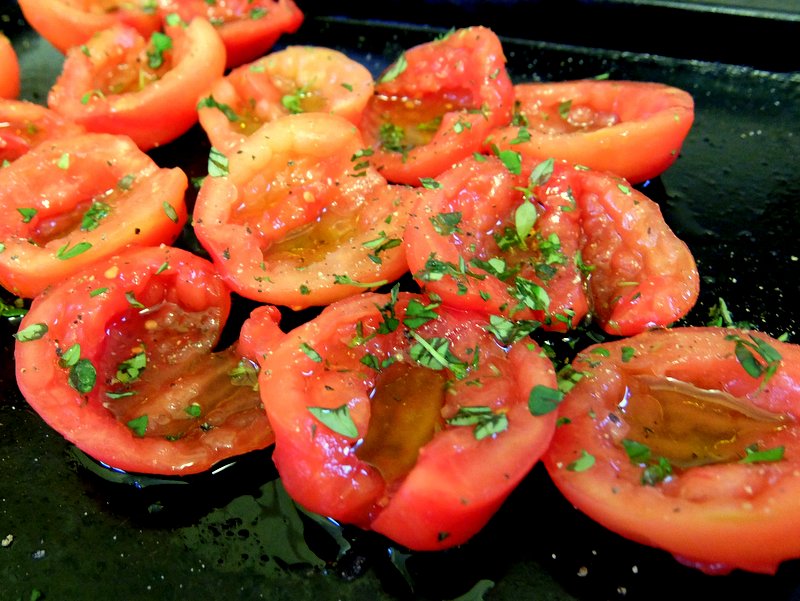 Yield:

1 cup
Confit Tomato Recipe
Total Time:
5 hours
8 minutes
Confit Tomato perfect as a complement to meat or fish dishes and really, really tasty.
Ingredients
8 large, firm plum tomatoes (peeled as above)
6 sprigs of fresh thyme
6 tbsp olive oil
Sprinkling salt and pepper
Instructions
Preheat the oven to 120C / 250F / Gas 1/2
Cut the peeled plum tomatoes in half lengthways and remove the seeds. To do this run a knife around the seeds and pull them out.
Place the tomato halves on an oven tray, cored side up and season with salt and pepper.
Sprinkle over the thyme leaves removed from the stalks and pour over the olive oil equally over each tomato half.
Dry in the oven for 4 - 5 hours. Remove and then allow the confit tomatoes to cool.
If you are not using them straight away the tomatoes can be refrigerated, stored under the oil they are cooked in for. They will last for around a week.
Nutrition Information:
Yield:
8
Serving Size:
1
Amount Per Serving:
Calories:

123
Total Fat:

11g
Saturated Fat:

1g
Trans Fat:

0g
Unsaturated Fat:

9g
Cholesterol:

0mg
Sodium:

46mg
Carbohydrates:

7g
Fiber:

2g
Sugar:

5g
Protein:

2g