Making a good jerky marinade is important because this is your chance to introduce all the flavours you want to incorporate. It can quick start the drying process as well as tenderise the meat you are using.
A jerky marinade works well because, being a liquid, it coats all the meat that you are turning into jerky uniformly and allows flavours to mingle and mix with each other easily.
This post is about making a basic all-purpose jerky marinade. This is one of the most flavourful but also simple marinades going and can be used for nearly any kind of jerky, whether it is beef jerky, venison, pork or turkey. No matter what you are making it will turn out good.
Why Marinade Jerky?
There are a few simple reasons to marinade meat before dehydrating it to make jerky. Some of these are obvious others are more practical reasons.
Flavour: Marinating meat for a short amount of time, of say 24 hours in a flavourful liquid will coat and also draw those flavours into the meat. The combination of acid and salt breaks down the proteins in the meat and allows liquid to move into and out of the cells. The flavours of the marinade coat the meat and season it at the same time.
Texture: Marinades have an affect on the texture of meat. Acid breaks down the structure of proteins and this works to tenderise the meat. Jerky is obviously not tender in any sense but the marinade will stop it from becoming too chewy.
Drawing Out Moisture: Using salt in a marinade in the form of soy sauce or just a spoonful of regular table salt will quick start the process of drying the meat out. The salt will pull moisture from the slices of meat. The same thing occurs by using sugar, which could be in the form of honey, maple syrup or just sugar. The sugar is hydroscopic, adds sweetness and draws out moisture.
What To Add To A Jerky Marinade?
Although you could just go ahead and make jerky with no additional ingredients at all and it would work, it won't be that good. If you want to make great jerky I think you need these key things:
Salt
If you use nothing else then some form of salt is the first thing you would want to add. Even our primitive ancestors would of been likely to salt meat before drying it. There are a couple of reasons to do this. First of all, salt will season the meat all the way through to the center enhancing flavour. Secondly, it will start drawing moisture from the meat straight away quick starting the drying process.
You can use regular table salt, soy sauce, miso as part of a marinade but salt is a must.
Acid
Using an acid of some sort in a marinade helps to break down the proteins in meat. This unfurling of proteins makes the meat more tender and although the jerky will still be chewy to an extent it makes the texture much better.
The acid you use is really personal preference. You could use vinegar, wine, beer, soy is slightly acidic or my personal preference an acid like Worcestershire sauce.

Worcester sauce is a fermented sauce which contains lots of different flavours, spices and has deeply savoury quality that makes for delicious jerky.
Sugar
Sugar, like salt draws moisture out of the meat. It also enhances the flavour and provides an underlying sweetness to the marinade that works really well on almost any type of jerky. Not a lot of sugar is required just a spoonful or so.
The choice is really up to you, you could try honey, maple syrup, brown sugar or just plain white sugar the list goes on and on.
Spices & Flavourings
This is where you can really go to town. Herbs, spices, flavourings all are personal preference and can really transform the flavour of the finished jerky.
A few go to flavours that I find work in almost any jerky marinade are; garlic, bay leaf, peppercorns and chilli flakes. Of course, this is just the tip of the iceberg, you can really let your imagination run wild here.

My Best "All-Rounder" Jerky Marinade Recipe
As a basic and all-round jerky marinade I do not think you can beat this recipe as a starting point. It has all the thing you want, salty, sweet and full of flavour. If you have never made jerky before then this is probably the best way to start your journey.
Once you have got to grips with this version then expand and try more adventurous recipes.
This marinade is enough for around 1kg or 2.2lb of meat.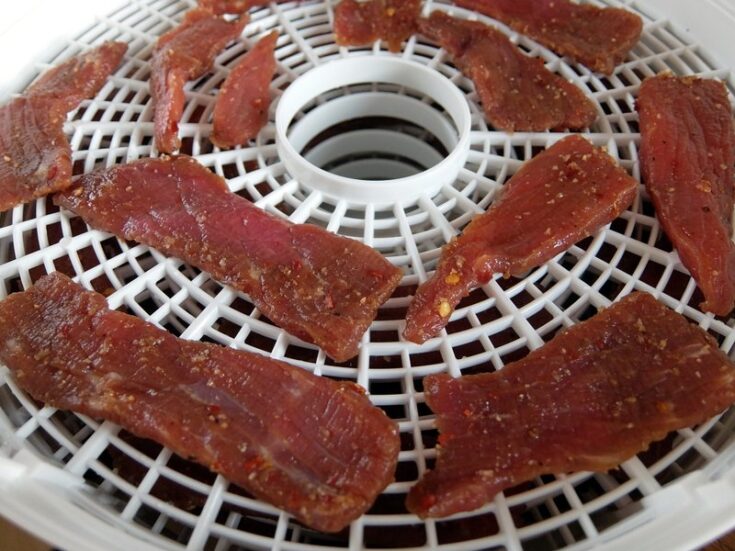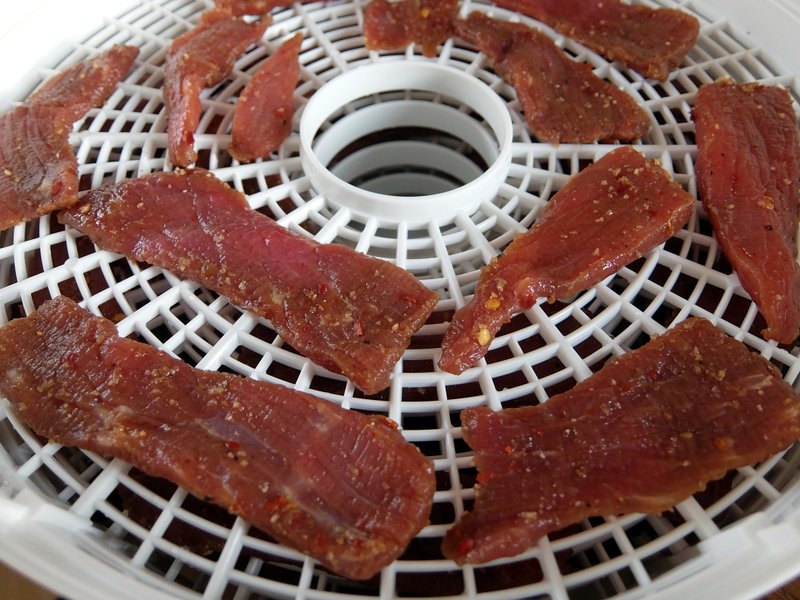 Yield:

Enough for 1kg of meat
Best All-Round Jerky Marinade
Total Time:
1 day
10 minutes
Salt, sugar, spice & acid combine for a deeply savoury and tasty jerky marinade.
Ingredients
120ml Worcestershire Sauce
3 tbsp Honey
1 tsp Salt
1 tsp Chilli Flakes
1 tsp Coarsely Crushed Peppercorns
1 clove Garlic Crushed
Instructions
Mix all the ingredients together in a zip lock food bag.
Add your thinly sliced meat to the bag and thoroughly mix through the marinade.
Seal the bag and keep refrigerated for 24 hours. After 24 hours dehydrate or smoke to make your jerky. A guide for this can be found here.
Nutrition Information:
Yield:
20
Serving Size:
1
Amount Per Serving:
Calories:

16
Total Fat:

0g
Saturated Fat:

0g
Trans Fat:

0g
Unsaturated Fat:

0g
Cholesterol:

0mg
Sodium:

185mg
Carbohydrates:

4g
Fiber:

0g
Sugar:

3g
Protein:

0g
That is all there is to it. This jerky marinade, as you can see is pretty basic. Sometimes though the simple things are the best. It is also a great base for you to work from and add your own favourite flavours.