Pickled radish is a perfect way to keep these crunchy peppery vegetables around for longer. The main thing to think about when it comes to getting the best out of your pickled radish is the texture and flavour. This pickled radish recipe will keep in the fridge for up to 3 months and really retains the flavour and texture we want.
The radish I have pickled here are red-skinned with bright white flesh and are called cherry belle. Any red-skinned radish will give you these bright pink pickled radishes.
How To Pickle Radish
The problem with preserving radishes is trying to retain the qualities of crispness and freshness that make them enjoyable.
To simultaneously extend the shelf life but keep them crisp and fresh is tricky but possible if you pickle radishes in the right way.
The best way to pickle radish is as a refrigerator pickle. Picking radishes raw with a simple vinegar brine will last months when stored in the refrigerator and they will be crisp, and fresh and retain the character of the ingredient. 
What About Canning Pickled Radishes?
It's possible to hot water can pickled radishes but I prefer not to.
Radish is typically eaten raw, they are crunchy, peppery and fresh so we want to avoid something like hot water canning when we pickle radish because we will lose all these qualities.
I prefer to cold-pack or raw-pack sliced radishes into jars and then pour them over the hot pickling brine before sealing. This method best preserves the best things about radishes.
Pickling the radish in this way means they need to be refrigerated but stored this way they will last 3 months or longer.
Preparing Radishes For Pickling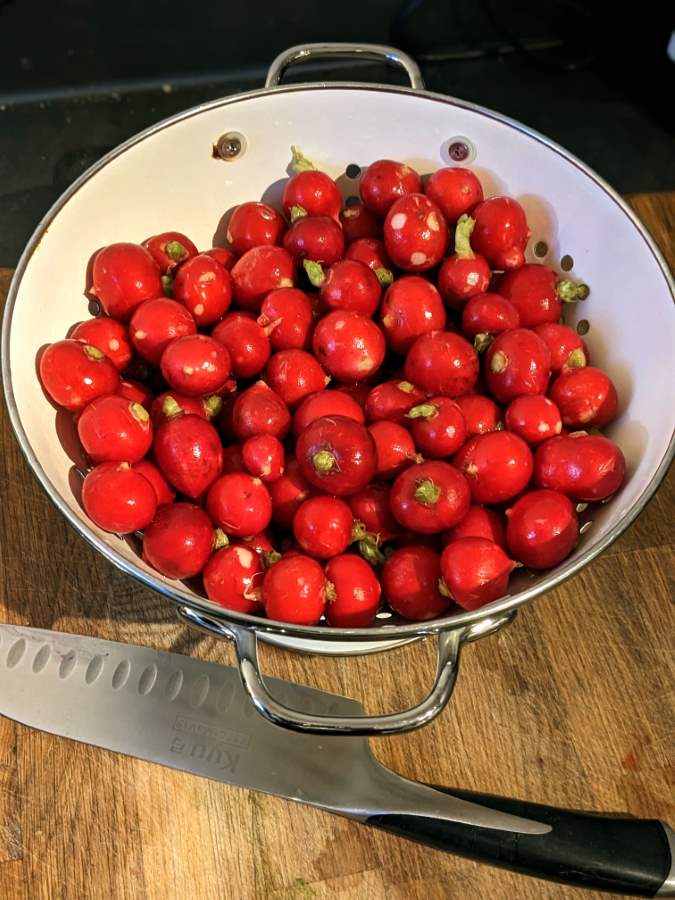 The best way to prepare radishes for pickling is to prepare them like you are eating them fresh. This way you can take your radish pickles straight from the jar and serve them as you would a fresh radish.
You will want to top and tail the radish to remove the stem and root tail and give the radishes a good rinse under cold running water to remove any grit or dirt.
I then slice the radish into 3mm / 1/8-inch slices and set them to one side in a bowl of ice water while I prepare the pickling brine.
Pickling Brine For Radish
The pickling brine is where we can add the flavours we want to our pickles and enhance the flavour of the radish.
This pickling liquid can be as simple as you want or you can add herbs and spices to boost flavour.
Vinegar
The vinegar we use needs to have an acidity of 5% to preserve the radish. This includes most wine vinegar, cider vinegar or plain white vinegar. The acidity should be on the label, if it isn't then shop around for vinegar with 5% acidity.
I like cider vinegar because the flavour compliments the freshness of the radish.
Often when you make refrigerator pickles you would dilute down the vinegar with water by up to 50% but this radish pickle uses just vinegar which will make them last a little longer but require slightly more sweetening.
Sugar
To balance the pickling brine we need to add sweetness otherwise the pickled radish is going to be far too sour and tart.
I use plain white sugar and make the pickling liquid quite sweet. The reason for this is about retaining the crunchiness of the radishes.
Sugar draws moisture out of the cells of vegetables and this helps to keep pickles crunchy. Making the pickling brine a bit sweeter also brings out the flavour of the radishes. You can reduce the amount of sugar in this recipe if you prefer but taste the brine to make sure it is not too acidic with less sugar.
Herbs & Spices
You can add a variety of herbs or spices to accentuate the flavour of your radishes but I like to keep things simple with just a few.
In this recipe, I have added mustard seeds, bay leaves and peppercorns. These complement the pepperiness of the radish. Chillies are another option you may want to consider but I omitted them here as I don't feel the added heat is necessary.
How Many Radishes Do You Need?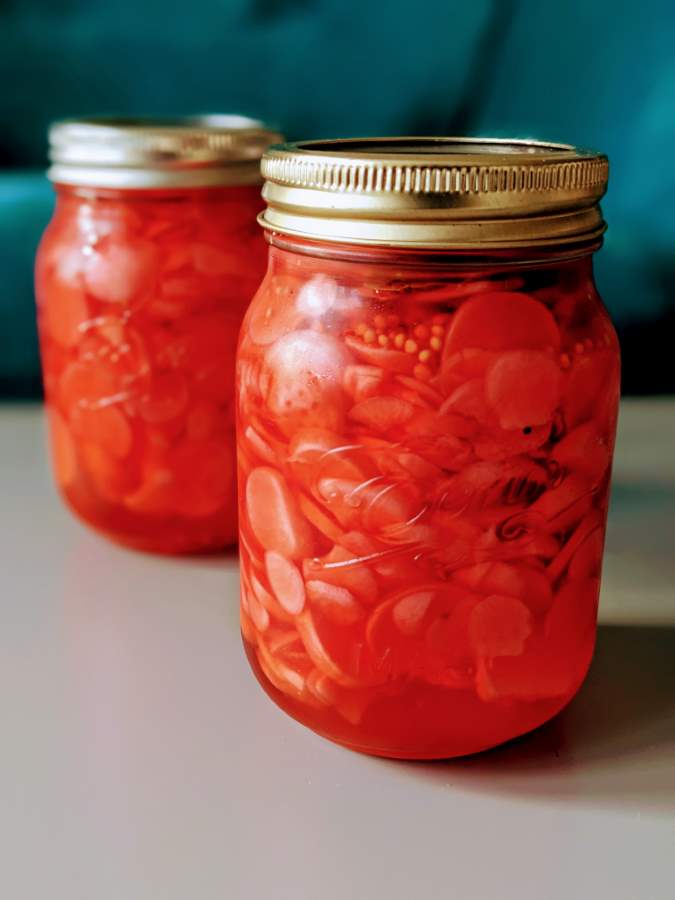 The great thing about making these pickled radishes is because you aren't canning you don't have to make jars and jars of this pickle.
A bunch of radishes about 400g or 1lb is enough to fill a pint jar so as long as you have around this amount you can make up just one jar.
The radishes will keep for up to 3 months so consider how much you are going to be able to eat within that time before making too many jars.
How To Use Pickled Radish
This recipe uses sliced red radish and they turn a bright pink after being pickled. They are perfect for salads, cheese boards, with cured meats or served alongside rice dishes.
They retain their crunch and texture really well so are perfect for when you want to introduce a bit more bite.
This recipe is slightly sweeter but the vinegar really cuts through so these pickled radish work really well in dressings or marinades and the brine on its own can be used for this purpose.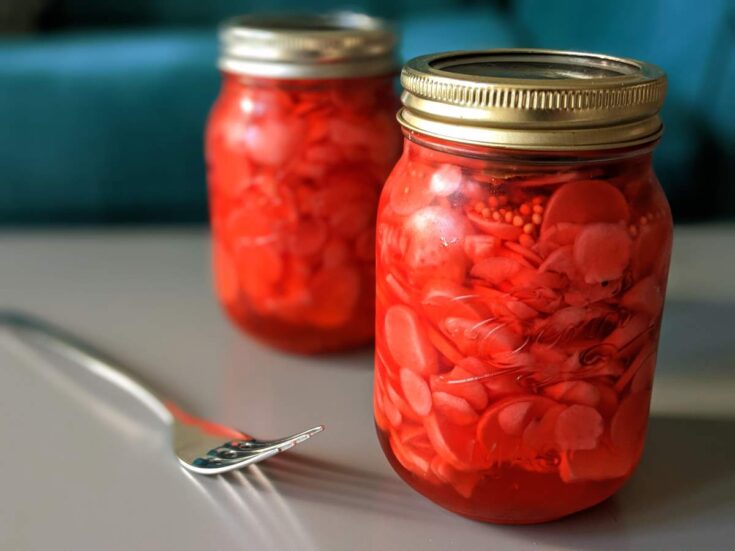 Yield:

2 x 1-Pint Jars
Sweet Pink Pickled Radish
These sweet pickled radishes are perfect for adding to salads, cheese boards, with cured meats, or in sandwiches.
They turn bright pink in the jar and are sweetened to give them a really moreish quality.
Ingredients
800g red radishes
250ml cider vinegar
125ml water
125g white sugar
2 tsp salt
2 tsp mustard seeds
1 tsp black peppercorns
2 bay leaves
Instructions
Sterilise 2 x 1-pint jars in a boiling water bath or oven - see method here. Keep hot until ready to use.
Wash the radish thoroughly and top and tail the stem and root end.
Slice the radish into 2-3mm / 1/8-inch rounds and set them aside in some ice-cold water.
In a pan combine the vinegar, water, sugar, salt, and spices. Bring the pickling brine to a boil.
Drain and pat dry the radishes and then pack them into the hot jars equally pushing down gently.
Pour over the hot pickling brine to fully cover the radish. Wipe the rims of the jars and then screw on the bands and lids. Allow to cool and then store in the refrigerator. Ready within a few hours and will last upto 3 months in the refrigerator.
Notes
Store these radish pickles in the fridge and they will last up to 3 months.
Nutrition Information:
Yield:
15
Serving Size:
1
Amount Per Serving:
Calories:

46
Total Fat:

0g
Saturated Fat:

0g
Trans Fat:

0g
Unsaturated Fat:

0g
Cholesterol:

0mg
Sodium:

332mg
Carbohydrates:

11g
Fiber:

1g
Sugar:

9g
Protein:

0g