Tomatoes are great for dehydrating and in the late summer where, if you grow your own, you will have tons of them it is a great way of preserving them well into the following year.
Dehydrating tomatoes retains all the flavour but condenses them down. Rather than having a bucket full of plump tomatoes you will end up with a large jar full that can be stored in the cupboard without the worry they will spoil.

I recommend using a dehydrator to dry tomatoes because they are full of water. You can use an oven but it is not very efficient and takes a long time. A dehydrator is great to have not just for dehydrating tomatoes but also a whole range of other produce.

What Kind Of Tomatoes To Dehydrate?

You can dehydrate any kind of tomatoes in theory but I almost always use cherry tomatoes or small plum tomatoes. Smaller tomatoes dehydrate quickly and have lots of flavour that is retained during the dehydrating process.

Larger tomatoes I usually reserve for making sauces and things like that which you can freeze and are preserved that way.

If you do want to dehydrate larger tomatoes you have to slice them and then when you dry them you end up losing a lot of the centre which is nearly all water. With smaller tomatoes, I simply chop them in half and remove the seeds and pulp. The result you can see in the pictures here is a nice, fully formed tomato slice that looks good and tastes great.

Prepping Tomatoes for Drying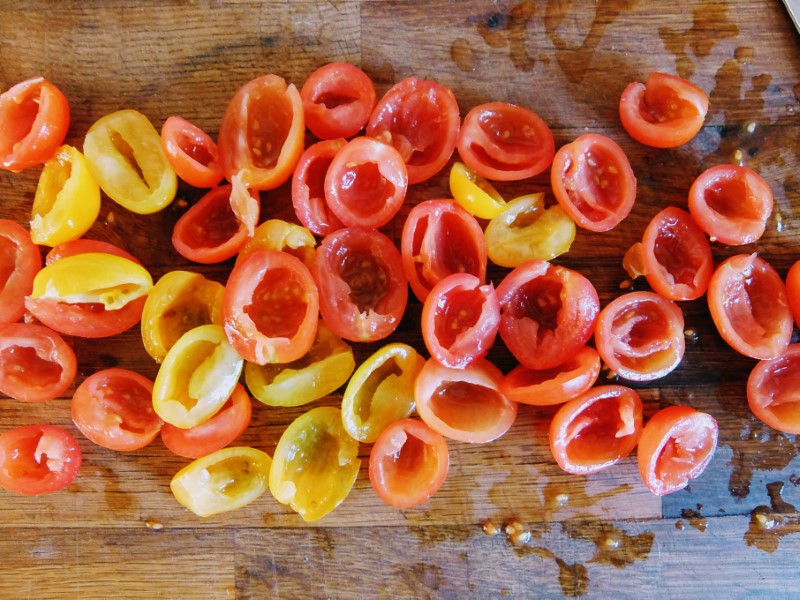 I like to help along the drying process by removing the core of the tomatoes. The centre of a tomato is primarily seeds and water and although it is not necessary to get rid of them to dehydrate the tomatoes I find it greatly speeds up the drying process. By removing the seeds not much flavour is lost and the dried tomatoes last longer and dehydrate a lot quicker.

To core the tomatoes it is really just a case of cutting them in half and scooping out the seeds and pulp with a spoon. This is why it is best to dehydrate smaller plum tomatoes or cherry tomatoes. With larger tomatoes slices you end up with a skeleton like tomato, which is fine but doesn't rehydrate as well.

Unlike some fruits or vegetables, you don't need to treat tomatoes with lemon juice or anything like that so really it is just a case of cutting the tomatoes and arranging them on the dehydrator trays.

Dehydrating Tomatoes In A Dehydrator

Whilst you can dehydrate tomatoes in an oven, I much prefer to use a dehydrator. A dehydrator is a lot quicker and can fit a lot more tomatoes in it.

The key to using any dehydrator efficiently is to get the produce prepped properly. If the tomatoes are too thick then they will take a long time to dry and you will find the outside is dried while the middle is still moist. Around 1 – 2 cm thick is what you want to look for when dehydrating most fruits or vegetables.

Prepping cherry tomatoes or small plum tomatoes is great because when they are cored the flesh is the right thickness to dry well without becoming brittle and crispy.

The tomatoes just need to be laid out on the racks in one layer with plenty of space around each one to allow air to circulate. The dehydrator can be set to low or medium heat, this is around 55°C – 60°C or around 140°F for tomatoes.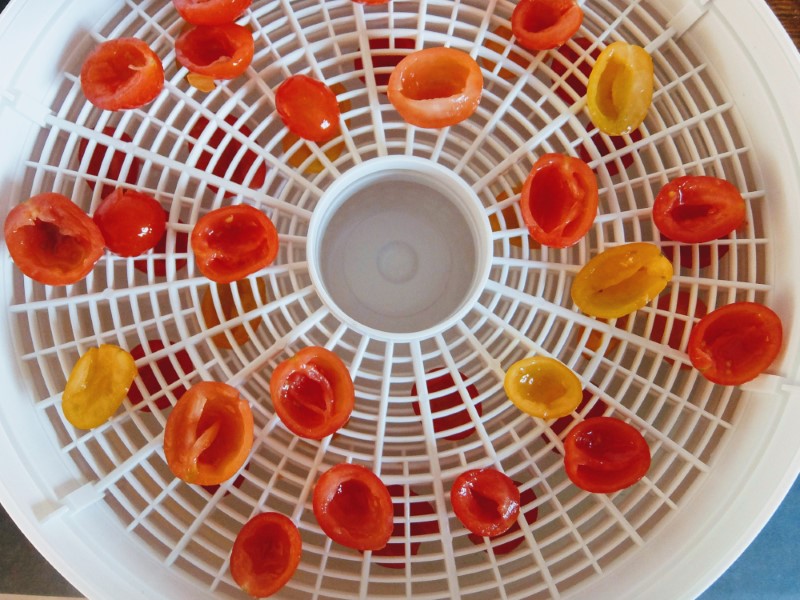 How Long Will It Take To Dry Tomatoes In A Dehydrator?

Tomatoes have a large percentage of water, some more than others so it can take a while.

On average when I have dried tomatoes it has taken anywhere between 7 – 10 hours to dehydrate tomatoes fully.

On average when I have dried tomatoes it has taken anywhere between 7 – 10 hours to dehydrate tomatoes fully.
It is a good idea to check the progress every 30 minutes or so after around 6 hours. The dried tomatoes will be fairly hard and not have much give. Some tomatoes will be dried out fully and can be removed and some will need slightly longer so can continue to dehydrate.

Dehydrating Tomatoes In An Oven

It is fine to dehydrate tomatoes in an oven if you don't have a dehydrator. The process is the same it will just take a bit longer and require more monitoring.

I would invest in some racks to lay the tomatoes out on in one even layer.

Set the oven to the lowest temperature and make sure the fan is on. The door can even be propped open to allow more ventilation. Rotate the racks to ensure even drying.

It will take longer to dehydrate tomatoes in the oven, you will want to start checking after 7 – 8 hours but could take upto 12 hours depending on the moisture content of the tomatoes.

Dehydrating Tomatoes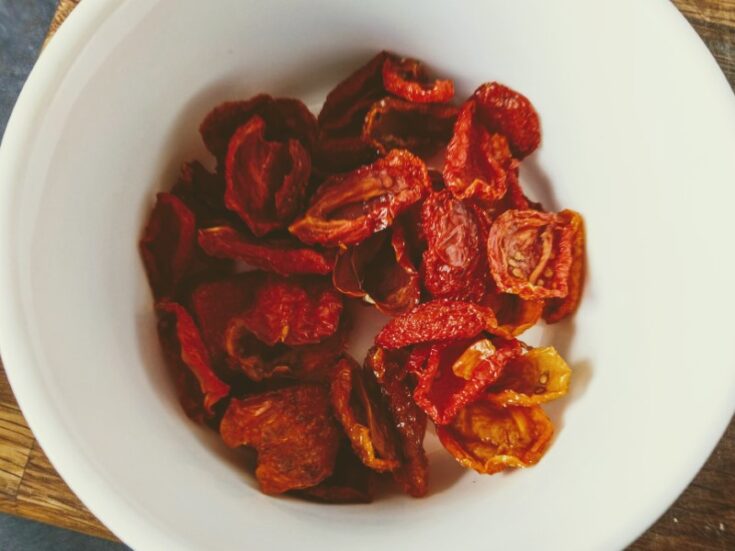 Yield:

1 -2 cups
How To Make Dehydrated Tomatoes In The Oven or Dehydrator
Total Time:
8 hours
20 minutes
Dehydrated tomatoes are great when you have a glut. Dehydrating concentrates the flavours and they can be rehydrated quickly or ground to make a great seasoning.
Ingredients
1kg Cherry or Small Plum Tomatoes
Instructions
Prepare the tomatoes by washing, slicing in half and removing the pulp and seeds. These tomato halves should be the right thickness for dehydrating. If they look thinker than 1 - 2 cm slice them thinner.
Spread out the tomato halves on the dehydrator trays if you are using a dehydrator or racks if you are using an oven.
Assemble the dehydrator and set it running at a low or medium heat setting. If you are using an oven set the temperature to the lowest the oven will go and ensure you have the oven fan on and the door slightly ajar.
Check the progress of the tomatoes after a few hours, rotate the racks if necessary. It will take around a minimum of 6 hours using a dehydrator and more if using an oven to dry the tomatoes.
Remove tomatoes when they feel dry and leave any that need further drying longer.
Recommended Products
As an Amazon Associate and member of other affiliate programs, I earn from qualifying purchases.
Nutrition Information:
Yield:
10
Serving Size:
1
Amount Per Serving:
Calories:

65
Total Fat:

0g
Saturated Fat:

0g
Trans Fat:

0g
Unsaturated Fat:

0g
Cholesterol:

0mg
Sodium:

0mg
Carbohydrates:

16g
Fiber:

2g
Sugar:

13g
Protein:

1g
How Long Will Dehydrated Tomatoes Last?
I have kept dried tomatoes for well over 6 months. If you are storing any dried foods they need to be kept away from moisture or humidity so they are best kept in airtight containers. If they look bad or get damp then don't chance it.