Strawberries are one of my favourite summer fruits and I grow a lot of my own. I have tried lots of ways of preserving such as jams, jellies and homemade wines but drying proves to be a way that intensifies that flavour and lasts all the way into winter.
Drying is perhaps best with the strawberries that you get in the supermarket that aren't as flavourful as homegrown varieties because the flavours get boosted.
Dried strawberries are fantastic when used in baking or added to cereal or oats. You can also consider sugar blanching the strawberries to make sweet treats that are almost like candy.
This recipe will cover drying strawberries in a food dehydrator or if you don't have one a normal fan oven.
Preparing Strawberries For Drying
The best strawberries for dehydrating are those that are just ripe. If the berries are too ripe they can be too soft and take too long to dry. Properly ripe strawberries are best being eaten fresh.
Supermarkets sell strawberries nowadays that are absolutely ginormous but lacking in flavour and these are good contenders for drying. As they are so big they have a good yield after slicing and the flavours are intensified becoming even more flavourful.
Pick your own farms are also a good place to source strawberries as you can just the size, colour and level of ripeness when picking.
Cleaning And Slicing Strawberries For Drying
Once you have selected your strawberries you will need to give them a good rinse under cold running water and remove any soft or mushy strawberries.
The next job is to remove the green crown at the top of the strawberry. Run a paring knife around the top to remove the green part and some of the white flesh underneath.
How Thick To Slice Strawberries For Drying
Smaller strawberries or wild strawberries can be dried whole but generally, strawberries are too large to dry whole.
Some of the varieties in supermarkets today are really large so you will need to slice these or quarter medium berries.
Cut strawberries so they are around 1/2 inch thick or divide them vertically into quarters.
Strawberries that are less than an inch at their widest point can simply be halved vertically.
Only the smallest strawberries are suitable for dehydrating whole.
Do You Need To Pre-treat Strawberries Before Drying?
Strawberries need no special pre-treatment before dehydrating. Any additional pretreatment you may wish to add is completely optional.
If you prefer a softer texture and sweeter flavour almost like candy you could blanch the prepared strawberries in sugar syrup for 30 seconds. Blanching like this will, of course, increase the sugar content but the strawberries taste amazing.
If you want to prepare a sugar syrup to treat the strawberries you will need to combine 2 parts water to one part sugar in a pan e.g. 1 litre of water and 500g of sugar. Heat to dissolve the sugar and then bring to a simmer.
Drop in the strawberry slices and blanch for no more than 30 seconds before removing and rinsing under cold running water.
After rinsing, pat the strawberries dry and then arrange them on racks to start drying.
Dehydrating Strawberries In A Food Dehydrator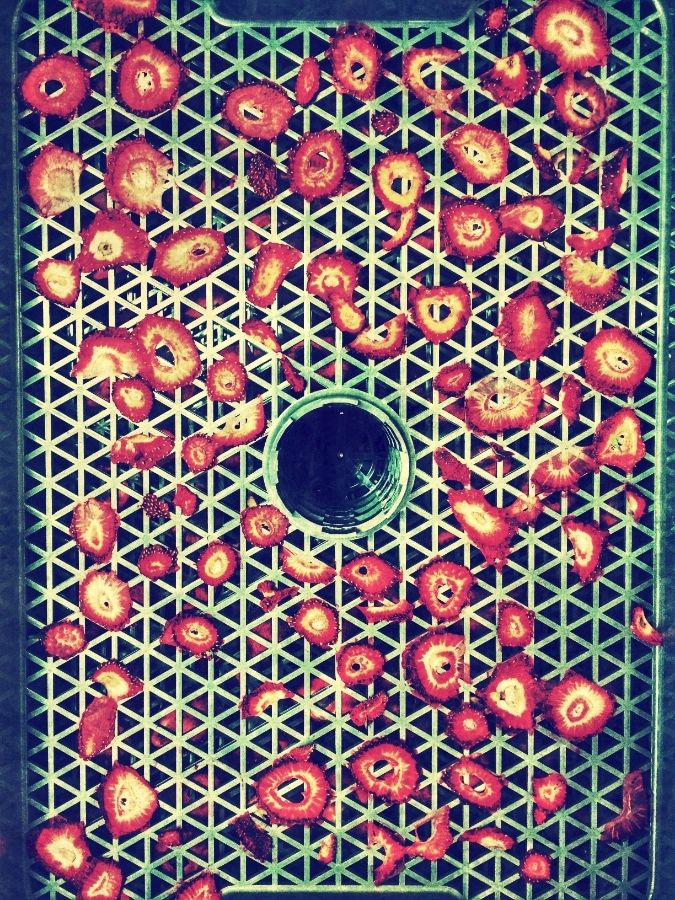 It cannot be simpler to dehydrate strawberries in a dehydrator. Even if you only have a budget dehydrator this will be the most efficient way to dry strawberries.
It is simply a case of arranging the sliced or divided strawberries on the racks in an even layer. Ensure there is space around the strawberries for airflow and set the dehydrator to a low or medium setting. A temperature around 50 – 60°C / 120 – 140°F is ideal.
Once you have set the dehydrator running it is simply a case of waiting and checking progress.
How Long Will It Take To Dry Strawberries In A Dehydrator?
In a dehydrator 1/2 inch slices of strawberry will take around 6 – 10 hours to fully dehydrate. Large strawberries divided into quarters will take slightly longer and whole strawberries can take upto 14 hours.
If you decide to blanch strawberries in syrup the drying time will be slightly longer than untreated strawberries.
Dehydrating Strawberries In A Fan Oven
If you don't have a dehydrator then you can dry strawberries in a regular oven. 
It is advisable to invest in some racks to arrange the strawberries and ensure airflow through the racks. These additional racks will enable you to fit much more fruit in the oven to dry in a single time.
A fan oven is recommended as airflow is really important when dehydrating fruit.
Once the strawberries have been prepared it is simply a case of arranging the fruit on the racks in a single layer and setting these in the oven.
A temperature of around 50 – 60C is ideal or as low as your oven will go.
How Long Do Strawberries Take To Dry In an Oven?
Ovens tend to run hotter than dehydrators but have less airflow so drying times are quite variable.
Typically strawberries will take between 6 – 10 hours to dry completely. Rotate the racks every few hours to ensure even drying throughout the process.
How Long Do Dried Strawberries Last?
Like most dried fruit dehydrated strawberries will last many months as long as you store them correctly.
Once dried you will need to store the strawberries in an airtight container. Moisture in the air will be absorbed by the dried fruit so keeping the strawberries in an airtight container in a cool, dry cupboard is ideal.
Stored correctly dried strawberries will last 6 months or more.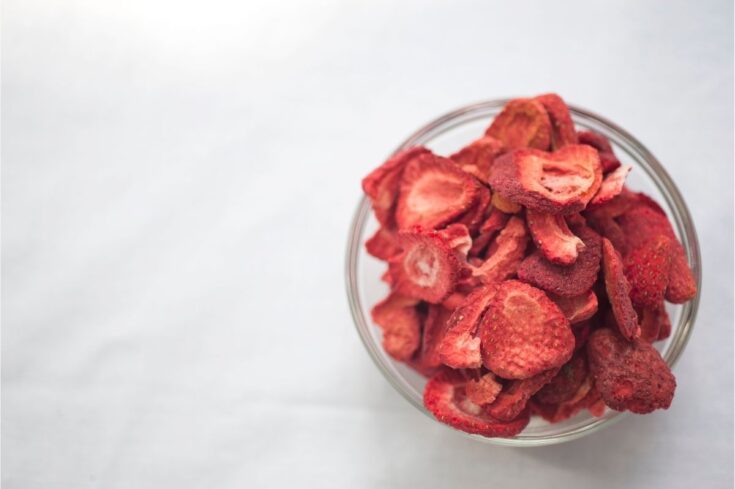 Yield:

2 cups
Dehydrating Strawberries In A Dehydrator Or Oven
Total Time:
8 hours
10 minutes
Dried strawberries are really versatile. Use them in baking, cereal, snacking on their own, or even in salads. Preserve that taste of summer in a really intense way.
Instructions
Prepare the strawberries by rinsing under cold running water and then pat dry.

Remove the crown and green parts of the strawberries by running a paring knife around the top.

For large strawberries slice to a thickness less than 1/2-inch. Medium berries can be divided into 4 lengthwise and only the smallest strawberries can be dried whole.

Dehydrating Strawberries In A Dehydrator

The strawberry slices can be arranged on the racks of the dehydrator in a single layer, leaving space around the pieces for air to circulate.
Set the racks in the dehydrator and set to a medium-low setting or around 50 - 60C
Allow between 6 - 8 hours to fully dry the strawberries, check often toward the end of the process.
Dehydrating Strawberries In An Oven
Use oven trays or racks to arrange the sliced prepared berries, leave ample room around each piece so air can flow around the fruit.
Set the oven at the lowest temperature or around 50-60C. Have the fan running and rotate trays every 1 - 2 hours to ensure even drying
Check the strawberries after around 5 - 6 hours. They should feel leathery or sometimes spongy depending on thickness and no moisture should be visible when squeezed. Dully drying may take 8 hours or more.
Dehydrating Strawberries In A Dehydrator
Arrange the sliced strawberries on the dehydrator trays with space around each piece for air circulation.
Set the trays in the dehydrator and set to a low or medium setting.
Allow around 6 - 8 hours to dehydrate completely. Check for dryness after around 5 hours.
Notes
Once dehydrated, leave to cool completely and then store in an airtight container in a cool, dark place.
Recommended Products
As an Amazon Associate and member of other affiliate programs, I earn from qualifying purchases.
Nutrition Information:
Yield:
10
Serving Size:
1
Amount Per Serving:
Calories:

32
Total Fat:

0g
Saturated Fat:

0g
Trans Fat:

0g
Unsaturated Fat:

0g
Cholesterol:

0mg
Sodium:

1mg
Carbohydrates:

8g
Fiber:

2g
Sugar:

5g
Protein:

1g