Peaches and nectarines are pretty much identical except for one being fuzzy skinned, the other smooth. When it comes to drying peaches or nectarines there is no difference, both are absolutely delicious and well worth the time to prepare.
If you are lucky enough to get a glut of peaches or nectarines dehydrating them is a great way to preserve them and only sweetens and boosts their flavour.
Sourcing Peaches & Nectarines
It is best to source peaches and nectarines that are ripe but not too soft. These fruits will not ripen after picking but will get softer as enzymes continue to break down the flesh.
The softer the nectarine or peach the longer it will take to dehydrate and the texture won't be as pleasing once dried.
If you can source peaches because they are grown locally then you are going to be getting the ripest fruit. In countries like the UK peaches and nectarines are imported so they will not be as ripe. I would suggest drying peaches and nectarines like this only when they can be bought cheaply on sale.
How To Prepare Peaches or Nectarines For Dehydrating
Peaches have relatively thin skins so you may choose to dehydrate peaches with the skin on. Nectarines have slightly thicker skins so benefit from having the skins removed before dehydrating.
How To Remove The Skins
It is quite easy to remove peach and nectarine skins. The fruit is simple dropped into boiling water for 30 seconds or so before being removed and dropped into cold water.
Once the fruit is patted dry the skins should easily slip off with your fingers.
Removing The Stones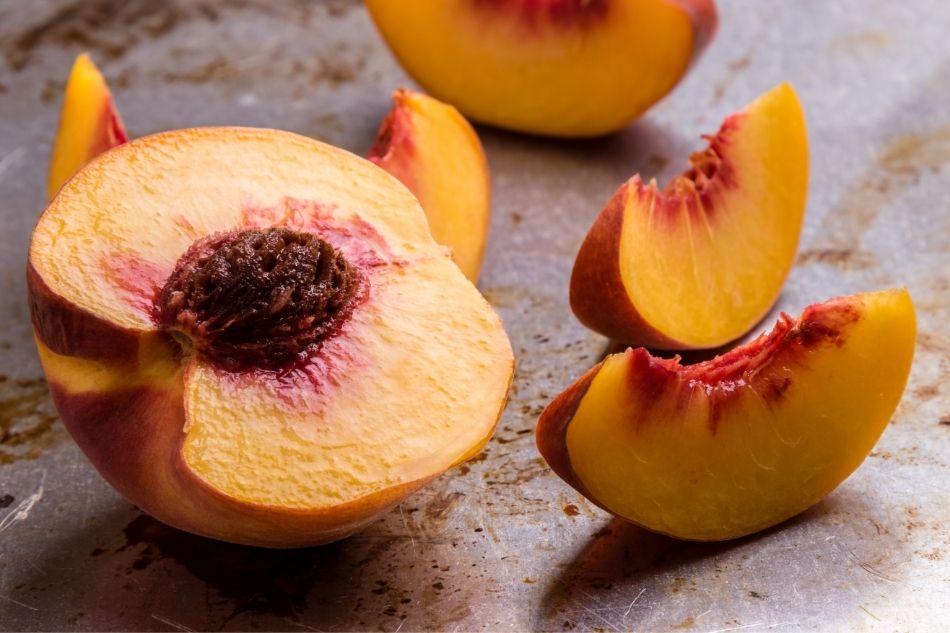 Next the stones if the peaches need removing. This can be relatively easy or a bit tricky depending on the variety of peach or nectarine.
Like in many stone fruits a peach can be either of the following varieties:
Freestone peaches or nectarines are the easiest variety to prepare. Use a paring knife and run it around the fruit following the indent all the way around the stone. Once cut give each side a twist and the peach will separate and the stone can be pulled out.
Cling stone varieties are harder to prepare. The fruit needs to be carefully trimmed with a knife as close to the peach stone as possible. It is often easier to simply slice the fruit either side of the stone and then trim the flesh off the peach stone.
How Thick To Slice Peaches For Drying?
Peaches and nectarines are usually a little too large to dry in halves, although, I have had success in simply flattening the halves with a press to thon them a bit.
Ideally, peach halves can be cut into segments around 1/2-inch thick.
This thickness will ensure the dried segments have a little bite but not take too long to dry.
Pretreatment For Peaches Or Nectarines
Drying peaches without first treating them will result in a quite dark and unappealing end result. It is a good idea to treat the prepared fruit and there are a couple of options.
Sulphite Solution
Treating peaches or nectarines with sulphites is probably the most effective method to treat fruit and is what is done commercially. If you are sensitive to sulphites then use another method listed below. You will need to source sodium metabisulphite from a homebrew shop.
To pretreat peaches in a sulphite solution you will need to combine 1 tablespoon of sodium metabisulphite in 1 litre of water. Immerse the fruit in the sulphite solution before draining and rinsing it in tap water. Pat dry before proceeding to dehydrate.
Sugar Syrup Blanching
If you don't mind added sugar then using sugar syrup to pretreat peaches or nectarines is one of my favourite ways to enhance dehydrated fruit. Blanching fruit in sugar syrup will result in a more supple and "juicier" feeling finished product. Of course, it has added sugar so it will lend peaches a more of a candy quality.
To pretreat peaches in a sugar syrup take a large pan and add 1.5 cups of sugar to 2.5 cups of water. Heat and bring to a boil and then immerse the fruit in the syrup for 2 minutes before removing the fruit and allowing to cool. The fruit can then be dehydrating.
Acidulated Water
Pretreating with acidulated water will not completely prevent browning but is more effective than not treating the fruit at all.
To pretreat the fruit in acidulated water you will need to combine 2 cups of bottled or fresh lemon juice per 1 litre of water. Citric acid can be used in place of lemon juice, use 2 teaspoons of citric acid per litre of water.
Soak the prepared peaches in the acidulated water for 5 minutes before draining and then patting dry. The fruit can then be dehydrated.
Drying Peaches or Nectarines In The Oven
An oven is perfectly suitable to dehydrate peaches albeit not quite as quick or efficient as a dehydrator.
I recommend you invest in a few racks to lay the fruit out on as the oven racks have too big of a gap.
Your best option is to set the oven to the lowest temperature and ensure the fan is running. Airflow is key to dehydrating fruit and too high of a temperature will cook the peaches rather than dry.
If the ovens lowest temperature is too hot you can leave the door slightly ajar, this will also improve airflow.
A fan oven set to around 50C – 60C will take as little as 6 hours but could take over 15 hours to fully dehydrate peaches or nectarines.
Dehydrating Peaches or Nectarines In A Dehydrator
Even a simple, low-budget dehydrator does a great job dehydrating fruit like peaches and nectarines. If you have gluts of fruit I thoroughly recommend buying one.
Using a dehydrator to dry peaches and nectarines will be quicker and more efficient. You won't have to interfere as much as using an oven and you can really just set it and forget it until the fruit needs checking to see if it is dried.
Take the prepared peaches or nectarines, cut into chunks or slice 1/2-inch thick or less and arrange them on the dehydrator racks. Leave a little room around each piece for air to flow.
Set the dehydrator to approximately 50C / 120F and start checking for dryness after around 6 hours.
A dehydrator set at around 50C / 120F will take between 6-9 hours to fully dehydrate peaches or nectarines, depending on the thickness of the fruit.
What Temperature To Dehydrate Peaches Or Nectarines?
With most fruit, you want to set a temperature to dry the fruit consistently, all the way through without it being to high.
A temperature around 50-60C / 122-140F will ensure fairly quick drying without the outside drying to quickly which will prevent the inside of the peach from drying.
How To Store Dried Peaches & Nectarines?
Storing any dried fruit or vegetable is pretty much the same.
It is crucial you allow the peaches to cool to ambient temperature as moisture will still be eminanting from them. Once cool the fruit can be stored in an airtight container.
Stored in an airtight container will last many months.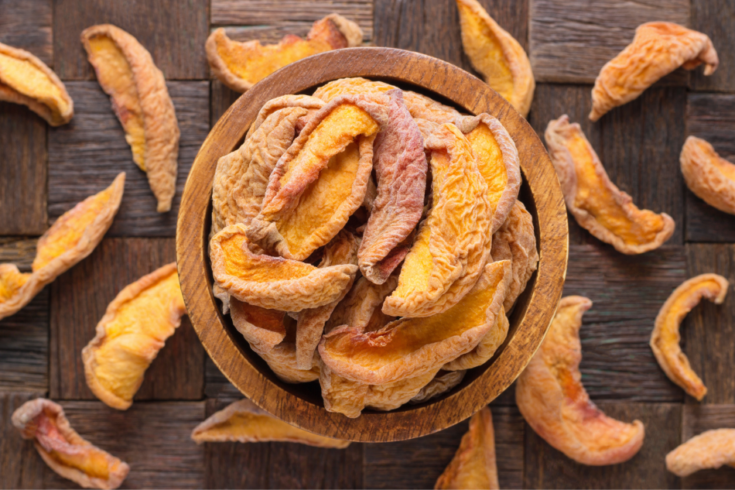 Yield:

10 peaches
Dehydrating Peaches Or Nectarines In A Dehydrator Or Oven
Total Time:
8 hours
20 minutes
A delicious way to preserve peaches for months and great added to bakes, granola or snacking on its own.
Instructions
How Do You Dry Peaches or Nectarines In A Dehydrator?
Once halved and the stone removed to ensure equal drying it is really simple to dry the peaches in a dehydrator.
Pretreat the peaches with either a sulfite solution, acid solution or sugar blanching. Instructions for each can be found above.
Arrange the pieces of fruit on the dehydrator racks with plenty of space between to allow even airflow.
The racks can then be arranged in the dehydrator ready to start drying.
A dehydrator set at around 50C / 120F will take around 6 - 10 hours to dehydrate the peaches.
How To Dehydrate in the Oven
Using an oven to dehydrate peaches is very simple but you will probably need to invest in some over racks.
Pretreat the peaches with either a sulfite solution, acid solution or sugar blanching. Instructions for each can be found above.
You will need a few racks to arrange the peaches on allowing room for warm air to circulate around the fruit.
Set your oven to its lowest temperature preferably with the fan on. If you don't have a fan oven prop the door open to allow air circulation. Check for dryness after 5 or 6 hours and rotate the racks periodically. It will take between 6 hours and up to 12 hours to fully dehydrate peaches in the oven.
Nutrition Information:
Yield:
10
Serving Size:
1
Amount Per Serving:
Calories:

75
Total Fat:

0g
Saturated Fat:

0g
Trans Fat:

0g
Unsaturated Fat:

0g
Cholesterol:

0mg
Sodium:

0mg
Carbohydrates:

18g
Fiber:

3g
Sugar:

16g
Protein:

2g