You may be thinking why to bother dehydrating carrots but the versatility and the amount of dishes you can use dehydrated carrots in is really quite large. Soups, stews, and casseroles are all perfect for adding dehydrated carrots but my favourite thing to do with them is to make my own homemade bouillon or broth powder with a range of other dehydrated ingredients.
I like to dry carrots when they are on offer at the supermarket, of course, if you grow carrots and have an abundance then dehydrating is a good option.
The great thing about drying carrots is they take up much less space and are already peeled (or cleaned), sliced and prepared so you can use them straight away.
Preparing Carrots For Drying
Before dehydrating carrots you will need to do a little bit of prep.
If you are going to the effort of drying a large number of carrots then you need to make sure they last a long time and for this to happen they will need blanching.
In essence, we prepare carrots for drying in exactly the same way you would if you are cooking with them.
Clean the skins with a brush (or peel if you prefer)
Top and tail the carrots
Slice or shred the carrots ready to dry
Slicing Or Shredding Carrot For Dehydrating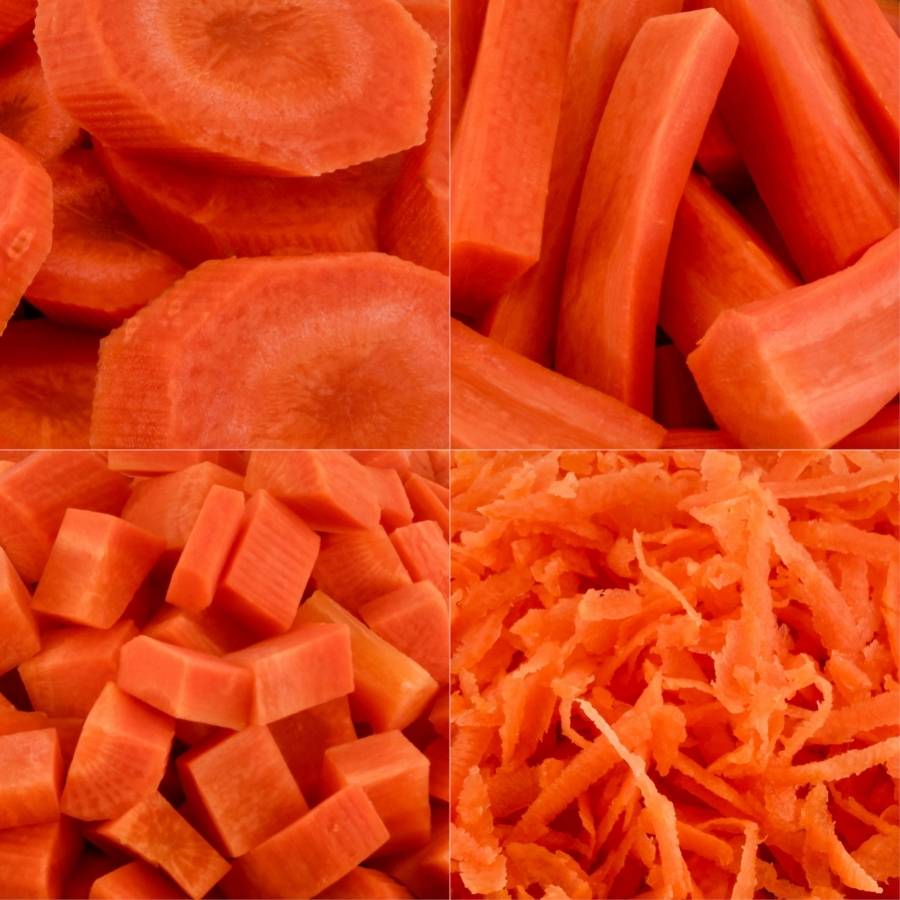 As with any fruit or vegetable the size that you cut the produce will impact how long it will take to dehydrate.
To decide just how thick to cut the carrots you will want to consider how they are going to be used. If, for example, you will be adding them to stews, soups and so on then you might prefer slicing them into rounds or batons around 3mm thick (1/8 inch) or with larger carrots into 6mm dice (1/4 inch).
If you are going to use them in broth powders, ragu, braises and so on you may want to just shred the carrot with a large, coarse grater. The larger the shreds the better for drying compared to fine shreds.
Blanching Carrots Before Drying
The reason we need to blanch carrots before dehydrating is not to cook them as such but to kill the enzymes that would otherwise shorten the shelf life of the dried carrots.
If you don't blanch the carrots before dehydrating they will lose colour, turn pale and lose flavour within 3 – 6 months compared to having a shelf life of around a year. This is because even after blanching the enzymes in the carrot flesh don't completely deactivate. A brief simmer in boiling water will deactivate all the enzymes and allow the dried carrots to be kept much longer.
To blanch or steam shredded or sliced carrots, you will want to bring a large pan of water to a rolling boil. Immerse the sliced carrot rounds or dice in the water for 3 – 4 minutes, shredded carrot will take only 1 – 2 minutes.
Drain the carrot, immerse it in ice water and then drain again and pat dry with a cloth or paper towel.
How To Dehydrate Carrot?
You can either dry carrots in a food dehydrator which are really efficient and quite affordable now or alternatively in an oven.
The great thing about using a dehydrator is they are designed for drying large quantities of food and have multiple racks, stacked upon each other. This means you can load up lots of prepared carrots and air will flow around each piece drying them really efficiently.
You can use a regular fan or convection oven which has airflow but you will probably need to invest in some racks to spread the carrots out on. You'll need racks with a small enough grate that the carrots aren't going to fall through.
Drying Temperature And Times For Dehydrating Carrots
The best temperature to dry carrots whether you are using a dehydrator or an oven is around 50-55°C (122-130°F)
In a dehydrator, you can really just set it up and let the dehydrator run before checking periodically for dryness. In an oven, you will want to rotate the trays and turn the carrots every hour or so to ensure even drying.
Sliced carrot rounds, dice or batons will take anywhere from 6 – 9 hours to dehydrate fully depending on size.
Shredded carrots can dry as quickly as 2 – 4 hours with adequate airflow.
The carrots are done when they feel leathery and firm with no moisture left in the centre. They will be considerably smaller and may wrinkle up.
Storing And Rehydrating Dried Carrots
Dried carrots should be stored in an airtight container in a cool, dark place. They will last much longer without contact with air or humidity, some people use oxygen absorbers in the container to prolong storage.
Rehydrating Carrots can be as easy as adding them to soups, stews or any dish that is going to simmer for longer than 30 minutes. They will absorb water so add a little extra water or stock to the pot to counter this.
To rehydrate carrots on their own cover with boiling water and leave for around 30 minutes to an hour until no longer hard. Shredded carrots will rehydrate quicker.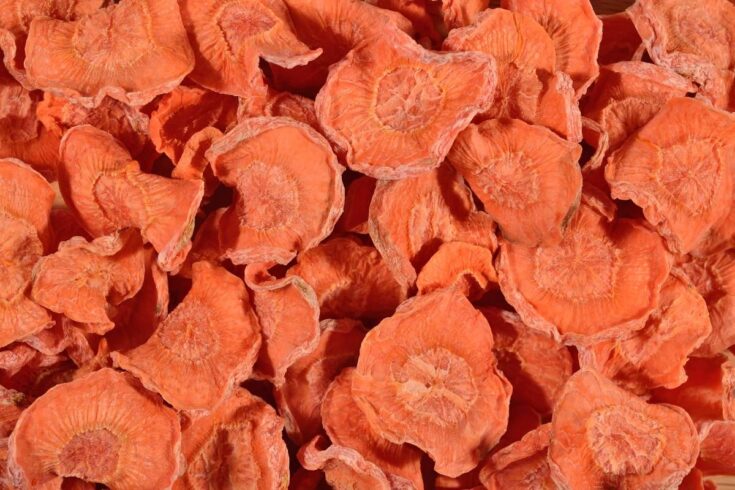 Yield:

1kg - 3 cups
Dehydrating Carrot For Year Round Storage
Total Time:
8 hours
20 minutes
Dehydrating carrots can be so versatile and added to so many dishes. 1kg of carrots will result in 3 cups of dried carrots.
Instructions
Scrub the carrots clean or peel if you prefer and then remove the top and tail.
Slice the carrots into rounds or batons 3mm/1/8-inch thick, 6mm/1/4-inch dice, or coarsely shred depending on what you prefer.
Arrange the carrots on dehydrator racks or oven racks with space for airflow, shredded carrots can overlap a little but ensure there are some gaps for airflow.
Set the dehydrator or oven to 50-55°C (122-130°F) and start to dehydrate the carrots.
Check progress periodically. If you are drying the carrots in an oven rotate the racks every 1 - 2 hours to ensure even drying, shredded carrots may need turning.
Sliced carrot rounds, dice, or batons will take anywhere from 6 - 9 hours to dehydrate fully depending on size. Shredded carrots can dry as quickly as 2 - 4 hours with adequate airflow.
The carrots are done when they feel leathery and have absolutely no moisture in the center.
Allow cooling to ambient temperature and store in an airtight container in a cool, dark place.
Recommended Products
As an Amazon Associate and member of other affiliate programs, I earn from qualifying purchases.
Nutrition Information:
Yield:
15
Serving Size:
1
Amount Per Serving:
Calories:

23
Total Fat:

0g
Saturated Fat:

0g
Trans Fat:

0g
Unsaturated Fat:

0g
Cholesterol:

0mg
Sodium:

39mg
Carbohydrates:

5g
Fiber:

2g
Sugar:

2g
Protein:

1g