Dehydrated bananas are like sweets and great for snacking on and dehydrating is a great way to preserve them. If you are like me and always seem to have a few too many bananas in the fruit bowl then dehydrating them is a perfect way to stop them going to waste.
A cheap, budget level dehydrator is a really good investment and this is what I use to dehydrate banana but you can also dry them. If you don't have a dehydrator you can use an oven which will take a bit longer but still works really well.
Preparing Bananas For Drying
When it comes to drying bananas you are best of using slightly ripe bananas rather than over-ripe ones.
This means you need to decide you are going to dry the bananas before they get overly ripe.
The problem with dehydrating over-ripe banana is the moisture levels are a lot higher and the texture is too soft and mushy. If you are trying to use up over-ripe banana try making banana bread or similar.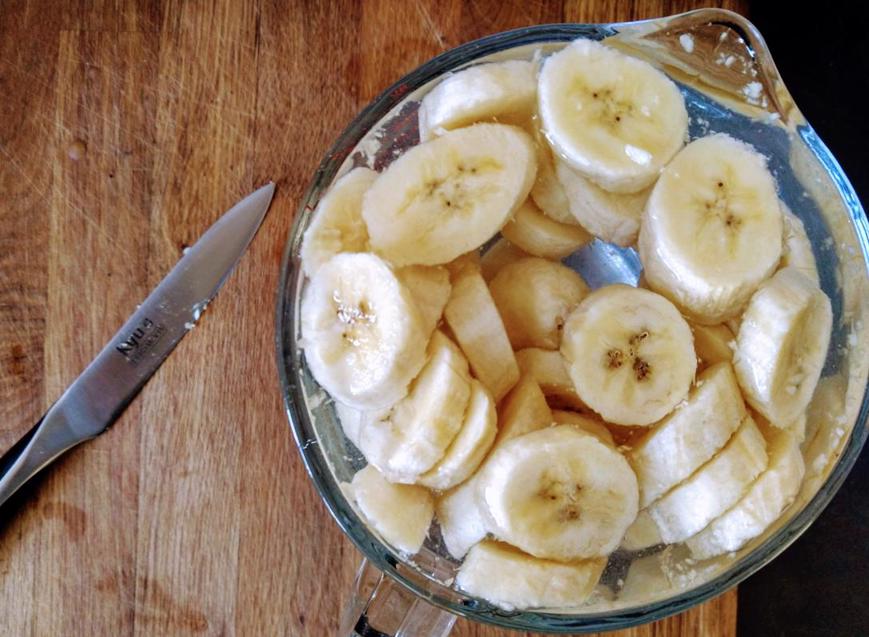 Pre-Treating Banana For Dehydrating
A lot of fruits are liable to discolouration when drying and banana are among the most apparent. If you have ever left banana exposed to the air for a while it will go dark and brown quite quickly.
This won't affect the flavour at all but is less appealing. To prevent this discolouration we can pretreat the banana which will lessen but not completely eliminate the discolouring.
Lemon Juice or Citric Acid Pre-treatment
A simple acid solution made with either lemon juice or food-grade citric acid is the simplest method to pre-treat bananas. They also provide small antimicrobial benefits.
1 tsp (5 grams) of Citric Acid per 1 litre (quart) of water.
Or
Equal parts water to lemon juice.
Either of these solutions will greatly inhibit discolouration and provide some antimicrobial benefits when dehydrating bananas.
Do You Have To Pre-treat Banana Before Drying?
Pre-treating is not necessary. The untreated banana will be significantly darker than a treated banana but the taste and texture will be exactly the same.
It is only necessary if you want to prevent discolouration and browning.
How Thick To Slice Banana For Dehydrating?
1/4 inch is a good starting point for slicing banana for drying.
As with drying any fruit or vegetable the thickness of slices will have an effect of how long it takes to dehydrate.
Drying bananas in an oven will take longer than a dehydrator so you may want to consider slicing just under 1/4 inch slices.
You also need to consider that the banana will shrink significantly when dried so slicing too thin will result in a crisper and more brittle result. Thicker slices will have more texture but take longer to dehydrate.
How Long Does It Take To Dehydrate Bananas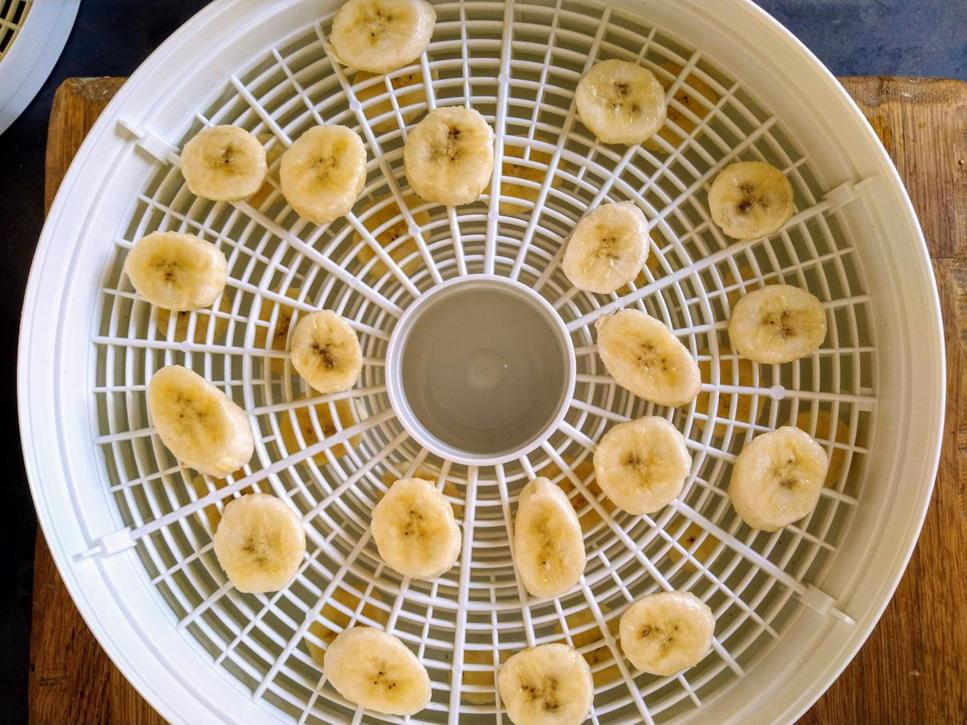 Depending on the ripeness of the banana and the thickness you are looking at the following guidelines for the time it will take to fully dehydrate
Dehydrator at 60° / 140°F:  7 – 12 Hours
Oven at its lowest temperature: 7 – 18 hours 
Dehydrating Banana In An Oven or Dehydrator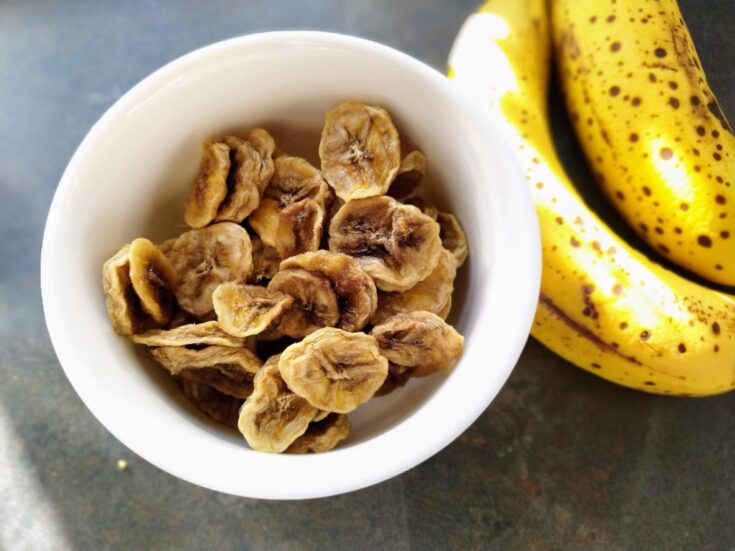 Yield:

1 - 2 cups
Dehydrating Banana in an Oven or Dehydrator
Total Time:
9 hours
20 minutes
Dehydrating bananas is really easy in an oven or using a dehydrator. They make the perfect sweet snack and kids will eat them like sweets.
Ingredients
1kg Bananas
1tsp Citric Acid (optional)
Instructions

If pre-treating the bananas to prevent discolouring soak the banana slices in a solution of 1tsp of citric acid per litre/quart of water for about 30 seconds before draining and patting dry.
Dehydrating Bananas In A Dehydrator
If you have even a budget dehydrator then drying banana slices is really easy.
Layer the banana slices on the racks of the dehydrator. You want to create even layers with no touching or overlapping slices.
Set the racks in the dehydrator and start the temperature at 60°C / 140°F.
Check the banana slices after 4 - 5 hours and rearrange the racks if they are drying unevenly. Continue monitoring ever 30 minutes to an hour until you are happy they are ready. It will take around 7 - 12 hours.
Dehydrating Bananas In The Oven
To dry the banana in an oven is slightly more work but still gets great results.
Line racks with baking parchment and use spray oil to grease the paper.
Lay the banana slices evenly over the racks and make sure the bananas are not overlapping or touching.
Set the racks in the oven on the lowest temperature or 60° / 140°F, If you have a fan assisted oven make sure the fan is running.
Flip the banana slices and rotate the racks once or twice during drying.
At 60° / 140°F the banana slice could take between 7 hours but up to 18 hours to fully dry.
Recommended Products
As an Amazon Associate and member of other affiliate programs, I earn from qualifying purchases.
Nutrition Information:
Yield:
10
Serving Size:
1
Amount Per Serving:
Calories:

89
Total Fat:

0g
Saturated Fat:

0g
Trans Fat:

0g
Unsaturated Fat:

0g
Cholesterol:

0mg
Sodium:

1mg
Carbohydrates:

23g
Fiber:

3g
Sugar:

12g
Protein:

1g
Testing When The Bananas Are Done
To test for "doneness" you should be looking for banana slices that are leathery and shrunken particularly in the centre. The banana pieces should not feel moist at all but there may be a slight stickiness from sugars that have seeped from the banana.
In untreated banana, the slices will be fairly dark brown. In acidulated water treated banana the slices will have darkened slightly and are mottled brown in the centre.
How To Use Dehydrated Banana
Dried banana is really sweet and tasty eaten as a snack and kid really like them because of the sweetness.
I like adding chopped banana slices to cakes and cookies in place of other dried fruits to introduce a banana flavour.